To some people, gorillas held in zoos may be little more than living curiosities, convenient exhibits from lands afar to be gawked at and forgotten. But for the animals who are on display, real purpose may come from being there for one another.
Visitors at the Ramat Gan zoo safari in Israel recently witnessed this bond of loyalty firsthand.
While walking in the open yard of her enclosure on Monday, a 3-year-old gorilla named Amelia slipped and tumbled 16 feet down into a dry moat separating her family from the public. Without hesitating, her older sister, 8-year-old Ayna, leapt in after her.

The zoo's other gorillas gathered to watch as Ayna scooped Amelia from the bottom of the deep pit, letting out a shrill scream of horror at the ordeal.
Moments later, in a video captured by astonished zoo-goers, the older gorilla can be seen attempting to climb out of the concrete moat with Amelia on her back. But just before reaching the edge, she slips back to the bottom, releasing another chilling howl.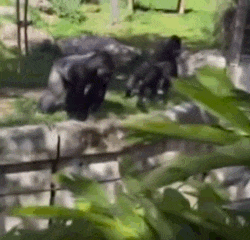 The footage ends there, but the harrowing incident did not. Zoo officials report that Ayna continued trying to get her sister to safety, and was eventually able to scale the wall on the side nearest the crowd. She dropped Amelia off by the footpath before finding another way back inside the security of her enclosure.
Keepers rushed to evacuate the area and the young gorilla was shot with a tranquilizer dart. Zoo spokesperson Sagit Horowitz told Israeli media that the entire "escape" took place over a span of three minutes, adding that the public was never in any danger.
"The gorilla was more scared of people," Sagit told Ynet.co.il.
Amelia was treated by a vet who determined her to be in good enough health to return to her family. Officials say that they plan to reassess the gorillas' enclosure and protocol to prevent similar incidents from happening again.

Fortunately, there were no serious physical injuries resulting from this accident, but given the dangers of living near an open concrete pit, the gorillas might not be so lucky the next time.
Scares likes the one Amelia and Anya suffered this week are newsworthy, though according to Born Free USA CEO Adam M. Roberts, they're nothing new or surprising.
"Humans make a significant - and deliberate - mistake when they place wild animals in captivity for the visitors' amusement," Roberts told The Dodo. "And no matter how much money is spent on these artificial exhibits, they are never foolproof and accidents will happen - with painful, if not deadly, consequences."
Watch the entire video below: