Animals starving to death in Yemen zoo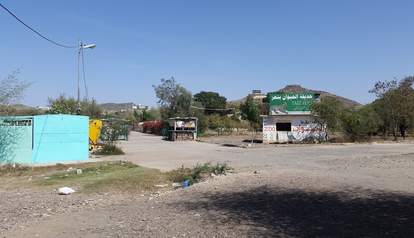 The Yemen is in the grip of its most crisis in years, forces challenging each other for the control of the country. The main fight is between forces loyal to the beleaguered President, Abdrabbuh Mansour Hadi, and those allied to Zaidi Shia rebels known as Houthis, who forced Mr Hadi to flee the capital Sanaa in February 2015.
Not only does the region suffer with this unrest and destabilization but its animals do too. Especially those that are locked up in cages, typically zoos,often the animals get neglected and forgotten. This is what is happening now in Taiz zoo to the south of the country. Leopards, lions, Hyena, Lynx, crocodile, monkey, goats, cows and many others are all starving to death.
Critically endangered Arabic leopards are beginning to eat each other and others are so emaciated they can hardly walk.
There has been long-term neglect in this zoo and being in a conflict zone, none of the animal welfare or conservation organizations have wanted to get involved.
Animals are eating each other because of starvationHisham Alhoot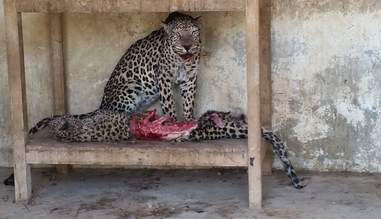 Animals are eating each other because of starvation

| Hisham Alhoot
One man, the MD of Yemen education (Hisham Alhoot) met with one of the zoos stakeholders and vet (Dr.Ahmed Abdulrak) on Saturday the 13th of February 2015, to evaluate what food and water is needed to help these animals. but it is obvious these animals need nutrients and antibiotics immediately!

Emaciated lion
Hisham Alhoot
Hisham Alhoot
Mohammed Al-Qudami, with the Foundation for the Endangered Wildlife Yemen (Leopard) founded by David Stanton. has stated that he would like to remove the leopards to Ibb Zoo but has so far said he cannot feed the animals and up to now has done nothing.
Hisham Alhoot is doing a great job and needs funding, as at the moment he is funding from his own pocket and feeding the carnivores donkey meat!
Feeding the carnivores with available meatHisham Alhoot
Feeding the carnivores with available meat

| Hisham Alhoot
Until a solution can be found, an appeal has been set up to help feed these animals. Please see http://www.yemenileopard.org

The Yemen continues to be unstable and with arm sales to Saudi Arabia from countries like the UK, these weapons are being used in the Yemen conflict. We cannot stop this happening in the short term but in the long term we can save these animals from even more stress.