She Was Thrown From A Car, And We'll Never Let Anyone Hurt Her Again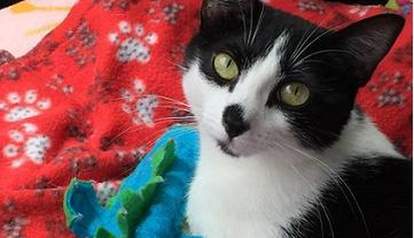 <p> Milo's Sanctuary </p>
Ziggy Pawdust Dragon Tamer.
An extraordinary name for an extraordinary cat, still loving and playful despite a terrible start in life. A year ago Ziggy, just 6-weeks old at the time, was found on the side of a New Mexico road paralyzed from the waist down after being thrown from a car. A Good Samaritan found her and got her to a rescue who fortunately had a foster available with experience caring for special needs cats.
Milo's Sanctuary
Milo's Sanctuary
However, it soon became clear that Ziggy's care and medical costs were more complicated and expensive than the rescue could handle and they thought euthanasia might be the only option. But her foster mom just couldn't give up on her. The adorable kitten had worked her way into her heart as well as the hearts of her elementary school students. Every time she came to visit, the kids would shower Ziggy with attention and gifts of handmade toys and tiaras!
The foster got in touch withMilo's Sanctuary and Special Needs Cat Rescue, a southern California-based non-profit specializing in rescuing cats with physical challenges such as blindness, missing limbs, paralysis, and their medical conditions. Milo's heard Ziggy's story, took one look at her beautiful face, and immediately agreed to take her into their Lifetime Care Program designed for cats who can't be re-homed due to medical or other issues.
Before leaving New Mexico, Ziggy had a setback when it was discovered that sores on one of her paralyzed legs wouldn't heal and the only option was to amputate the leg. But Ziggy is a fighter and came through the surgery like a champ. She made the road trip to Milo's Sanctuary and they immediately introduced Ziggy to Facebook where overnight she became a fan favorite.
Milo's Sanctuary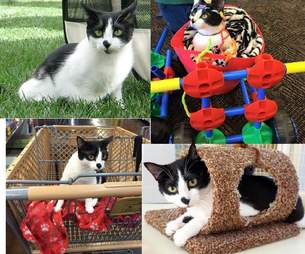 Milo's Sanctuary
"Ziggy is the most amazing cat, playful and filled with joy even after everything she's been through," said Milo's Sanctuary President and Co-Founder Michele Hoffman. "She loves everyone she meets and they can't resist her, not because they feel sorry for a paralyzed cat but because she is adorable and brave and people recognize that she is something really special."
Even after making her way to Milo's Sanctuary, there were more obstacles ahead for Ziggy including another surgery and a serious virus. But she continued to amaze everyone as she recovered and bounced back to the purring, biscuit-making kitty who has won the hearts of Milo's Sanctuary supporters worldwide. She still needs a lot of help - her bladder must be expressed a few times a day and she needs medication to make her comfortable - but she loves to travel, meet new people, and most of all, play with the stuffed dragons that accompany her everywhere.
Milo's Sanctuary
Milo's Sanctuary