Man Was Terminally Ill Until His Dogs Forced Him To Live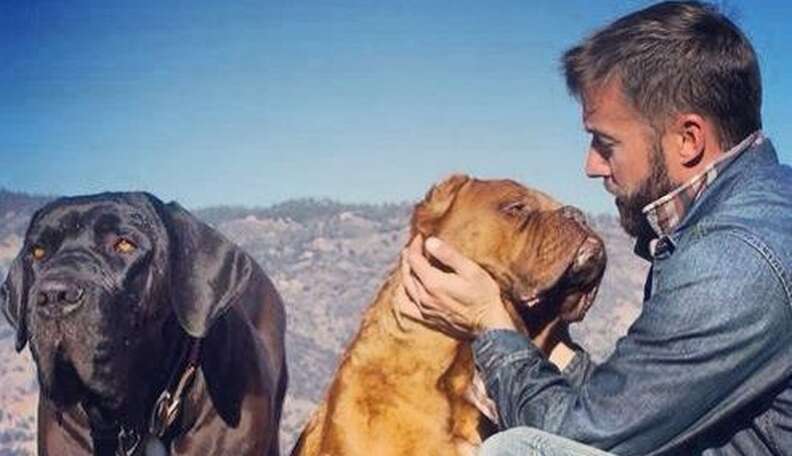 Every time Zach Skow looked in the mirror, he saw a dead man.
His skin was a ghoulish glint of yellow. His body had crumpled into itself, gaunt and haggard.
And his eyes? Well, it was best not to stare too long into those pools of despair.
"Your eyes are grey and bright yellow," Skow told The Dodo. "There is this death just lingering behind the surface of your eyes. It was a tough thing to look at."
"I stared at myself in the mirror going, 'Oh my God, your soul is fucking gone.'"
But the mirror revealed something else. Just behind him, nipping at the mirror's edge, was a Labrador mix named Tug wagging his tail at Skow's hollowed reflection. Tug was one of three dogs Skow rescued from shelters in Southern California.
Zach Skow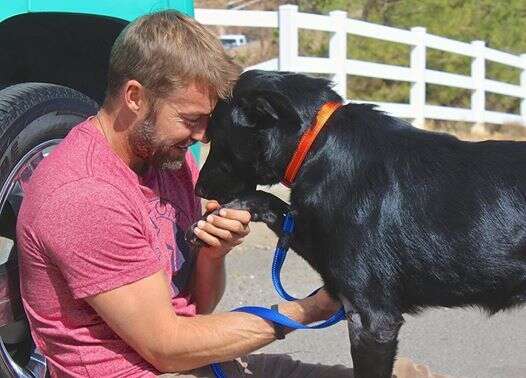 Somehow, this man, whose organs were failing after years of abuse, had been their salvation. He always felt a connection with dogs who had been thrown away.
And at dawn, Tug, along with Skow's other dogs Marley and Buddy, couldn't care less about Skow's condition - the end-stage liver failure that doctors said he was unlikely to survive.
They only cared that it was a golden early morning in the mountains of Tehachapi, about two hours north of Los Angeles. It was playtime. Their owner was going outside. Dead or alive.
So Skow slipped on a pair of sunglasses to hide his goblin-yellow eyes, the telltale color of liver failure.
And he stepped, reluctantly, into the light.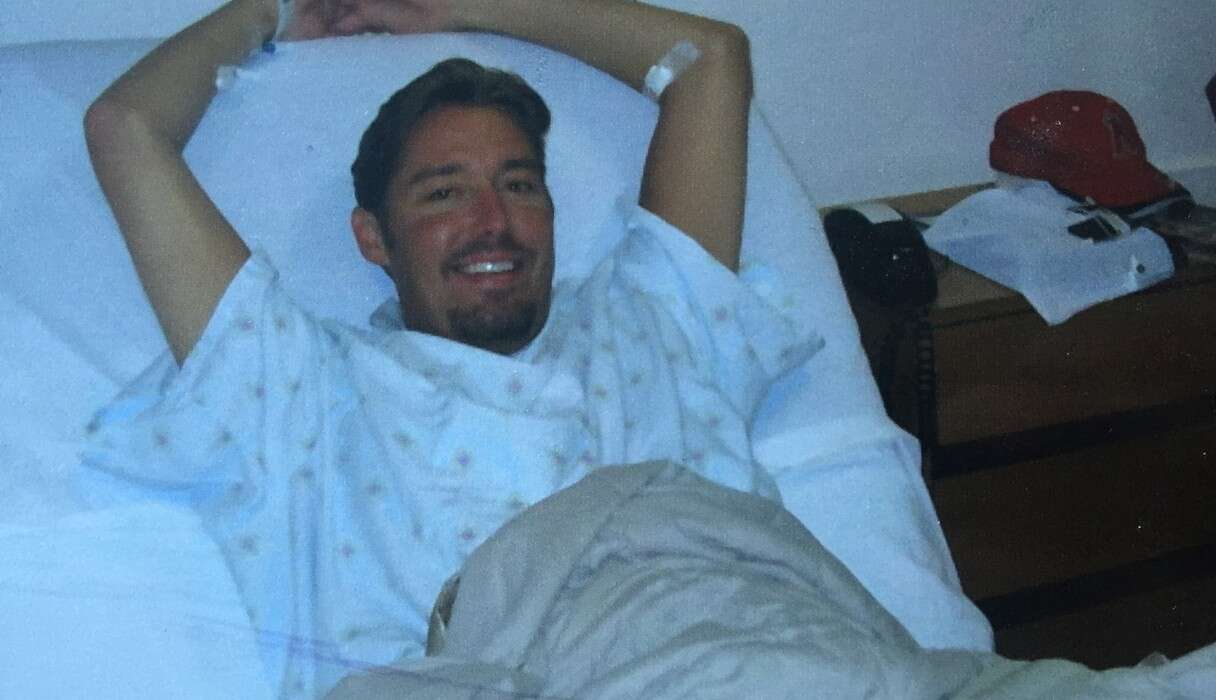 The rescue dogs represented an unlikely antithesis of everything Skow spent so many years striving to obliterate in himself. Life.
In fact, for Skow, the siege of himself had been a long campaign. He started drinking heavily when he was just 16. But it was really while working at a comedy club in Tempe, Arizona that he stepped up his end game.
Running the door at a bustling improv club in the mid-2000s, Skow was responsible for everything that happened there: the comedians, the patrons, the proceeds. And, crucially, the party.
Skow was soon selling drugs. Drinking. Smoking crack. Drinking. Drugs. Drinking. Drinking. Drinking.
"I drank 24 hours a day," he recalls. "There was never a period when I wasn't intoxicated."
It took a doctor's diagnosis to jar his life into focus. Just in time for the 28-year-old to learn he was dying.
Skow's alcoholism and drug addiction ravaged his liver and led to weeks of hospitalization to treat acute alcoholic hepatitis and kidney failure. One estimate gave him an 18 percent chance of survival if he didn't get a liver transplant within 30 days.
But in order to be eligible for a liver transplant at Cedars-Sinai in Los Angeles, Skow would have to be six months sober.
Entering at a healthy 165 pounds, Skow left the hospital weighing just 140 - the skeletal remainder of a human being bombarded with medical interventions.
Skow immediately went into withdrawal, suffering from grossly enlarged veins in his neck called esophageal varices. His mind careened in and out of hallucinations.
"I had no fight in me," he says, recalling how he would beg his father to take him back to the hospital for a shot of the drugs he now craved.
He ended up tucking himself away in the mountains of his family home in Tehachapi - a space he also shared with his three dogs.
"When I was going through withdrawal I couldn't tell what was real or what was fake," he says. "Having the dogs there with me, having the dogs touched me, helped me immensely, helped me feel connected."
Zach Skow
This was also where he started having those long, "fucking terrible" moments with himself in the bathroom mirror. But always behind him were those dogs.
"I turned around and Tug was looking back at me, wagging his tail. He doesn't see any physical issues," he says. "He doesn't see that I am hurting or suffering, he doesn't see that I am suffering or yellow. He just sees me. He just sees my soul."
"And he knows that it is just me. The person and the thing he loves most in this world."
Skow had long felt a kinship with dogs. He had volunteered at his local humane society back in 2007, a move he admits was prompted by his looming high school reunion and feelings of "what-the-fuck-am-I-going-to-say-at-my-reunion."
But his experience fostering dogs cast a spell on him.
"I fell in love with it and quickly found out I was really good at it," he says.
Zach Skow
Eventually, growing sicker, Skow found himself not really wanting to live, but having to live for Tug, Buddy and Marley.
Hauled outside by these hounds of love, Skow began taking short walks. He started a journal. Walks became hikes. Skow pushed ever farther into the heights of Tehachapi.
One icy morning in October 2008, as the sun was just beginning to skitter over the mountains, Skow spied a shadow shuffling up the path. Is that a bear, he wondered?
As the shape drew nearer he realized it was an old man. Skow was reluctant to engage with him, sensitive about his monstrous appearance.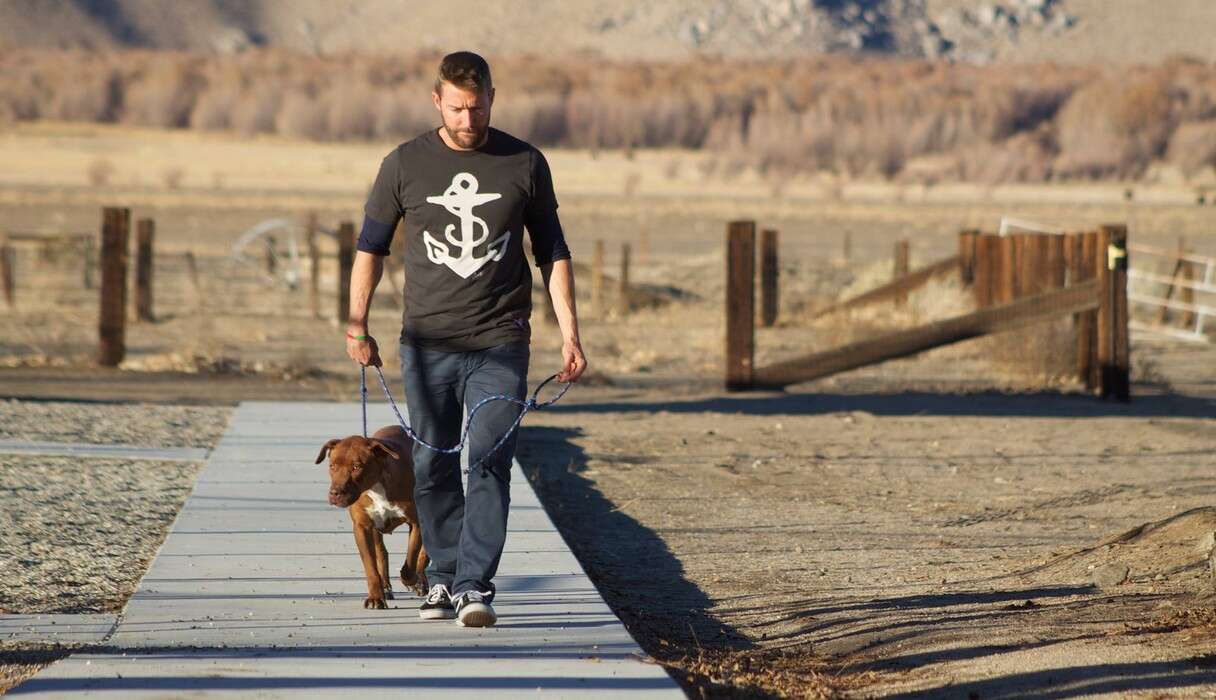 And yet, when the man reached him he paid Skow's appearance no mind. He was entirely interested in his dogs, petting them and asking their names.
"Up until this point, everything was just about me, about my life and my struggle and how my liver is failing and my difficulties," he recalls. "Everything was about poor, poor pitiful me."
But the old man cared only about his dogs. Skow finally managed to ask him some questions. His name was Wendell. A neighbor.
And that winter morning walk was Wendell's first since his wife died. The two used to make that trek every morning. That day, he made it alone.
"He didn't ask me why I looked fucked up," Skow notes. "I'm sure he knew I was fucked up. It was a wake-up call because this guy has gone through something as gnarly, if not more gnarly, emotionally than me and he's not looking for any sympathy."
After that meeting, Skow became friends with his neighbor, the man who, until his passing a few years ago, he simply called Wen.
And gradually, he turned his sympathy outward, beyond himself. If there was a message in that fateful meeting, it was a simple one: Sometimes, you have to just let go, Zach. And just put your faith in a dog. Or three dogs. Or all the dogs in the world.
Zach Skow
Which is exactly what Skow did. He founded his own rescue in 2009, calling it Marley's Mutts after one of his own beloved castaways.
Since then, Marley's Mutts has rescued, rehabilitated and re-homed more than 3,000 dogs, many from nearby Kern County's high-kill animal shelters.
And a funny thing happened on the way to saving those dogs. Skow ended up saving himself.
His hikes got longer and longer, dogs dragging him every step of the way.
Zach Skow
Skow has stayed clean for seven years now - long eclipsing that six-month stretch during which doctors said he would need to remain sober before being eligible for a liver transplant.
The thing is, he didn't need one any more.
Zach Skow
"My kidney function had improved," he says. "The doctor told me I didn't have cirrhosis any more."
In the words of his doctor? "I would jump for joy if I were you."
Skow doesn't need a liver transplant any more. He most likely never will.
Today, yellow eyes no longer stare back at him in the bathroom mirror. His reflection shows only life. And those three dogs still staring back at him. He knows now that he's only on this Earth by the grace of dog.