Elderly Woman Spends Her Savings To Rescue Dogs From Butcher
<p> Shutterstock </p>
<p> Shutterstock </p>
Ten thousand dogs are about to be slaughtered for China's Yulin dog meat festival. One kind woman is hoping she can make that number a little bit lower.
Yang Xiaoyun, 65, is making the 1,500-mile journey from her home to Yulin with $8,000 in her pocket to save as many dogs as she can. Last year, she purchased nearly 400 dogs and several cats with the roughly $24,000 she had raised.
Yang's been rescuing animals since 1995 when she fell in love with a stray she took in, but she hasn't had an easy time of it. She has taken in nearly 3,000 animals, many of whom she cares for at her rescue center in Tianjin.
Her crusade has cost her her home and some of her family members, who disapproved of how much effort she was putting into her rescue operation. Many of the dogs have been abused or are ill, but Yang knows that, while not ideal, they're better off receiving regular meals with her than alone and at risk on the street - or in butchers' cages.
And her dreams don't stop there. She hopes to start a rescue center for dogs in Yulin, she told the People's Daily. "I hope the locals can gradually accept our culture through them and to learn to love dogs."
And Yang's dedication is sorely needed. Each year as many as 10 million dogs are butchered for meat in China, according to Humane Society International (HSI), and thousands for the Yulin festival alone.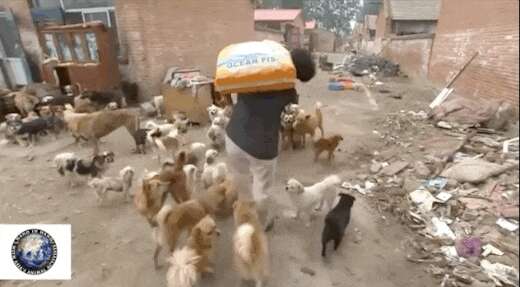 A four-year investigation by Animals Asia revealed no evidence of any dog meat breeding facilities in the country, meaning that the vast majority of butchered dogs are scooped up off the street or even stolen from their owners' yards and sent to slaughterhouses - many of them still wearing collars.
But Yang knows that even if she can't save every dog, she can make a world of difference to the individuals she rescues. And more than just rescuing, she hopes to change how dogs - and animals - are perceived in places like Yulin.
Her other dream project? Opening a vegetarian restaurant in the middle of the city.
With the festival just days away, people around the world are calling for its cancellation. HSI is asking people to add their voices to those calling for its cancellation. You can sign the petition here, and donate to the anti-dog meat campaign here.