You didn't get a cat to help you chase women. You got a cat because you'd become the man you wanted to be and felt ready to share that evolution in a positive way with the world around you. But the fact remains: your cat gives you a distinct advantage in the dating world, and it's one you need to exploit. Your cat is a perfect wingman. Let's look at how you two can work together to land the babes.
IMPRESSING GIRLS WITH YOUR CAT
Women are drawn to men who show an ability to protect and nurture. All the qualities you've developed by caring for your cat are a flashing sign to women that says "Scoop this guy up before someone else does!" The trick is to let them see that nurturing side. I recommend strapping your cat into a BabyBjorn carrier and bringing him out for an afternoon of errands. Don't worry about finding women. They will find you. Just care about your cat as you always do and let the rest just happen.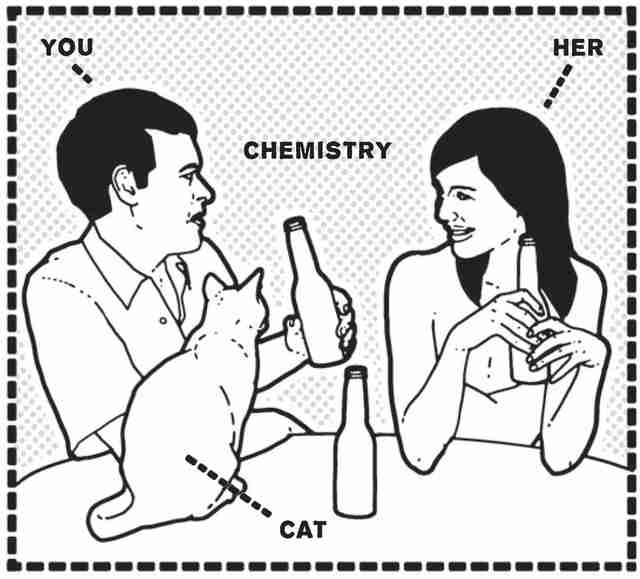 PICKUP LINES AND YOUR CAT
Even if you've left your cat at home, his presence in your life and the important role he plays provide endless opportunities to bait the hook and reel in the ladies. Here are just a few examples of lines you might try:
"I'd love for you to meet my cat, I think he'd find you purrrrfect!"
"I don't know about you, but I'm 'feline' like getting a drink. May I buy you one?"
"You don't have a boyfriend? You gotta be 'kitten' me! [pause] That's a joke I like to make with my cat. I'm a very passionate cat owner."
"I'm total suburban-dad material. I like to meow the lawn."
HITTIN' DA CLUB WITH YOUR CAT
If you're really looking to "own the night" and impress the ladies, there is simply no better play than to bring your cat out with you on the town. (An infant works great too, of course, but the logistics of feeding and changing a newborn in a dance club generally outweigh the positives.)
Women may be intimidated at being approached by both you and your cat simultaneously. Your baller play is to approach a woman by yourself and, after a couple minutes or a nonverbal signal, have your cat sidle up to you two from the other side. When the young lady jumps in fear/surprise, just say casually, "Oh, that's just my cat," and slip him a little skin. If she sticks around after that introduction, you are golden. (Just don't forget to put the sock on your doorknob when you get home!)
YOUR CAT AS YOUR GET-OUT-OF-JAIL-FREE CARD
Your cat is also a valuable tool for extricating yourself from unpleasant dating/flirtation situations without all the normal social awkwardness. If you are flying solo at the club and stuck talking to a dead-ender, you can always use the old "I've got to go home and feed my cat his diabetes medication line (white lie at worst, sad truth at best).
If your cat is there with you, have your cat jump up on the bar and begin plaintively meowing in your face. You guys will have to have agreed on your "parts" in this scene, but the gist should be that your cat is tired and wants to leave, while you want to stay but you feel an obligation to your cat. Your cat says, "I'm going to wait in the car," and walks away; then all you have to do is gesture toward the door apologetically, say your good-byes, and you're home free. It's like war out there in the dating world ... you'd be a fool to head into battle without a weapon like your cat by your side.