Death Of Young Horse Reveals The Dark Side Of Racing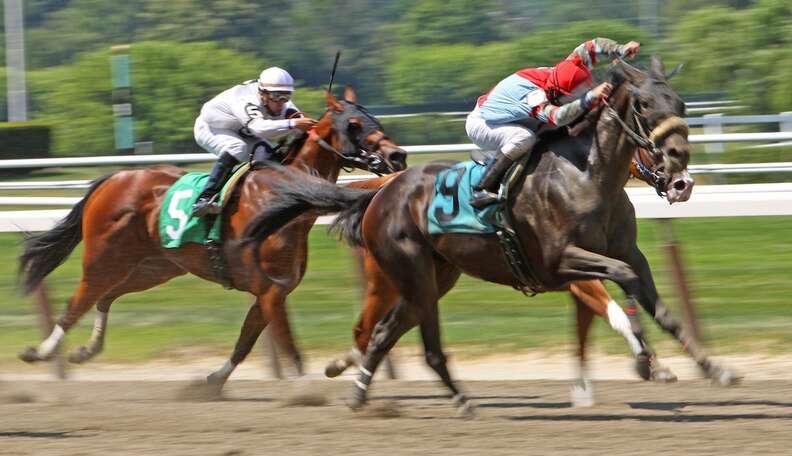 <p> Shutterstock </p>
<p> Shutterstock </p>
"He was making a perfect run," said jockey Jose L. Ortiz about Helwan, the horse he was riding on Saturday at the Belmont Stakes race. "He made two jumps and then switched [his] lead [leg] and broke down. There's nothing else to say about it."
But some people think there is a lot more to say about Helwan - a 4-year-old colt from France making his first run in the United States - who was euthanized after he broke his left cannon bone during the race.
Helwan, who was owned by Al Shaqab Racing and trained by Chad Brown, participated in eight races during his life, and won three.
People are divided about what Helwan's death means. Commenters on social media argued about whether the horse could have lived a good life after suffering from a broken bone - sadly, it can be very difficult to rehabilitate horses with bone injuries. Others questioned the ethics of the horse racing industry altogether: "When horse racing goes well, it's a beautiful art. But when a broken bone has to lead to death, it makes me wonder why we even consider it sport & not animal cruelty," wrote Stephanie Lariccia on an article posted to Facebook. "Stop racing horses! Then this wouldn't happen," wrote Maureen Clifford Reid on the same post.
"Man and animal alike love to do what they were created to. Racehorses love to run," Vivian Grant Farrell of The Horse Fund told The Dodo. "But some even go so far as to believe that race horses love to compete. Perhaps, but not in the way a human being does. In the instance of horse racing, too often humans project insatiable appetites for money and glory onto the performance of these magnificent animals."
Farrell added that horses are commonly given drugs to mask pre-existing injuries so that they can "run through the pain." This compromises their safety, Farrell said.
An article in The Atlantic last year highlights the controversies, even within the industry. "The rampant use of drugs on horses [along] with claims of animal cruelty," Andrew Cohen wrote, "has been understated even among reform-minded racing insiders."
To argue that many trainers are not cruel to their racehorses still ignores the fact the industry's very foundation is built on using animals for profit. The argument does not answer the questions that come from people concerned about horse racing as a whole: whether the highly competitive horse racing industry, as it currently exists, is good for horses at all.
"Winning is everything," Farrell said. "There seems to be no risk too high or too extreme to take to win when it comes to the health and safety of the horses."
Even the horse racing industry is divided. Some horse racers say the industry is fine as it is, while others call for stricter and more consistent regulations on how these valuable animals are treated. As Cohen pointed out in The Atlantic, reform will mean more resources devoted to testing drugs and their effects on the horses, as well as more rigorous legislative efforts to regulate trainers and vets and punish those who break these rules.
"While there have been calls for a necropsy to determine what caused the death of Helwan, it is unknown if the New York racing authorities will comply," Farrell said.
43 horses have died in New York State so far this year due to racing and training, and at least 583 thoroughbreds died within 72 hours of their races in 2014. Horses may very well love to run. Some may even enjoy racing. But it's hard to imagine any being on earth who wants to die for it.
Learn how you can take action for horses here.