Injured Young Elephant Goes From A 'She' To A 'He'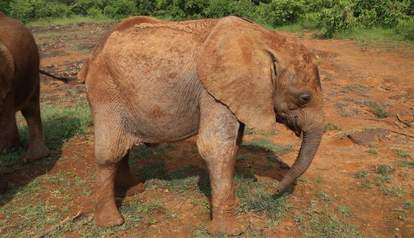 <p><a href="https://www.facebook.com/thedswt/photos/ms.c.eJwzNDA0NTYxtjAxNjOzMLGwsNQzRIhYGFiii1iC1AAAI5gK4g~-~-.bps./10153438436684889/?type=1&theater">Facebook/The David Sheldrick Wildlife Trust</a><span></span></p>
When a young elephant was the victim of a hyena attack, she was hurt so badly by a hyena, it was hard to tell if she'd make it.
And because of the extent of her injuries, it was even hard to tell whether the young elephant, who even lost her tail to the hyena, was even a "she."
The David Sheldrick Wildlife Trust (DSWT) rescued Alamaya after the attack that could have taken her life and helped bring her back to health. As the weeks went by, Alamaya began to recover and rescuers observed her behavior, which was in some ways surprising.
"It was actually the DSWT Keepers that soon after the rescue, began to suspect Alamaya was a male, because of 'her' behaviour," the DSWT told The Dodo. "This was prior to any surgery – we had been treating the genital area with green clay but there was no indication that 'she' was a male from this." One thing they noticed was Alamaya's habit of urinating like a boy elephant.
Rescuers had already been rethinking Alamaya's identity when they conducted surgery on the young elephant's injuries. What they saw made them realize they'd been wrong all along -little Alamaya was actually a strapping young boy elephant.
Sadly, because of his injuries, Alamaya will never be able to mate. But on the upside, he is making an incredible recovery, and the vets expect Alamaya to be able to grow into a healthy elephant who can be released into the wild.
Support Alamaya through the DSWT fostering program.
Read about other baby elephant rescues here and here.
Clarification: This piece has been updated to clarify that the Elephant Keepers noticed Alamaya's different behavior before any surgery was performed.