Young Boy Gets New Service Dog Thanks To Kind Classmate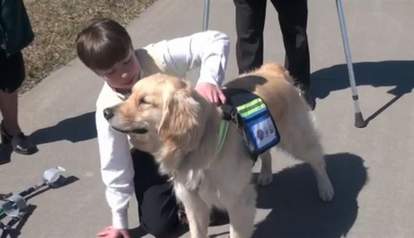 Alex White has spent the past year waiting for his dog to come home. Alex, an 11-year-old boy from Topeka, Kansas, suffers from hereditary spastic paraplegia, a genetic disorder that causes progressive weakness in the lower limbs. For several years of his young life, he relied on Hope, his service dog, until she was hit by a car last March. So Alex has spent the past year waiting for his dog to come home -- and now he doesn't have to wait any longer.
Thanks to the fundraising efforts of Saige Halseth, one of Alex's elementary school classmates, the boy's community was able to gather $33,000 to get him a new service dog. "He's just my friend," Saige said in an interview last March. "I wanted to help him because I know he would need [a dog] for the future."
Although Saige and the Topeka community were able to fund Alex's new service dog rather quickly, it took several months to match him with a dog who would fit his personality. Finally, with the help of Kansas Speciality Dog Service, Alex has found his dog: Redondo, a golden retriever.
The two will officially graduate from their training together on April 5th, but Alex will get to bring him to school on Monday. Alex's family plans to use the remainder of the money Saige raised to start a service dog scholarship fund -- the Hope Scholarship Fund -- to help other children with spastic paraplegia. "I was shocked to see how well [Alex and Redondo] match," the boy's father, Ray White, told WIBW. "They just go together so well. We're pretty ecstatic."
"So far, [Redondo] is really helpful," Alex reported. "I have someone who can help me when I need it ... we can have happy times now. He is pretty much a part of the family."