Maybe going to the dentist wouldn't be so bad - you might even be glad to be there - if you could watch a rescue bunny in a Santa suit playing, while you were in the chair.
Dentist Joseph Craig first combined rabbits with human dentistry at his office in St. Petersburg, Florida, in the early 1990s.
His kids had a family of rabbits living in a hutch at their home. But Craig thought they didn't have enough room, or enough sunlight - and so he relocated the crew to the fenced expanse of his office's outdoor space.
The rabbits thrived in their new environment - and also bred like, well, rabbits.
"We learned we had to get them fixed," Craig tells The Dodo.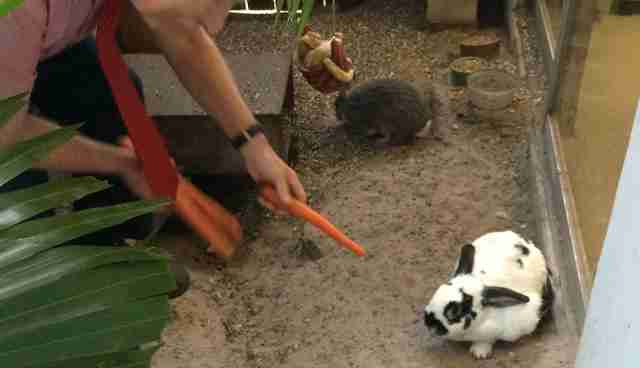 Craig begins this Wednesday morning as he does most days: by gathering up carrots and cut-up apples for his current crew of seven rabbits, adopted from the Humane Society of Tampa Bay. (There are no more surprise litters, since these guys are all spayed or neutered.)
Craig slips past a patient having his teeth cleaned, to open sliding glass doors leading from the exam room - each exam room has this setup - into a garden.
In the winter, the bunny Santa costumes come out.
But mostly these rabbits just have normal, ordinary pet bunny lives - and because they do it in sight of the exam rooms, Craig says, they help his patients.
For example, the daily carrot and apple feedings help teach kids that it's important for them to eat lots of fruits and vegetables.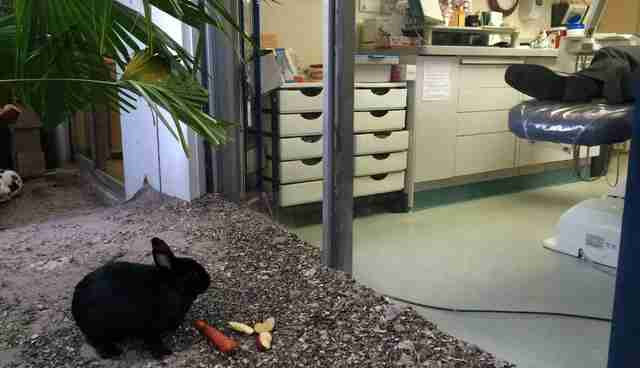 Craig likes for his patients to know that these animals were adopted, too. He even keeps their adoption papers in a folder in the office - where, out of his galoshes, Craig puts on a white lab coat, to start his work day.
These documents show that Robbie was surrendered to the shelter because his owner didn't have enough time for him; Luna didn't get along with another pet in the household.
"These are rabbits that had a home and then were taken to the shelter," he says. "We gave them a second chance."