For those of us who want to protect endangered species, there are times when we may question our government's actions. That's our right and our privilege, as citizens of one of the world's greatest democracies.
But then, there are times like right now, when voicing our support can mean all the difference.
As we speak, on the government drafting table, there's a landmark proposal to ban virtually all interstate ivory sales, proposed by President Obama and the US Fish and Wildlife Service earlier this summer.
The proposed measure could be a huge step to turn the tide for elephants, who are doomed with extinction in as little as 10 years if current poaching rates continue. However, the new rule isn't in place yet.
Before it can go into full effect, the measure is first open to public comments until September 28. At that point, the US Fish and Wildlife Service will sort through all our comments, and decide whether and how to move forward based on our input.
This is where you come in. If you add a comment supporting action to save elephants from extinction, you'll be "voting" for it. You'll be voting for elephants. And elephants need all the votes they can get right now.
You have a lot of power as a US citizen. And now is the time to use it - for elephants!
Here's why the proposed ban is so important for elephants.
When President Obama announced the proposed interstate ivory ban during his trip to Kenya in July, elephant lovers jumped for joy at the news.
"Together, we can save lives," President Obama said.
During a joint press conference with President Kenyatta of Kenya, President Obama said that while the US has banned the import of commercial ivory products, it soon will ban virtually "all" ivory sales across state lines. The proposal follows up on several tenets first outlined in February 2014 in his National Strategy on Combating Wildlife Trafficking.
As a note, the proposed rule only addresses trade across state lines, as well as foreign imports and exports. It is up to individual states to end their own domestic ivory trade, as the great State of New Jersey did in 2014.
Still, the President's proposed near-total ban at the federal level could be the keystone in bipartisan efforts to save elephants worldwide.
Here's why it's so important:
First of all, the proposed rule will help close some of the major loopholes that weaken our ivory policy right now. These are the loopholes that allow ivory smugglers to flood our nation's market with hideous trinkets from recently slaughtered elephants under the guise of "antique" and "art" false labeling.
Considering the US is the world's second largest market for ivory products, after China, this is a pretty big deal. If less ivory is for sale in American cities, then fewer elephants will be killed to supply consumer demand. We'll put a very real dent in the brutal global ivory trade.
Second, and maybe even more importantly, there's the domino effect. If America - with your help - takes action for elephants with stronger policies to ensure their survival, then other nations will follow.
The world is watching us very closely right now, especially China. Once we establish this near-total ban and end unabated ivory sales across state lines, we'll be in a much better position to ask China to do the same. And if China bans its commercial ivory sales - elephants will have a future on this planet.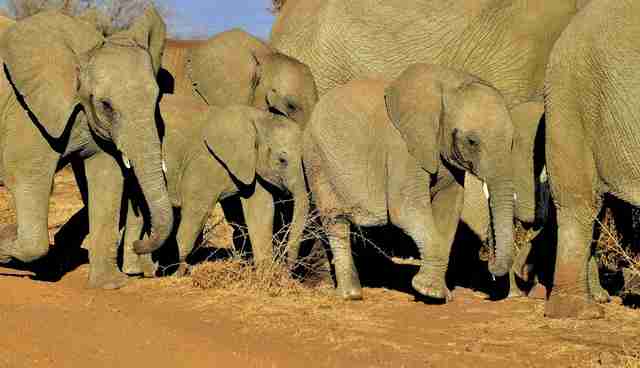 Unfortunately, the proposed ivory ban is in danger.
Despite having the support of the President, many other bipartisan officials, and elephant conservation experts around the world, the proposed near-total ban is at risk.
Elephants DC recently learned that as of late August, more than 400 people have sent in comments to the government about the proposed rule. But this isn't necessarily a good thing for elephants. Not if most of the comments are votes against an ivory sales ban.
Unfortunately, there are some very wealthy antique dealers who worry about losing their "investment" in ivory products. Even though most antique traders in the US gave up selling elephant ivory decades ago, a few antique traders have united with the top brass of the National Rifle Association (NRA), which has already come out strongly against the ban.
And, since the proposed ban contains a slight restriction on "trophy" hunting, hunters who want "total freedom" to murder endangered species for sport are also getting riled up against the ban. The measure reduces the number of dead elephant "trophies" an American can import legally to two annually. Right now, it is unlimited.
Trophy hunters. The NRA. Wealthy auction houses. These are some scary foes. And you can bet they're all going to be writing in to the government to convince the US to cancel the proposed ban. Or to water it down further, to the point where it becomes meaningless.
But in reality, we know the majority of Americans want to save elephants. We think it's unjustifiable that ivory is still for sale in the US, when elephants are being poached faster than they're being born. We know in our hearts that an ivory ban is the way to go to make sure our kids can still see elephants in the wild one day.
That's why it's up to us to make sure that the ivory smugglers and others don't get the last word.
It's up to us to make sure that majority of comments the government receives are from people like us - people who love elephants, and people who want this ban to help save them.
It's up to us to save elephants from extinction. Ours is the generation that the future will look back on, and ask, "Did they do enough?"
So, will you speak up? It's easy to make a public comment! Find out how to add your voice below.
How to add your public comment to the proposed ivory ban.
It only takes a few minutes to add your comment. And you'll get to take a unique trip through one of the more obscure - but super important - processes of our government.
Here's how to do it:
During a recent public meeting of the National Advisory Council on Wildlife Trafficking, Council member David Hayes called the measure an "extremely important proposal," and encouraged everyone to comment and participate in the public process. Now is our chance.
Act now, before September 28 - before it's too late for elephants!
We truly have a powerful and once-in-a blue moon opportunity to participate in our own government's decisions related to elephants right now.
If we trumpet together, we can enact this extremely vital measure. In lieu of an act of Congress banning all ivory commerce, this is the best chance we have to reduce the commercial trade of elephant ivory at the federal level in 2015.
(And don't worry, Elephants DC will never stop fighting for a full ivory ban at home and worldwide. The new federal regulations are an important step to making that dream one step closer to reality.)
But if we stay silent, or assume that enough other people will raise their voices and take care of it for us, the ivory lovers may win. More and more illegal ivory will worm its way into our nation's commerce through loopholes we didn't bother to close. Other nations will see our failure, and use it as an excuse not to act themselves.
Elephants are depending on our voice right now, Americans. On your voice. Will you be brave enough to show your support?
We believe in you! We believe in America. Take a few minutes to add your public comment today, before Sept. 28.