There Is Only One Major Tech Company Still Selling Whale Meat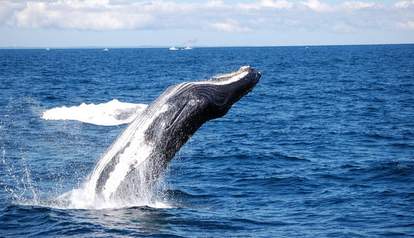 <p><a class="checked-link" href="https://www.flickr.com/photos/kim_nesbitt/3762317839/in/photolist-6JsS1X-8cGwXw-pyVycG-pyVygE-6A7iV5-8dbcFr-dq4AWF-8SUKcC-eHFRwA-5bNiac-5xYx6g-6hEPFy-8PCVP4-6hEPFS-yrxo-c5Zhq5-fyB2Qc-6Dfyz2-8DArp4-967yym-4vtjvz-at9H35-adzK9P-2aGNMm-eKaWwY-eJYtUg-DCkya-5g6X3L-eJYt6z-DCkpd-eJYux4-8hTuhJ-eKaSQL-eJYrWX-aicpvC-eKaPEj-a1fdfL-edS4hu-edLp5p-edS2iA-edS3zf-edSnzj-edLpyH-edLq1D-edS3j7-edLoAg-edS35h-edLpKn-4vxpDQ-fHGovt">Nesbitt_Photo/Flickr</a></p>
Earlier this week, a California restaurant owner pleaded guilty to three misdemeanor charges of selling federally protected whale meat from an endangered Sei whale who was hunted by Japanese whalers. The sentence, which resulted in a $27,500 fine split between the owner and his parent company, shines a light on the whale meat industry, which continues to thrive despite fierce backlash.
Whale meat is still regularly consumed in Japan, despite an international ban on the practice enacted in 1986. In fact, it's even legal to sell whale meat that was hunted for purportedly "scientific" research. But after outrage from conservationists, many large retailers have stopped selling the product. Japan's Amazon.com, Google Shopping Japan and an even larger e-commerce site called Rakuten, all recently stopped selling whale meat.
But one of the biggest retailers still sells whale meat, despite protests: Yahoo! Japan, which hosts over 1,000 whale meat items for sale. In 2012, the Environmental Investigation Agency revealed the site's whale sales, including the sale of endangered Sei whales.
A petition on Change.org calling for the site to stop selling the product has over 160,000 signatures. According to Adam Peyman of Humane Society International (HSI) among the products offered is meat from minke whales caught in the Southern Ocean whale sanctuary, as well as endangered fin and sei whales caught in the Northwest Pacific and meat from pilot whales caught in Taiji drive fisheries.
Peyman and HSI have been asking the site to stop selling whale meat for months.
"Yahoo! Japan and the company's majority shareholder SoftBank, an enormous corporation that recently acquired Sprint, has been ignoring our continued efforts to urge them to stop selling whale products," he told The Dodo. "Yahoo! U.S. was shocked to learn that their Japanese counterparts were selling whale meat, and they have been receptive to us, but we feel they could still do much more to urge their Japanese affiliate to stop profiting from the killing of whales."
The Dodo has not yet heard back from Yahoo! Japan, Yahoo! U.S., or SoftBank.
Editor's note: SoftBank Corp. is an investor in The Dodo.