Entire Family Of Dogs Killed In Less Than One Week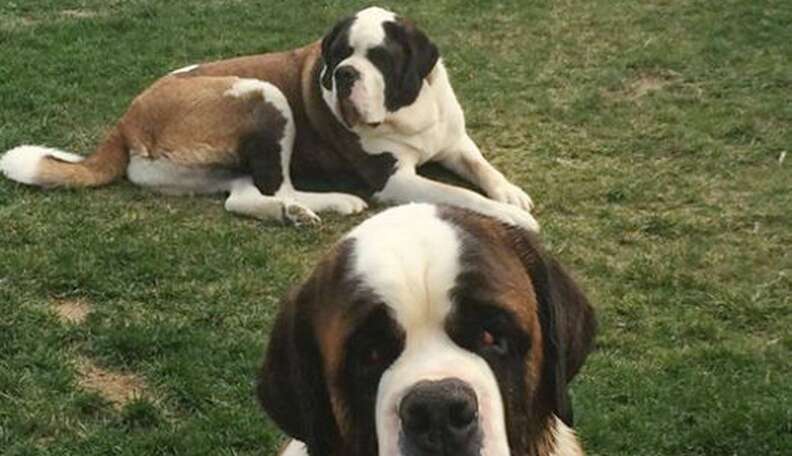 <p> Jamie Hazleton<span></span> </p>
A Wyoming family endured a life-changing loss late last year when their three young St. Bernard dogs were killed in the same gruesome way.

The first dog, Brooklyn, went missing on a Saturday. On a family search mission the following Tuesday, the two other dogs, Jax and Barkley, were caught in snares - traps that work by tightening a noose around the animal's neck or body - legally set by wildlife trappers. They were both strangled and died 10 feet from each other, in front of the family's children.
Brooklyn was later found dead in a snare, not far from the others. And, according to Jamie Hazleton, the sister of the dogs' owner, he was killed only 100 yards from a local residence.
"Our family has lived in Wyoming our whole life and has never been made aware of the danger that landed almost literally in my sister's backyard," Hazleton told The Dodo. "My sister's family had been walking on that piece of state land for over four years and never once did they anticipate this particular threat."
The tragedy that took the lives of the St. Bernards highlights just one of the many inadvertent consequences of wildlife trapping - an industry that is experiencing a boom, thanks in part to high demand for fur in China and other parts of Asia.
To some animal advocates, Wyoming is a state with particularly troubling habits: According to a Born Free State Trapping Report Card based on animal trapping regulations across the country, Wyoming has earned itself a D+.
Reforming the state's trapping laws is the mission of a new nonprofit advocacy group called Wyoming Untrapped. WU maintains its goal isn't to abolish trapping altogether, but to modernize trapping regulations so that what happened to the three St. Bernards, for example, can be averted in the future, and the state's wild animals aren't subjected to long and excruciating deaths.
Meanwhile, trapping reform is also bubbling up in other states: A new bill has been proposed in Minnesota to protect dogs from accidental deaths in wildlife traps, an effort in California is underway to stop bobcat trappings and a series of dog deaths in Idaho has stoked outrage and calls for change.
Lisa Robertson is the founder of WU. In an interview with The Dodo, Robertson calls Wyoming trapping regulations "antiquated." For example, she says, one of WU's concerns is that wildlife traps can be legally set almost anywhere in the state.
"Eighty-five percent of the land here is wide open to trapping," Robertson says. "Even on the trails. In fact, right on the walking trails it is legal for a trapper to put down his trap."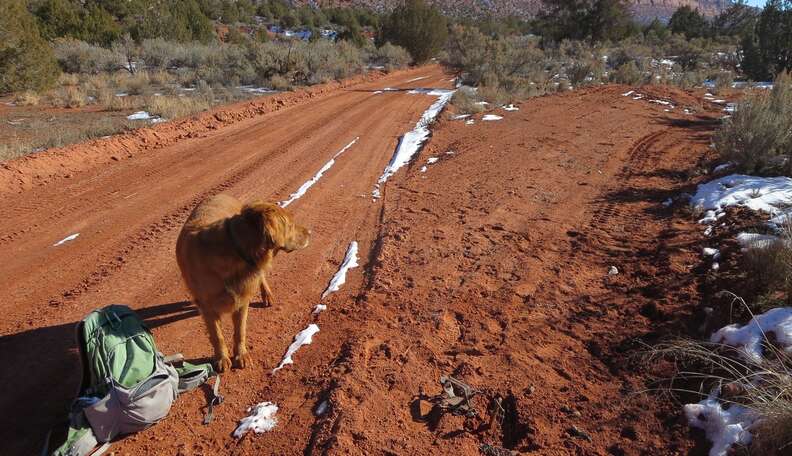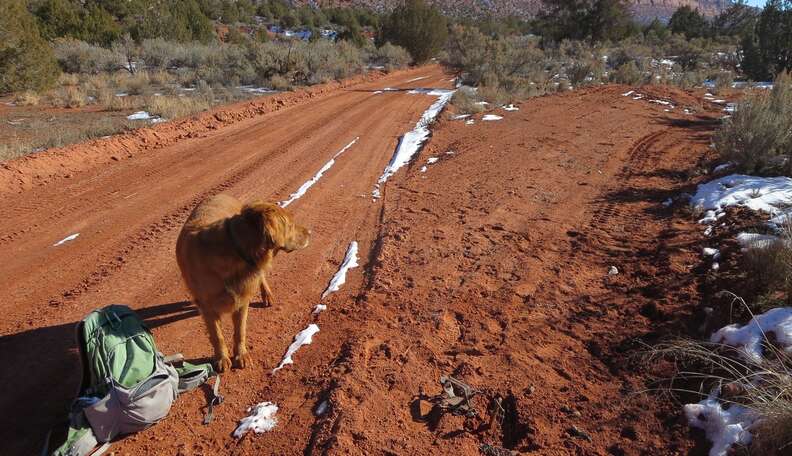 Wyoming Untrapped is advocating for particular changes on the trails, starting with the Jackson Hole region. Katy Canetta, the program director for WU, says the organization hopes for new regulations that will require traps to be set back at least 500 feet from trails in Teton County and close 175 miles of trails to trapping. She added that the request would shut down less than 2 percent of the total county to trapping.
Canetta also says WU is engaging in public education efforts, such as hosting trap release workshops where dog owners can learn how to release their dogs from traps.
And while the safety of pets is of considerable concern for WU, Robertson says all wildlife suffers far too frequently in the painful traps set across the state.
There are two groups of animals generally targeted by trappers. One is fur-bearing animals, like minx, badgers, beavers and bobcats. There are limits on seasons, location and population on furbearing animals who can be trapped.
The other group of trapped animals is "predators," says Canetta, who are not designated fur-bearing animals. Predators include certain fox species, coyotes, jackrabbits, porcupines, raccoons and stray cats. The distinction is a regulatory one and allows people to trap these animals as often as they like, without a license. Robertson adds, "There's no official data on how many [predator] animals are trapped annually. If you trap a coyote or a fox, for example, you don't have to report it. It's totally indiscriminate: Bears have been trapped. Moose have been trapped. Bald eagles have been trapped. Mountain lions can be trapped."
The most recent data from the Wyoming Game & Fish Department show that 2,560 licenses were sold in the 2013-2014 season.
WARNING: Graphic and disturbing images below
Different traps are used for different reasons.
Leg-hold traps slam shut around the animal's leg to keep her restrained. In theory, if a non-targeted animal is trapped this way, a hunter will be able to release him, although leg hold traps "can cause severe swelling, lacerations, joint dislocations, fractures, damage to teeth and gums, self-mutilation, limb amputation and even death," according to Born Free. Canetta says that when trappers return to the leg-hold trap and kill the animal, "they usually do not use guns, as that would damage the fur. Instead, they often hold a knee to the throat or chest to crush and suffocate the animal."
Conibear traps, also referred to as body-gripping traps, are designed to kill an animal quickly by clamping squarely on the neck or spinal column, although WU's Robertson says they don't always finish the job.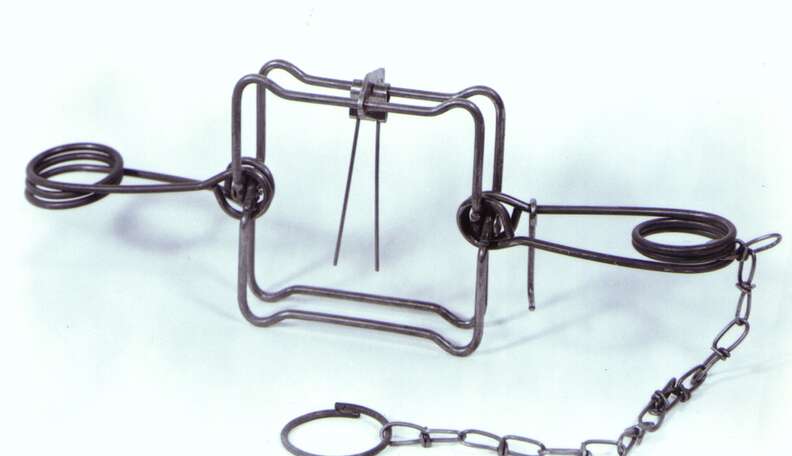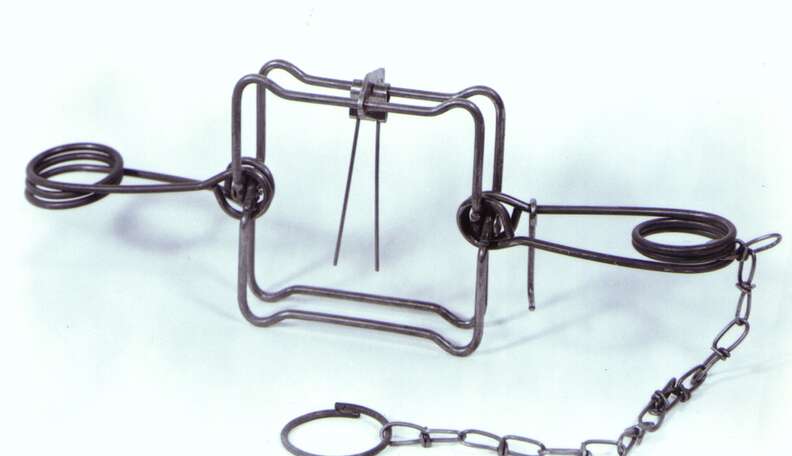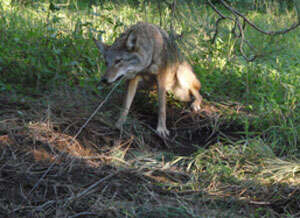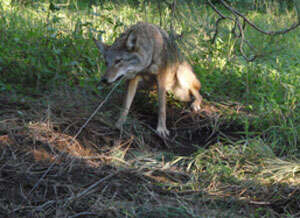 According to a Born Free investigation in 2011, a snared animal who is still alive may be crushed to death by a trapper. Video footage of the investigation can be viewed here.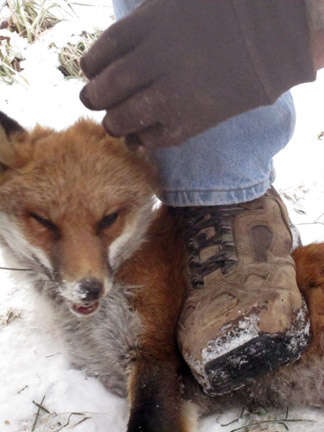 Currently, trappers are required to check the various traps after specified lengths of time. Leg-hold traps demand an inspection by the trapper every 72 hours. But for snares and conibears, sometimes it can be 13 days before a trapper is mandated to return to the trap. If the animal isn't quickly killed, this will prove agonizing.
WU would like a 72-hour requirement for all traps in Wyoming.
Robertson says that until she launched Wyoming Untrapped, there was no other local, nonprofit, welfare-minded group focusing on trapping in the state. So far, she says, she's heartened by the public's response.
Jamie Hazleton, for one, says she commends WU's efforts - and that laws in her state need to be reformed.
"My niece and nephew witnessed the horrific death of two of their three dogs and will carry the emotional devastation of that loss for the rest of their lives," she said. "No animal should have to suffer like that and no person should be forced to helplessly witness it."
The Wyoming Game & Fish Department says beginning this April it will take public comments on draft trapping regulations for 2015-2016.
To learn more about Wyoming Untrapped, click here.