Wowww - The First Smartphone Controlled Bird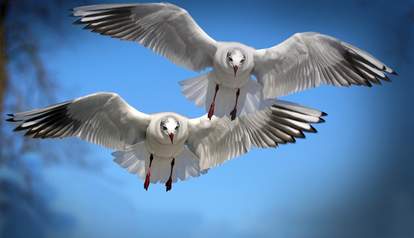 Have you heard of the first smartphone-controlled bird? The story starts with one little boy dreaming of flying with the birds. Now his dream is reality and he is going to create the Bionic Bird.
The project is well under way and the prototype coasts only $100 and can fly up to 100 metres away.
How it works? You only use your phone or iPad and control the bird like you're playing a game. The communication between your phone and the bird happens through bluetooth. You'll be amazed of how exact each movement of the flying robot is.
Bionic Bird
This small bird-like robot looks the same as any other bird in the sky. Made of foam, it's powered by a battery shaped like an egg. And it can fly about ten minute on a single charge. It works with 800 mAh portable charger which can be refueled via a USB port. This gadget is actually a bionic bird controlled by an app. The future project is a version of this but with an HD camera attached to it. The bird itself weighs only eight grams. Its wings flap eighteen times per second or with other words – around eight minutes flight is enough to cover a distance of about 1.8 km. You can also fly it indoors because the tail angle can be adjusted for fast or slow flights.
What are the implication of something like that you ask? Well for one, a piece of machinery like that will make bird control very easy in future. If you don't like the idea of using the bionic bird for bird proofing, you can always tease your cat with it. Although a very cool toy, at the moment that drone wouldn't be enough to keep your home safe from the bird pest. Speaking from experience, at that point in time it's much better to call a pest control company.
App Controlled Drone
The app with which you can control the bird has two modes. Both of them use touch control for the throttle. The first is called "easy mode" and it uses the phone's acceleromenet to steer the bird. The second - hard mode, uses touch controls for the steering.
There is also a pair of replacement wings included in the set in cases you accidentally run your bird into a wall or crash it to the ground.
You can pledge a bird on Indiegogo for just $100. The company says that the bird drones will be delivered by Christmas this year. More great news – the European Union, Japan, Canada, and the USA will have a free delivery, with other countries paying more than $20 for it.
The Bionic Bird is More Than a Drone
It is the fruit of more than 40 years of research and development and uses helicopter-like flying style.
You can fly it in all weather, except for in rain and strong wing (10 knots and above). And like most flying devices, it's not too fond of swimming.
If you are interested in drones, you can check the list of the best drones for this year.
Bionic Bird VS Raptors (Predators)
Bionic Bird doesn't frighten the other birds, on the contrary - it attracts them. It can escape its predators without a problem, even some of the most agile hunters - cats, because of the elastic foam body and its flexible wings. The drone's body is virtually indestructible.