Depressed Polar-Grizzly Bear Kept Locked In A Room At The Mall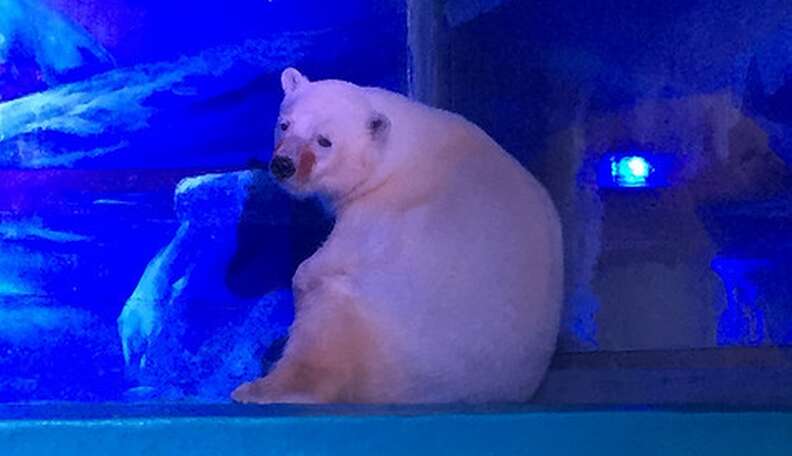 This might be one of the saddest zoos in the world.
Photos have emerged of Grandview Aquarium, located inside a mall in Guangzhou, China. And they're absolutely horrific.
In one, a white wolf curls up alone in the corner of a stark concrete exhibit.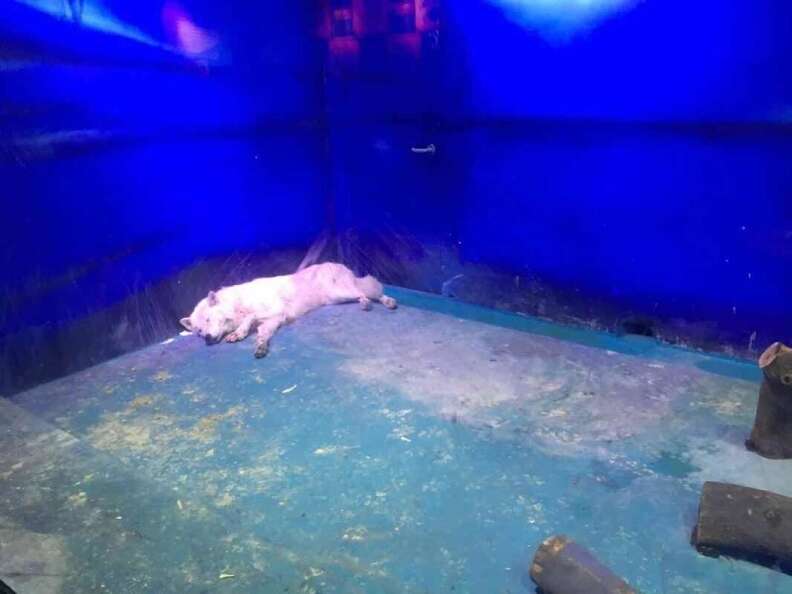 In another, a polar-brown bear hybrid stands on his hind legs in front of the glass, reaching up his head and appearing to cry out.
A third picture shows what appears to be a grouper lying dead on his side in front of the aquarium glass.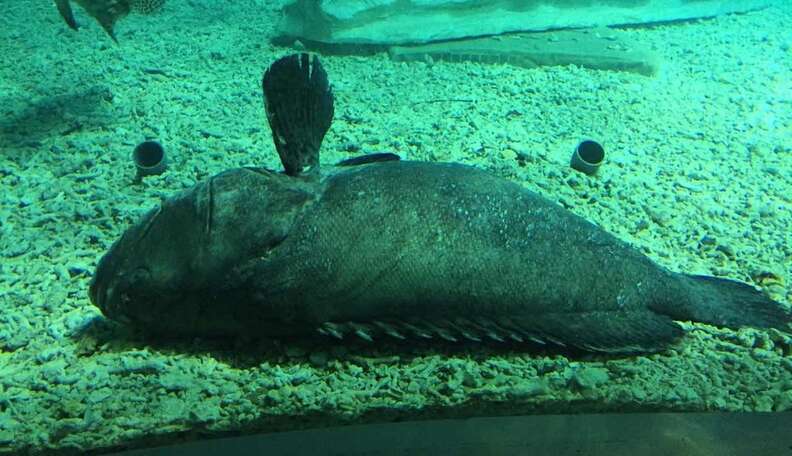 Though some part of the aquarium appears to have been around for several years, Animals Asia, an international animal welfare organization, says it believes these exhibits opened on January 9.
The conditions are "horrifying," Animals Asia reported.
That much is clear from the photos. The exhibits are startling in their sparseness, bare concrete cells painted a garish dark blue.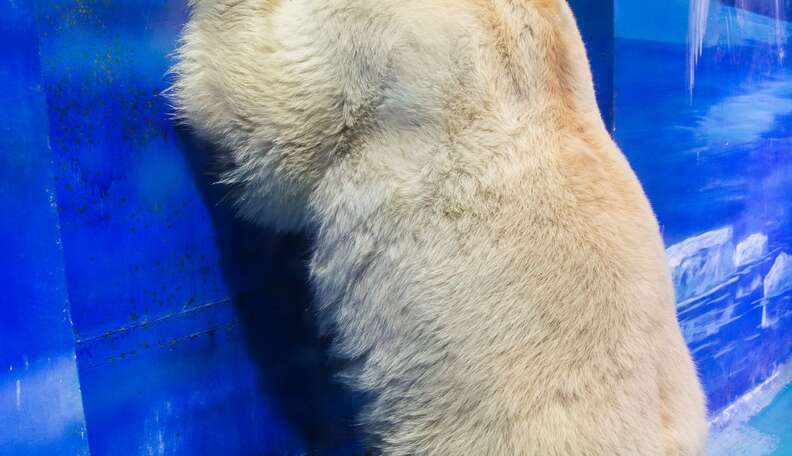 Among the animals are two polar-brown bear hybrids, six young belugas and five walrus calves, Animals Asia reported. There's also at least one wolf and what appeared to be a group of Arctic foxes, as well as a whale shark.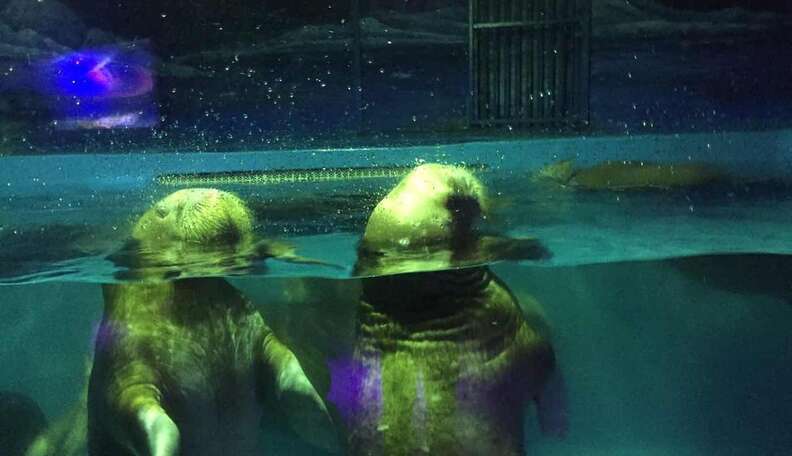 The animals appear to have little to no enrichment. The foxes' enclosure consists of a small wooden playhouse, a few logs haphazardly thrown on the floor and some dog bowls.
The exhibits appear to be perpetually dark, except for the flashes from tourists' cameras. One video clip shows a group of visitors banging on the glass to attract the attention of one of the bears.
It's clear the animals, if kept there, will never see the sun again. Some of them are also forced to perform, according to Animals Asia.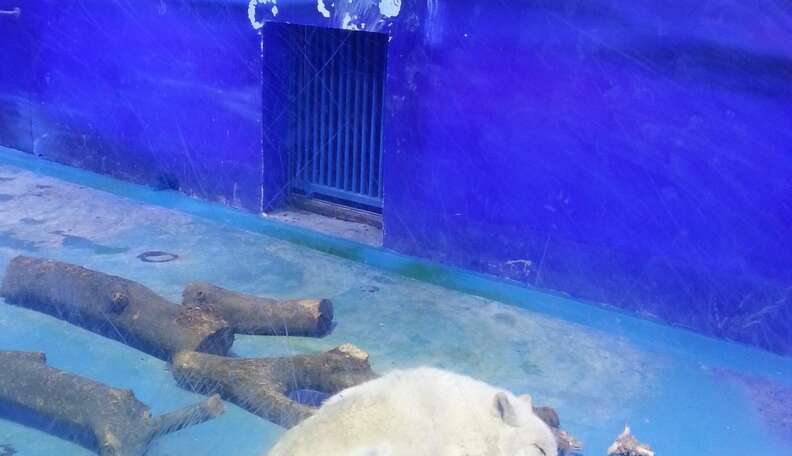 Grandview came under fire in China early this year after a post on WeChat, a Chinese texting and social app, went viral, criticizing the mall for keeping animals in such poor conditions.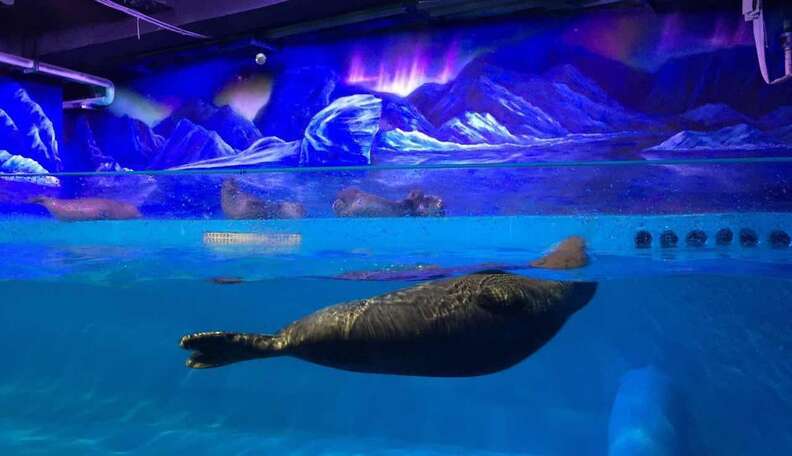 The aquarium was then investigated by the Guangzhou Ocean and Fishery Bureau, which found that some animals were injured or died during the move into the aquarium, according to an article in China's Global Times.
But the aquarium defended itself by saying "their purpose is to popularize science and nurture marine life," the outlet wrote.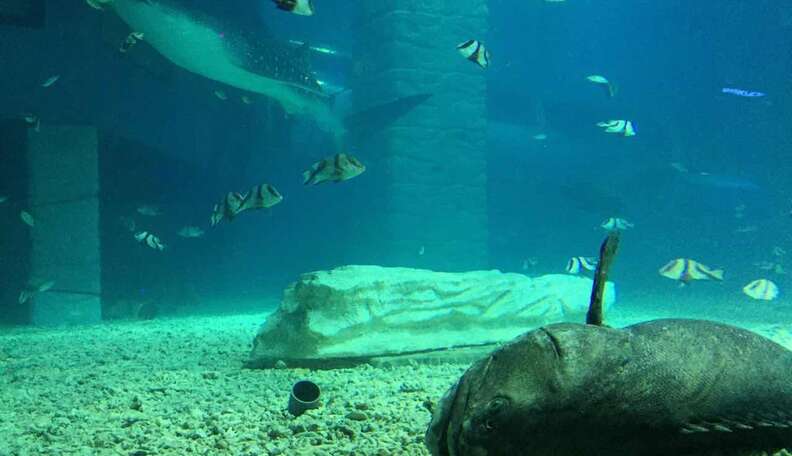 Animals Asia and the China Cetacean Alliance also reached out to Haichang Holdings, China's largest operator of marine parks and the company that runs the aquarium, to outline the welfare issues at Grandview. The groups said in the following weeks that they never got a response.
But despite Grandview's denials, it's clear the aquarium is a nightmare for the animals kept there.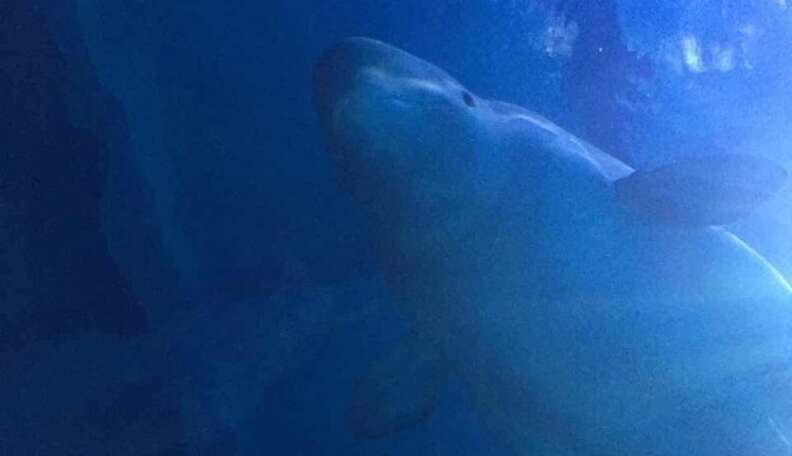 Polar bears, belugas and walruses have been known to exhibit stereotypical behavior in captivity, compulsive patterns animals develop to cope with psychological stress; belugas do particularly poorly in captivity, and routinely die decades before their natural life span.
"Taking animals from their natural environments can never be defended, but when they're rehomed in conditions like we're seeing at the Grandview Aquarium, it's the worst possible situation," Dave Neale, director of animal welfare for Animals Asia, said in a statement. "While those behind this may claim this as education, it's clear the motivation here is bottom line profit."
He noted that many people in China are opposed to such cruel practices, and continued public pressure is the only way to help the animals.
"We all need to continue to publicly object to such facilities - and for those living locally, we say, 'So long as animals are suffering, choose somewhere else to shop,'" he added. "Don't reward cruelty.'"
In the meantime, the animals at Grandview's cruel menagerie will continue to sit in their cells - and stare at those unnatural blue walls.
UPDATE: As of July, Animals Asia reported that it was in touch with Grandview Aquarium and had visited the premises. Animals Asia said it doesn't expect that the zoo will be shut down anytime soon, but is hoping that ongoing discussions will improve the animals' living conditions.
"This was our second meeting and this time I saw their facilities from top to bottom," Dave Neale, Animals Asia's animal welfare director, wrote in a blog post on July 13. "There was no attempt to hide anything from me. We also spoke to more junior staff who actually look after the animals. And now I know that our concerns are theirs too. The day after our visit, following our basic recommendations, the bear keeper provided piles of snow for the bears and is now starting a programme of enrichment. We're going to input into that for the bears and for the other animals too."
"Because the sad truth is, in this instance, we can't immediately shut down Grandview," he added. "And they are unlikely to free this bear, or any of the other animals they house, at least not in the short-term."
Would you like to help the bears and other animals trapped at Grandview? You can sign a petition here or make a donation to Animals Asia's welfare efforts.