World's Ugliest Dog Contest Celebrates Dogs That Redefine Beautiful
<p><a class="checked-link" href="https://www.flickr.com/photos/enemiguito/2228625578/sizes/o/">The Aguirres S&amp;A</a><br><a class="checked-link" href="https://www.flickr.com/photos/enemiguito/" style="text-decoration: none; color: rgb(255, 255, 255); font-family: Arial, Helvetica, sans-serif; font-size: 12px; background-color: rgb(0, 99, 220);"></a></p>
The World's Ugliest Dog competition kicks off today. These might not be the most pulchritudinous pooches in the park, but we love them all the same (maybe even more.)
Take Yoda, this Xoloitzcuintle -- or Mexican Hairless -- mugging for the camera. "It was truly love at first site," says his owner. "I had never seen anything that was so ugly but so precious!"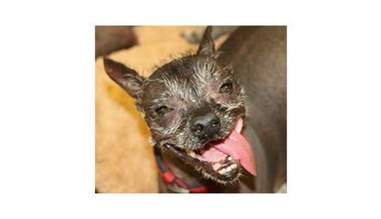 [World's Ugliest Dog]
The homeliness of these dogs, sadly, often reflects something truly ugly: human cruelty. The competitor Peanut was set on fire, and spent 9 months in an animal hospital. "I want people to see his story and to raise awareness for animal abuse. This is what happens every day and we really need to come together to stop it," Peanut's owner, Holly Chandler, tells WTCI.
It's also a celebration of mutts and mongrels, according to the World's Ugliest Dog organizers:
For 25 years, the Contest has been a testament that all dogs do not have to meet [American Kennel Club] pedigree standards to be man's (or woman's) best friend. The owners of all kinds of dogs are also all kinds of people, from youngsters to senior citizens, each proud of their pet despite missing fur, crossed eyes, duck waddles or mismatched ears. They proudly walk both pedigreed pooches and Heinz 57 mutts down the red carpet to the cheers and clapping of the crowd.
You can meet the rest of the ugly dog competitors here.