Born at least 65 years ago, an albatross named Wisdom has long been called "The World's Oldest Known Wild Bird." To one newly-hatched chick, however, she has much shorter name - mom.
This week, officials at Hawaii's Midway Atoll National Wildlife Refuge announced the birth of Kūkini (a Hawaiian name meaning "messenger"), believed to be the 40th child of the sexagenarian seabird.
Wisdom and Kūkini.U.S. Fish and Wildlife Service
In November, Wisdom returned to the atoll to lay an egg that her and her mate have been incubating since. On February 1, researchers say tiny Kūkini finally broke through the shell.
"Wisdom is an iconic symbol of inspiration and hope," said Refuge Manager Robert Peyton in a statement. "From a scientific perspective, albatrosses are a critical indicator species for the world's oceans that sustain millions of human beings as well."
Kūkini and her father, known as Mr. Goo.U.S. Fish and Wildlife Service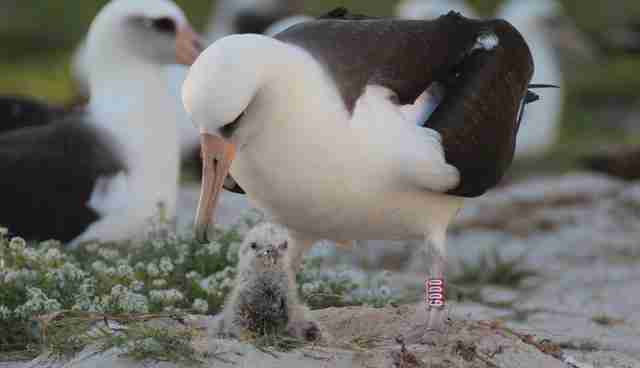 First identified by researchers in 1956, Wisdom is one of almost a million Laysan albatrosses that nest on Midway Atoll each year. The species is known for being exceptionally long-lived, but officials say Wisdom is breaking previous longevity records by at least a decade.
At 82 years old, a cockatoo named Cookie at the Chicago-area Brookfield Zoo is currently the oldest known bird in captivity. However, as a zoo animal, Cookie has nowhere near the flight time of Wisdom, who has likely flown over three million miles in her life.
Cookie, a Major Mitchell's cockatoo.Flickr/Nimesh Madhavan
"That is up to six trips from the Earth to the Moon and back again," noted Bruce Peterjohn, Chief of the National Bird Banding Laboratory.
U.S. Fish and Wildlife Service
To learn how you can help support America's National Wildlife Refuges, visit the National Wildlife Refuge System's website here.