Women Rescue Stray Cats And Take Them Hiking And Camping
<p>Kayleen VanderRee </p><span></span>
<p>Kayleen VanderRee </p><span></span>
As Kayleen VanderRee was tossing out some garbage in a trash can at a park last July, she thought she heard something.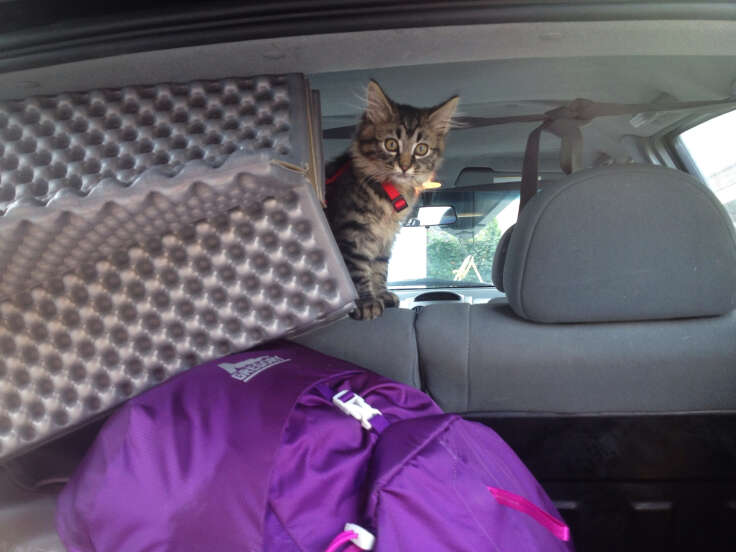 She stopped in her tracks. It was the unmistakable sound of a cat meowing.
VanderRee watched as a tiny kitten came out from behind a bush and reluctantly walked toward her. "I coaxed him out and picked him up," VanderRee told The Dodo. Then she saw a second kitten. That's when she called over her best friend, Danielle Gumbley.
"They were clearly abandoned," VanderRee said. "There's lot of cougars and bears and eagles in the area, so we decided to take them with us because we didn't want them to get eaten."
Since their local SPCA shelter was closed by the time they found the kittens, they decided to take them along on their weekend trip.
"I just gave puppy eyes to Danielle and said, 'You have to keep them, as I can't keep them, but you have to,'" VanderRee said. She was unable to keep them because she was in college at the time. Gumbley hesitated and said, "We'll see how they'll do over the weekend."
That's when their adventures started in their hometown of Victoria, British Columbia, Canada, and beyond to the mountains and lakes. Keel is VanderRee's cat and Bolt is Gumbley's.
The next day they drove five hours north with some other friends to the mountains. "Bolt and Keel mostly hung out in our jackets," VanderRee said. "They definitely attached to us right away and had no problem coming with us on the drive up. Keel purred the whole time. Once on the trail, they seemed right at home."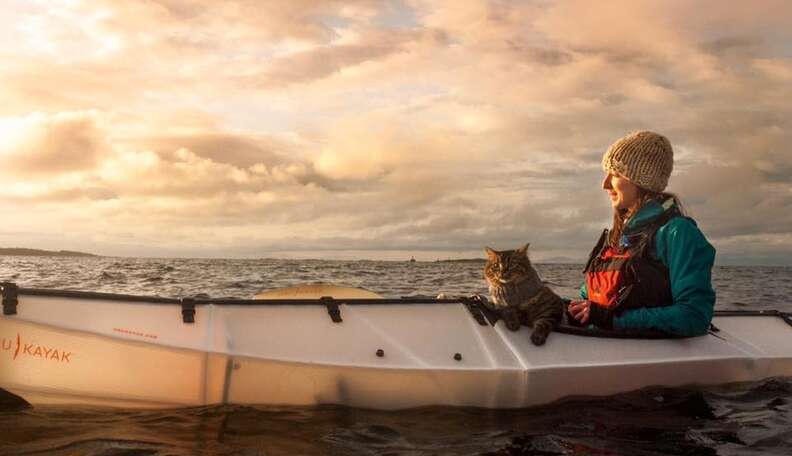 Bolt, the fluffy cat, and Keel, the shorthair, are most likely brothers, and were pronounced in great health by a vet when they returned from their first trip.
Although the cats continue to live with Gumbley, the four are never far from each other.
"Danielle and I go out adventuring pretty much every weekend or every other, so it was important to us that the cats could fit in with our lifestyle," VanderRee said.
The cats have their own sleeping bags but prefer to sleep with VanderRee and Gumbley or on top of them. They each have their own leash, harness and life jacket for those trips on the water.
Keel is more kind and loves attention. "He likes to bite your toes if you don't scratch him," VanderRee said. "Bolt is super relaxed. You can carry him anywhere."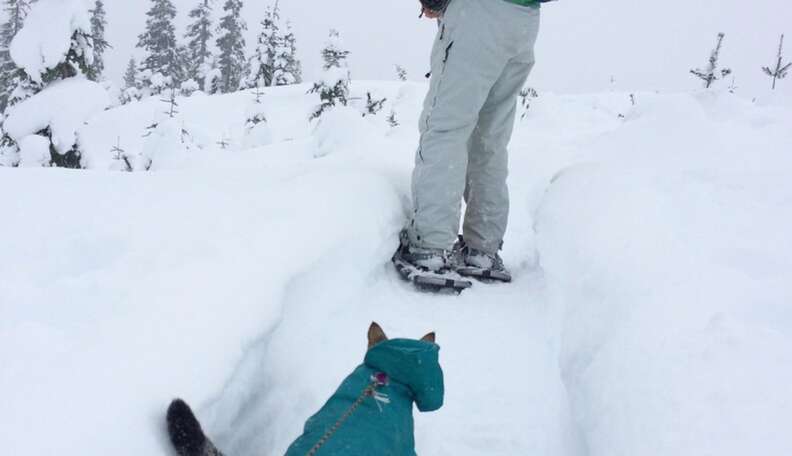 Their adventures take them hiking, canoeing, kayaking, sailing and snowshoeing. On deck for this summer is rock climbing (if they find the perfect harnesses) and swimming. Some days the cats just want to be carried. "It's really obvious to us when they do or don't like something, so we make sure we are doing it for the cats and not just forcing them along," VanderRee said.
The cats also love to spend time hanging out and cuddling at home.
When Gumbley tore two ligaments in her ankles last summer, she spent a lot of time recovering at home. "The cats really helped her," VanderRee said.
"They've helped us as much as we've helped them," she added.
You can follow this adventurous family on Facebook, their blog or Instagram.
Watch these cool cats in action on their adventures:
You can also watch their story here: