Wombat Hit By Car Didn't Trust Her Rescuers — But Now She Hugs Them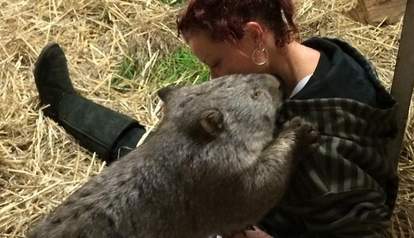 <p><a href="https://www.facebook.com/535543963271311/photos/a.535903443235363.1073741828.535543963271311/605223399636700/?type=3&theater" target="_blank">Facebook/Narbeview Wildlife Shelter</a></p>
Big Girl - a wombat named for her impressive size - wasn't always so confident. Back in May, she suddenly found herself with her life on the line after she was hit by a car.
"Unfortunately, due to being hit by a car, she has sustained a fractured collarbone, bruised lungs and three damaged teeth," the shelter wrote on Facebook at the time. While Big Girl's teeth were certain to grow back, the rescue realized she needed to remain in its care until her collarbone and lungs were completely healed.
"In this girl's situation, she would have died without medical intervention," the shelter wrote. "A slow, painful, cruel death would have been inevitable."
Even in the early days of her recovery, there was one thing fairly obvious about Big Girl: She had plenty of attitude. For one, she made it known fairly quickly that she did not want hay to be placed in her sleeping area.
The biggest challenge for the wildlife shelter when rehabilitating Big Girl was the fact that she was a grown, wild animal and not an abandoned orphan.
"She has not had human interaction, so is not used to any human contact at all," the shelter wrote, noting that Big Girl didn't hesitate to show off her infamous attitude when she received her pain medication, bucking and growling at carers. "This is great, normal behavior for a defensive wombat. She is doing what she is supposed to be doing, but gee you need to be on your toes at the moment. Over time, we hope to gain her trust."
With time, Big Girl began to do exactly just that - show trust toward her caretakers.
Her bottle-feedings - a necessity because her damaged teeth made it difficult for her to chew and eat on her own - have become a smoother affair ...
... and she even curls up to her caretakers and allows them to gently hug her...
... or give her a kiss or two, when she's really in the mood to show her affection.
Unfortunately, Big Girl's collarbone hasn't healed yet, but she's steadily improving.
"She is moving around quite well and it does not appear to be causing her any discomfort," the shelter wrote in a recent Facebook post. "Big Girl's teeth are budding through the gums, but are not yet very effective for eating. Therefore, Big Girl will be staying at Narbeview until at least spring and then we will reassess her physical status to make sure that she is releasable."
In the meanwhile, Big Girl continues to enjoy the comforts of her temporary home, where she is spoiled with plenty of blankets to rest in ...
... and even selfie opportunities ...
... because Big Girl rather likes being treated like a Big Princess, too.
Watch this video clip of Big Girl enjoying a lovely head massage: