She's Dedicating Her Life To Helping Homeless People And Their Pets
"No one came looking for me," Karen Hamza told The Dodo.
She cried when asked if anyone had searched for her over the years, after she had become homeless along with her faithful dog, Tippy, a rescued lab-greyhound mix.
Uncontrollable tears.
When Karen Hamza was homeless, the only friend she had was her faithful dog Tippy.Karen Hamza/Angel Hanz For The Homeless
"It's a lot to take in, realizing that no one cares," Hamza said. "Not a soul."
That's when Hamza turned lemons into lemonade, she said, by dedicating her life to helping the homeless and their animals. While out on the streets herself, she started Angel Hanz For The Homeless Inc., in Los Angeles, California. Being homeless with her dog was her prime motivator. "I saw myself in them, and I just knew in my heart that there had to be something done to help these folks and their animals," she said. "It was devastating to me; I was still in survival mode."
A homeless man warms up to Tippy at one of Hamza's monthly gatherings for the homeless.Karen Hamza/Angel Hanz For The Homeless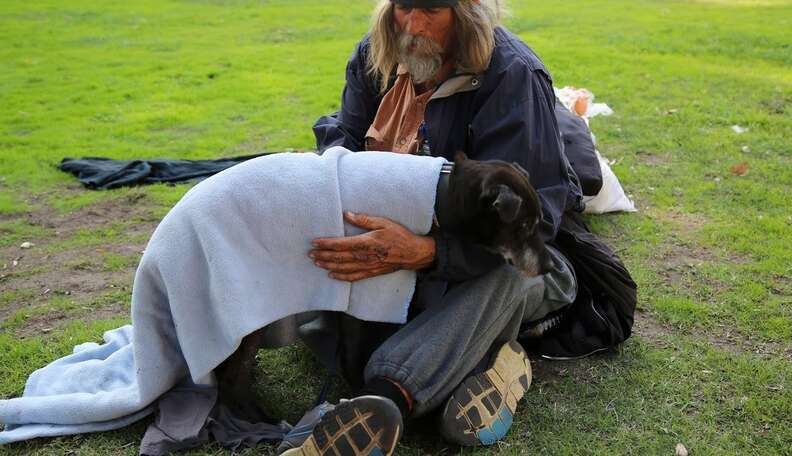 The grassroots organization is about education and solutions. As founder, president and CEO of the organization, Hamza not only understands the plight of the people and the animals she helps, she also offers actual resources to help get them and their animals back into the swing of life. Hamza knows the trials of a part of society many people prefer to ignore. "We are on the frontlines where it is raw and where it is real," she said.
They had to get out
In 2006, while renting a home from a man she called a "slumlord," Hamza became seriously ill. She sought advice from one specialist after another, and no one knew what was wrong. Finally, she had her house tested and was told to "get out now," as the house was rendered uninhabitable due to mold. She grabbed Tippy and their most essential belongings and left. "I lost everything I had; it was like being in a fire." With no family to turn to and no work due to her severe illness, Hamza and her dog got in the car, but they had no place to go.
A homeless man receives some love from his dog.Karen Hamza/Angel Hanz For The Homeless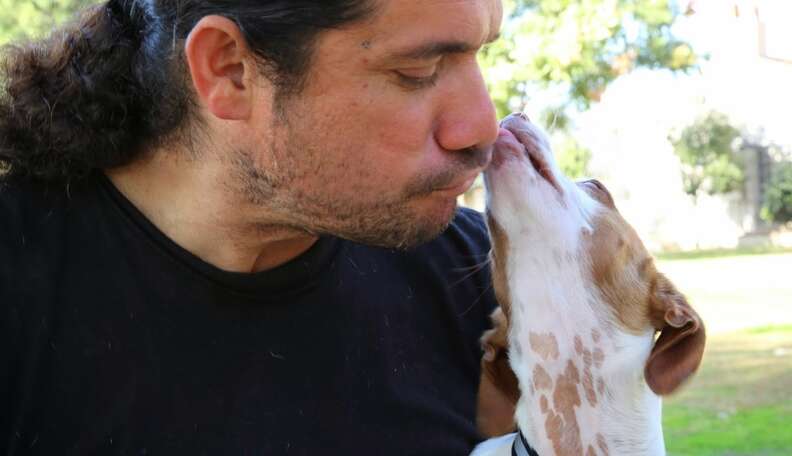 As a homeless person, "I was faced with myself in a way I had never been in my entire life," she said.
Hamza's 1988 Acura became her and Tippy's home, where they slept for almost two years.
Hamza helped Peggy, Herbie (not pictured) and their faithful white cat get off the streets.Karen Hamza-Angel Hanz For The Homeless
"The only benefit you get from a vehicle is you have your own personal space," Hamza said. There are good reasons not to leave animals or children in vehicles in the heat or cold, and she now knows why firsthand. In the summer, the inside of a vehicle heats up to where "it is like being in an oven. In the winter, it's like being in a literal freezer."
Hamza, left, provided jobs for Peggy and Herbie (not pictured).Karen Hamza-Angel Hanz For The Homeless
Since the metal of a car attracts heat and cold and has no insulation, it can be unbearable. During the winter months, "I put three layers of clothes on, shoes, boots, gloves and I could not get warm," she said. "I could not stay warm therefore I became weatherworn. If you are older it takes a toll on you, and if you are older with medical problems it is worse."
Two years after becoming homeless, during one of her lowest points, Hamza found a tiny apartment for herself and Tippy, which was "like a little slice of heaven to me." She has since come through to the other side of her struggle with homelessness, but has continued to dedicate her life to helping the homeless and their animals. "My van is loaded up with much-needed items," she said, which includes animal food, blankets, clothing, resources, water and other items.
Forging relationships and lending a hand
Angel Hanz was recently able to assist this puppy with emergency medical care.Karen Hamza/Angel Hanz For The Homeless
In 2009, Hamza received the good news that her organization had been approved to become a registered nonprofit. Around that time, while out on the streets helping the homeless, she met Peggy, Herbie and their beloved white cat.
They were homeless. They were in major survival mode. They were fragile.
"When I saw that cat, I went back into my own survival mode and knew they needed help," she said. Hamza bought them cat food, blankets and some clothing. She developed an important relationship with the couple. "Every single day, all day long, Herbie would go looking for cans because their need for money was so great."
Hamza's own homelessness "made me want to help people all the more because I was so desperate and alone that I knew what it was like for no one to be there. My heart literally ached because no one was there for me."
It is devastation.
And betrayal.
Angel Hanz volunteers help hand out food and other items at the monthly gatherings.Karen Hamza/Angel Hanz For The Homeless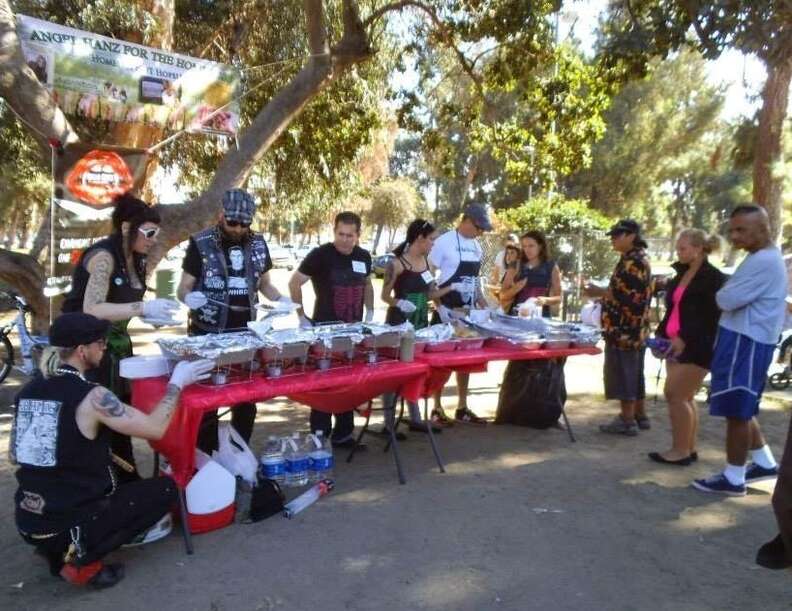 "The longer you are homeless, the more you isolate," Hamza said. "The more you isolate, the less you trust people."
Hamza had an idea. She offered Peggy and Herbie work.
Peggy and Herbie's job entailed creating a large banner for Hamza's organization, for which she paid them $10 an hour and provided the products they needed.
The couple worked every day. "It was very therapeutic and it served them well emotionally and financially," Hamza said. "It made their days brighter knowing they had money coming in and that they were doing something productive."
While the couple worked for Hamza for about a year off and on doing odd jobs, they were learning about responsibility. "When you're feeling productive it will make your self-esteem jump way up," she said.
Hamza holds her resource guide at an Angel Hanz event that provided food for the homeless.Karen Hamza/Angel Hanz For The Homeless
With help from Hamza, the couple eventually moved into an apartment that also accepted their cat. "I assisted them back into the mainstream of living," she said. "It's what we do. It's not like a handout, it's a hand up."
Helping those who have no one
Most of Hamza's time is still spent helping the homeless and their animals. She continues to get out the word to the homeless and encourages them to bring their animals to attend her monthly gatherings at a local park. The now vegan organization provides food, clothing, blankets and her resource guide to help the homeless get themselves and their pets back on their feet. Volunteers are on hand to help serve food and hand out donated items.
Angel Hanz assists the homeless with veterinarian services, and Hamza works to keep the animals out of the area's kill shelters. The organization also provides barber services and a library. She continues to educate through speaking engagements at schools, on television and on radio shows.
Hamza holds her rescued dog Jimmie while receiving a hug from one of the homeless men she helped.Karen Hamza/Angel Hanz For The Homeless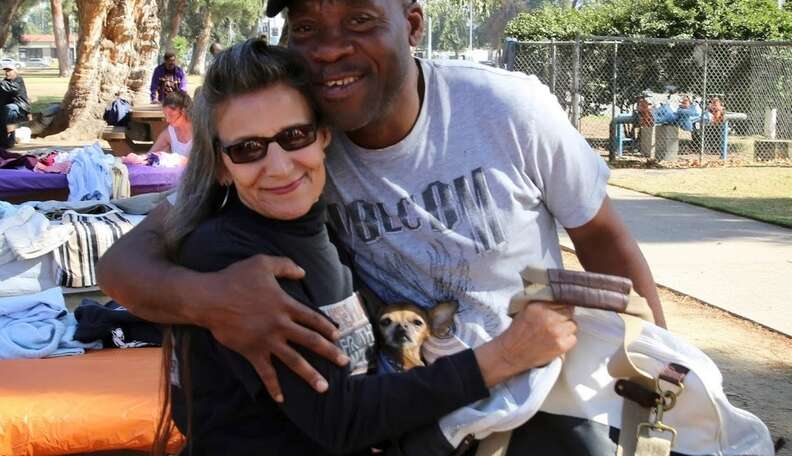 Being homeless is much more than being without a home. There is emotional trauma and it can be extremely dangerous for anyone, according to Hamza.
Since she overcame some of the toughest times of her life with Tippy by her side, she wants to ensure that others do the same. Although Tippy passed away almost two years ago, Hamza continues to stay strong for those who need her just as she was able to lean on her faithful dog.
Karen Hamza/Angel Hanz For The Homeless

Today, Hamza cares for her two rescue dogs, Jimmie and Rex, as well as countless homeless people and their animals. She continues to offer hope and solutions, and lives by her organization's mantra, "Homeless Not Hopeless."
"Never turn a blind eye to any unfortunate human being or animal on the street who is homeless, because one day it could be you," she said.
Click to learn more about Angel Hanz For The Homeless and how you can help. Also find the organization on Facebook.