When Cheryl Wassus, who works with a charity called Pets for Vets, was asked to man a booth with her therapy dog Link at an event called Furry Con, she didn't think anything of it. She said yes immediately, assuming that Furry Con was some sort of event for pets and that she and Link would fit right in.
When she arrived and was surrounded by hundreds of people dressed up in furry costumes, she was definitely a little surprised - and so was Link.
As Wassus later realized, Furry Con was actually an event for people who enjoy dressing up in furry costumes to come together and share their passion for it. Despite the event being just a tad different than she expected, Wassus and Link still had a great time, and Link loved meeting so many new furry friends ...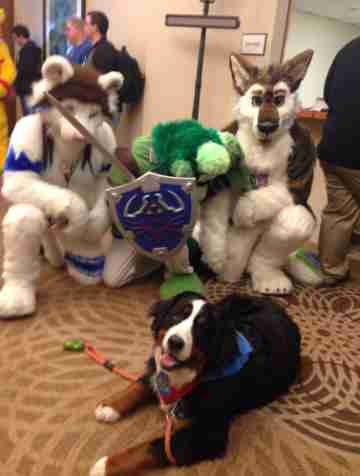 ... and he tried to sniff many of their tails and butts, of course.
Everyone attending the event welcomed Link and Wassus with open arms, and the whole thing was a pretty adorable misunderstanding.