This Lady Shipped Her Cat Across The Country — By Mistake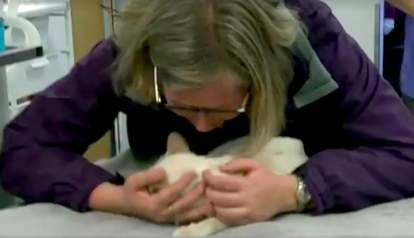 <p><a href="https://www.facebook.com/bbcspotlight/videos/vb.150467675018739/1170234016375428/?type=2&theater">Facebook/BBC Spotlight</a><span></span></p>
Cupcake, a Siamese cat, found a cozy resting spot inside of a box. Then she was shipped over 200 miles in it - by accident.
Her owner, Julie Baggott, who lives in England, was mailing out a box of DVDs. However, she was entirely unaware that her cat had snuck in among the goods - and didn't know where Cupcake had disappeared to until about a week later.
Baggott ended up sealing the box, and that was how Cupcake spent a total of eight days inside of it without food or water, until the DVDs arrived at their final destination in West Sussex. Miraculously, Cupcake survived the long journey and immediately received much-needed medical attention.
And eventually, she was reunited with Baggott.
"However, she seems quite relaxed and unconcerned and is sitting in her kennel in our cat ward waiting for her family."
Thankfully, Cupcake was microchipped, making a reunion with her family a surefire reality.
"I feel terrible about what's happened, because I put everything in the box and sealed it straight away so I don't how she managed to get in there," Baggott told BBC News. "It was a miracle because she was alive and she's managed to survive that awful ordeal."
Now Cupcake is back at home where she belongs - safe, sound and recovering with her loved ones.
Watch the moment Baggott bursts into tears upon seeing Cupcake for the first time after her journey: