Woman Ships Lonely Supermarket Lobster 2,000 Miles Back To The Ocean
The life of one lonely little lobster, destined for the dinner plate, might not amount to much for some folks. But you can be sure that it means everything to him - and it means everything to Christine Loughead, too.
Last month, while shopping at her local supermarket in the small town of Red Lake, Canada, Loughead was inspired to come to the rescue of one such animal after seeing him languishing inside a tank in the deli department. He was the only lobster left.
"I suddenly had a very strong realization that out of all the dead bodies in the deli, he was the one who was still alive," Loughead told The Dodo. "He was a living being and he still had the chance to be saved. Then it hit me. I thought, 'I can't just leave him here.'"
So, like any other customer might, she paid $20.23 for him. But her plans were far kinder than most.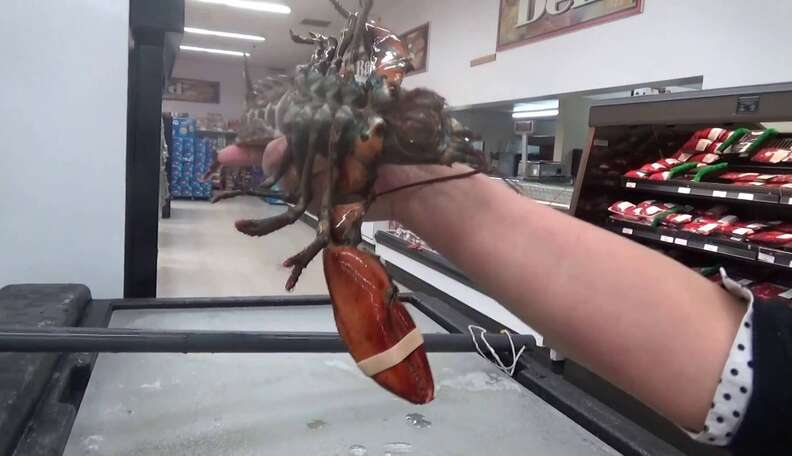 After she took the lobster home, Loughead and her boyfriend had initially intended to keep him safe inside a spacious saltwater tank to live out his days in peace. Returning him to the ocean, some 2,000 miles away, didn't seem like a viable option at first, though the more she thought it over, the more it seemed that's what was truly best.
"I felt he wouldn't be happy in an aquarium," she said. "He needed to go home. So, I started thinking how to do that."
In the meantime, however, at least he was now free from his binds.
Loughead did some research online and found that the lobster she rescued was likely caught off the coast of Halifax, Nova Scotia. Seeing as how it would take more than 24 hours for her to drive there, she decided to ship the lobster instead - figuring he'd survived the journey inland that brought him to her town.
"We found a UPS Store in Winnipeg, six hours away, that would ship a live animal," said Loughead. "But we needed someone in Halifax to receive and release him. I messaged a vegan group in Halifax and found a woman, Beth Kent, who agreed to receive him and release him."
To limit the lobster's discomfort, Loughead decided to overnight him - at a cost of $225. Sure enough, the next day, he arrived safe and sound.
"I was so excited to know that he was back in his hometown," Loughead said. "I cried and was so happy."
As had been arranged, Kent carried the once-ill-fated little lobster to the realm that he was born in. It seems as if he knew that he'd been returned to where he belonged.
"She told me when she put him into the water, BOOM, he was gone," said Loughead. "He was happy to be free."
For Loughead, who's vegan, all the efforts she made on that lobster's behalf were more than worth it - even if that's not something everyone understands.
"I feel happy that he gets his life back," she said. "I don't think we ever had the right to take that from him. He owns his life. I hope he'll live 70 years, and that he'll outlive all of us."
Watch the video of this extraordinary rescue in its entirety below.