This sweet tortoise, named Touche, may be a cold-blooded creature with many years behind her - but she's still knows how to warm her owner's heart.
Nancy Knauss befriended the 100-year-old Touche 55 years ago, after getting her as a pet when she herself was only 5 years old. All those decades together had only strengthened Knauss' affection for Touche, and the two have been inseparable.
That is, until a recent incident nearly split them apart forever.
Earlier this month, a gardener accidentally left a gate open at their' home in Fresno, California, allowing Touche to mosey off their property. Knauss feared she'd never see her pet again.
For more than a week, she searched for the tortoise and put up signs asking others to be on the lookout. Ten days later, Knauss finally got the call she'd been hoping for.
Touche had been discovered outside the home of Steven George, who lives more 6 miles away. He'd seen Knauss' signs and arranged for them to be reunited. And what a happy reunion it was.
It was like Knauss was a kid again.
It's unclear why Touche decided to wander off the way she did, but there's reason to suspect that she might have been looking for a fling.
Turns out, the old-timer tortoise apparently hasn't lost her mojo; her eyesight, on the other hand, might be a different story. At the moment George discovered her, Touche was reportedly in a compromising situation with a dome-shaped water outlet cover.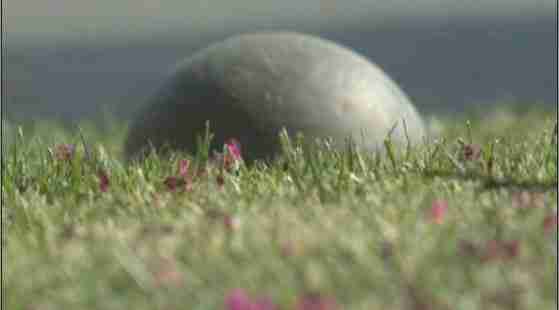 We're glad to know Touche's still got it - and that that Knauss has her back, as well.