He Can't Thank Her Enough For What She Did For Him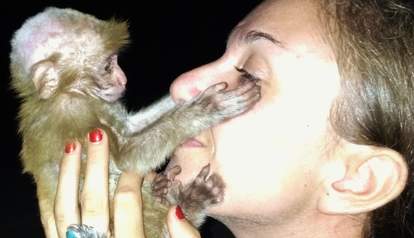 <p><em>Claudia Lifton</em><span></span></p>
When an animal lover traveled to Thailand to help elephants exploited by the tourism industry, she had no idea she'd come away with an amazing story about changing the life of one very lucky orphaned baby monkey.
Claudia Lifton, who is now based in Denver and working for the Factory Farming Awareness Coalition, was on her way to Laos from Thailand to get her visa renewed in 2013, when she was passing through a tiny rural village called Pak Bang. During her night-long stopover, she decided to explore.
Claudia Lifton
Claudia Lifton
"I walked up a hill to a very rural area where not many westerners go," Lifton told The Dodo. When she got to the top, just outside a bicycle shop, she saw something she knew she wouldn't be able to leave behind: a 3-month-old monkey tied up by his neck in a cage.
She tried to tell the owners of the shop that the monkey looked terribly sick - and that was just the first of her struggles. "No one spoke English, so I just sat down and wouldn't leave."

Claudia Lifton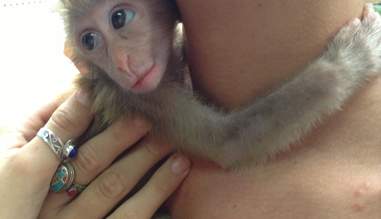 Claudia Lifton
Finally, the villagers brought a man from the village, one of the only people in the whole area who spoke English. It turned out that the family had actually rescued the monkey from a fate even worse than the one he was currently enduring. The family said they rescued the baby from poachers who were going to sell him into the exotic pet trade. "They bought him so he wouldn't be sent to Thailand to be a monkey dancer or a pet for a dumb American," Lifton said.
Lifton begged the family who owned the shop to let me take the baby, explaining that he was going to die if he didn't get medical care, but they refused. "I offered them all of the money I had on me, my camera and my iPod, but they said no."
Claudia Lifton

Claudia Lifton
Finally, she had an interesting idea: going absolutely bonkers. From around 9 p.m. to midnight, Lifton staged an absolute fit. "All these people kept coming to the bicycle shop and seeing this crazy person weeping in front of the shop. They probably thought I was a lunatic, which I kind of was."
Finally, the people who owned the shop were so embarrassed by the display, they agreed to let Lifton take the monkey in exchange for her $300 camera.
But that was just the beginning.
Claudia Lifton
Claudia Lifton
What Lifton would do with this baby monkey, she still had to figure out. She started by naming him Nahuglai, which means "forever loved" in Laos. "But we all call him Hug," she said.
After spending a night with the monkey outside the only hostel in town (which wouldn't let her inside with the little monkey gripping her around the neck), she called her mom overseas for help. "I told her that if we didn't find a sanctuary for him, I'd probably end up having to stay in Laos forever."
Claudia Lifton

Claudia Lifton
But finally, Lifton heard from ACRES Wildlife Sanctuary, an organization that had transformed from a zoo to a place that actually could help, rather than hurt, animals. The sanctuary also had a bunch of rescued macaques willing to welcome the little one into their family.
Meanwhile, Nahuglai was growing more and more attached to her. Riding in a boat for 10 hours, he managed to throw Lifton's headphones and both her shoes off the side of the vessel. And during a 10-hour overnight bus ride, Nahuglai was clinging to Lifton's face. "Every time I tried to take him off, he'd scream and people got mad, because they were trying to sleep."
Claudia Lifton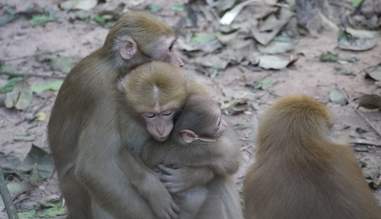 Claudia Lifton
When Lifton finally arrived at the sanctuary, she was barefoot and covered in bananas, poop and pee. She also hadn't slept in five days. "But it was all worth it," she said. Lifton still receives updates about Nahuglai, who lives happily with his adopted mother and siblings at the sanctuary. According to people at the sanctuary, he has grown into the spunkiest leader of them all.
Claudia Lifton
Claudia Lifton