She Saved A Sick Dog On The Beach — And Found Her True Calling
When Tania Cappelluti moved to Costa Rica from Berlin, Germany, to start a yoga retreat, she didn't know she'd end up dedicating her life to saving animals.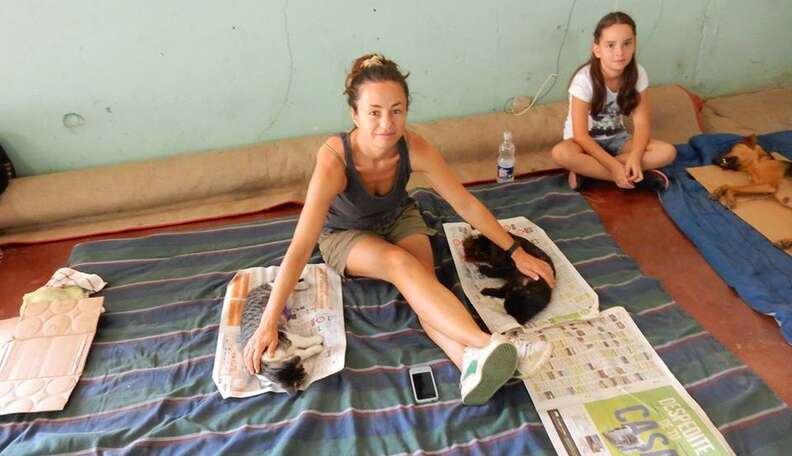 "After I moved to Costa Rica, I found a little dog at the beach," Cappelluti told The Dodo. The dog, whom she named Kuki, was starving when she was found, so Cappelluti, traditionally a cat person, took her in.
"I saw the development of her," Cappelluti remembered. "She was a super shy, scared street dog who became such a loyal, loving incredible dog. And that gave me such joy in a spiritual way."
This was just the beginning.
Soon, Cappelluti started seeing stray and abandoned dogs and cats on the street. Their potential to be loyal and loving family members, like Kuki had become for her, was being squandered. There's even a gas station in the area where people take the dogs they don't want anymore, tie them up and leave.
"Some of the animals on the street run around, they have old collars around their necks and are just in terrible condition," Cappelluti said. "Sometimes when people have babies, they sort of just let their pets go."
So, just over a year ago, in February 2015, Cappelluti decided to do something more for animals.
Cappelluti teamed up with two local women who also wanted to help animals. Mercedes Mora, a local Costa Rican seamstress and single mom, has been rescuing dogs for years (she has nine!). "It was always her dream" to be part of a larger effort to help animals, according to Cappelluti. And Florie Oconitrillo, a university teacher who is mom to five rescue dogs, joined the ranks, collaborating closely with Mercedes to find loving homes for rescued dogs.
These women joined Ellen Wisse, a transplant to Costa Rica from Europe, like Cappelluti, who has three rescue dogs, two rescue cats and a horse. Wisse has been running a local spay/neuter clinic for local people's pets, to help control the population of abandoned animals. "We have a really good network," Cappelluti said. "What we really use is Facebook and word of mouth."
The women named themselves Charlie's Angels Animal Rescue, after Charlie - a dog they found lying on a busy road who miraculously survived being hit by a car. Since then, the angels who saved Charlie's life have helped rescue dozens of others.
One of these miracles was Pinto, a dog discovered in one of the poorest neighborhoods, suffering from terrible infections.
"I have never seen a dog in such a horrific state," Cappelluti said. "It broke my heart. He lost all his fur due to a horrible fungus and a bacterial skin infection. He was also highly anemic and very, very weak. We agreed, no matter what, he'd get the help he needs."
Just seven weeks later, after some tender loving care, Pinto was practically a different dog. "When we came, he was wagging his tail and ran around to salute us!" Cappelluti remembered.
While Cappelluti still runs the yoga retreat, she's become totally hooked on helping animals. She even encourages her yoga clients to follow her lead.
"Our ultimate goal is to have a house, volunteers, and people come visit and adopt the animals," Cappelluti said. The four women of Charlie's Angels are currently hosting the recovering animals in their own homes.
It's said that life is what happens to you while you're making other plans.
Cappelluti - and Kuki, too - would attest to that.