Woman Goes To A Farm To Paint A Mural — And Ends Up Adopting A Kitten
Best work day ever.
Melissa Mendes grew up next door to a farm in Massachusetts, and used to do odd jobs for the farmers as a teenager. Now that she's all grown up and a professional cartoonist, the family asked her to come back and paint a mural for their barn - and she ended up with a few unlikely assistants.
The farm always had lots of barn cats, which meant that occasionally there were kittens too. When Mendes arrived to start work on the mural, a group of kittens immediately greeted her, eager to help her with her artistic endeavors ...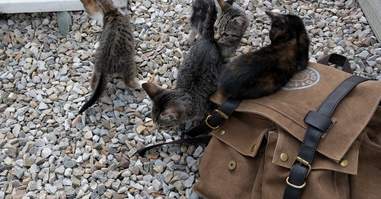 Melissa Mendes
... and came back to see her every time she was there.
Melissa Mendes
"They were there whenever I was painting," Mendes said. "If the farm was closed to visitors I would go visit the kittens inside the barn."
Melissa Mendes
The kittens made excellent assistants, and were very good at helping with plans ...
Melissa Mendes
Melissa Mendes
... and encouraging frequent breaks.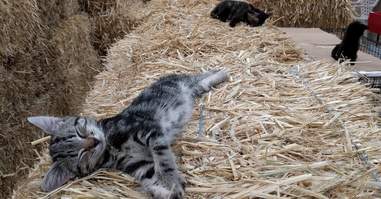 Melissa Mendes
Mendes already had a cat of her own, an older guy named Bruce, and went back and forth on whether or not she should adopt another. Through word of mouth, most of the kittens were eventually adopted, but Mendes never stopped thinking about what it would be like to take one home.
Then, another litter was born, and Mendes met her newest group of painting assistants - including Oscar.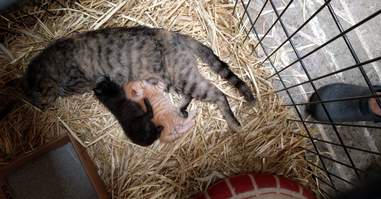 Melissa Mendes
"I fell in love with one of them and convinced my boyfriend to let me take him home," Mendes said. "It took a while to convince him, but he gave in and now he absolutely loves the kitten!"
Melissa Mendes
Bruce, of course, fell in love with Oscar too, and now the curious little kitten is thriving in his new home.
Melissa Mendes
"Oscar is very sweet," Mendes said. "He was a lot more mellow than his brothers and sisters, which is why I fell for him! He likes to rub his nose on my nose, and falls asleep in my arms a lot."
Melissa Mendes
Mendes's sister-in-law ended up adopting two kittens from Oscar's litter as well, ensuring that Mendes will always have lots of kitten assistants running around to help with her creative process.
Melissa Mendes
The mural turned out beautifully - all thanks to the kittens, of course. She couldn't have done it without them.