After Monique Pool lost her dog Sciolo in 2005, she went looking for him and ended up calling the Suriname Animal Protection Society. The organization didn't have her dog, but told her about Loesje (or Lucia), a baby three-toed sloth who needed a home, and she took him in right away. Loesje died after just two years, but his death spurred Pool to create a network of expert contacts who could help her raise them. Says BBC:
Soon Pool became the go-to woman for sloths in Suriname. If the police, the zoo or the Animal Protection Society hear about a sloth, they call her. On average, one or two sloths a week pass through her home before being released a few days later, unless they are hurt and need time to recover.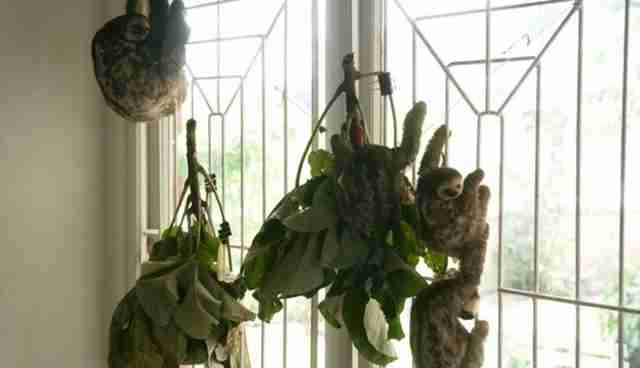 Pool keeps her rescued sloths in an enclosure in her backyard -- at one point she was caring for 200 sloths.
"After a month we were close to 100, and at the end we got to 200," Pool told BBC. "On some days I had 50 animals at my house. We had 17 babies at one point, being fed with droppers by volunteers."