Woman Flies Around The World To Find The Dog Who Saved Her Life
Georgia Bradley, a 25-year-old student vacationing in Greece in July, was all alone on a beach when two men suddenly tried to grab her.
Out of nowhere, a little stray dog ran to her aid, barking at her would-be attackers until they backed off.
"She saved me. She must have noticed something was wrong," Bradley told the U.K.'s Plymouth Herald. "Pepper shot out of nowhere."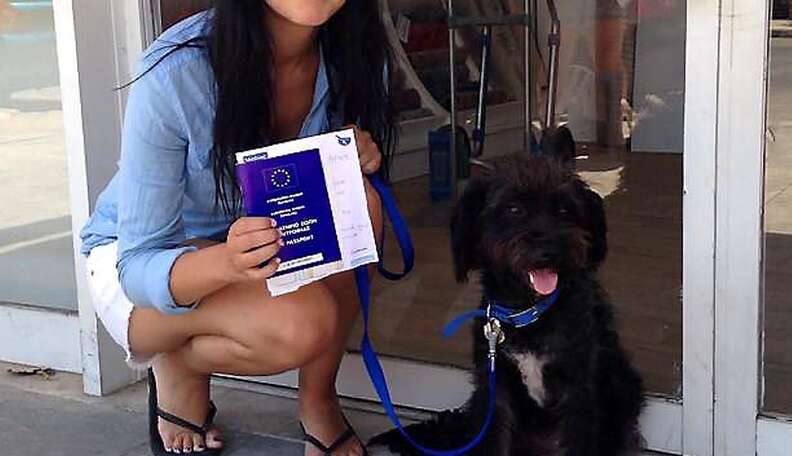 The little black stray, whom Bradley decided to call Pepper, followed Bradley and her friends back to the apartment where they were staying. It was clear that she and the dog had a very special connection.
When it came time to head home to the U.K., Bradley had to leave Pepper behind. "When we left to go to the airport, we looked back and Pepper was running after the car. It was heartbreaking," she told the Herald.
When Bradley returned home she just couldn't stop thinking about the little dog who had rushed to her aid. It was clear she had to go back to get her.
But finding Pepper again wasn't as easy as Bradley had hoped. She wound up flying back and forth to the island where she'd met Pepper.
It eventually took five weeks and thousands of pounds to find Pepper, but once Bradley had her in her arms it was clear the two wouldn't be separated again.
But the story wasn't over yet - before bringing Pepper back to the U.K., Bradley had to leave her in standard quarantine for 21 days.
When she returned again to pick her up, the vets told Bradley that Pepper was pregnant. Finally back at home, Pepper gave birth to six puppies - which means that Bradley went to Greece without any dogs, and wound up with seven of them.
The pups will likely find much happier, safer homes than they would have had if their mom was still a stray, and Pepper and Bradley will soon be able to settle into their new life together, all because of Pepper's heroism back on the beach.