Woman Pretends To Be Hurt To Coax Starving Dog Close To Her
<p><a href="http://lostfoundpetswastate.com/2015/04/05/baby-bear-dog-found-in-mountains/" target="_blank">Amanda Guarascio</a></p>
UPDATE: Baby Bear has been adopted!
It took some incredible patience and care (not to mention some acting skills) to save this starving dog, but some dedicated humans were up to the challenge.
A scared, hungry dog had been spotted wandering near Mt. Ranier, in Washington state, but he kept eluding rescuers who tried to get a hold of him. But when Amanda Guarascio and her girlfriend Dylan Parkinson heard about the dog, they knew they could help.
Guarascio and Parkinson described the rescue in a Facebook post last week.
"Dylan and I drove up last night after we heard about him, and to our surprise, he was sitting in a little turn-off on the side of the road right where the girl said she had seen him," they wrote. "We spent an hour trying to coax him to us with food but it didn't get us very far."
They returned with a package of hot dogs and stayed near the frightened dog until 3 a.m., trying to get him to safety. They finally headed home without him, but returned the next day with a new plan.
"I got down on the ground with my back to the pup, who we have decided to call Bear (okay, Baby Bear to be exact) and slowly started crawling backwards towards where he was laying." Amanda wrote on Facebook.
When Bear looked like he was getting nervous, Guarascio pretended to be hurt.
"I started whimpering and yawning (which is a calming signal), and continued to slowly get closer and closer until I was rested up against the sweet little Baby Bear! (At one point, he got up to try to find us shelter because he saw me as a pathetic human girl that had no survival skills, he sort of took me under his wing!)"
It took one more trip to finally get Bear comfortable enough to let himself be captured, but as soon as Guarascio and Parkinson got the slip lead on him and brought him into their car, he turned into a lap dog!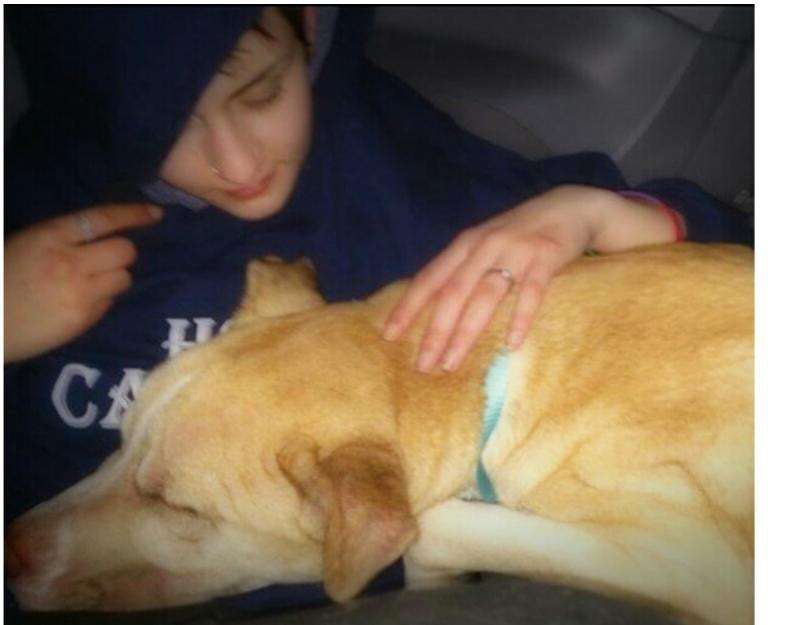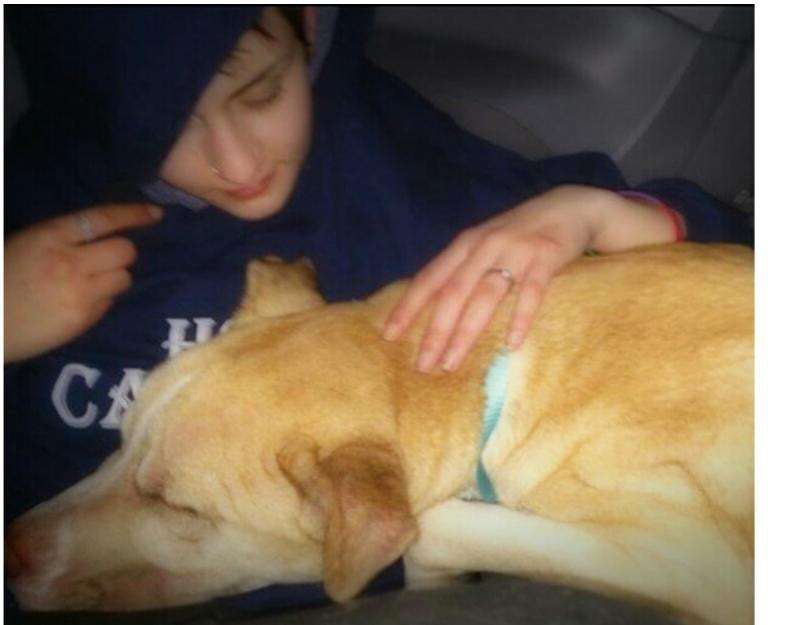 "I had to carry him everywhere! I had to pick him up and put him in the truck and then we snuggled together until we got to the vet ... Where again, I had to carry him inside...all 57 lbs of him!"
Baby Bear is getting the medical attention he needs after his time lost and alone, and Guarascio and Parkinson are doing everything they can to find out where he came from. If he has humans somewhere who are worried about him, they want to track them down. And if Bear doesn't have a family, they'll make sure he finds a loving one soon.