'Wobbly' Kitten Finds A Dad Who Makes Him Feel Safe
"If something startles him, he always looks at my face to be reassured that all is OK."
Spaying and neutering pets is a pretty standard process, and so when a cat came into the VCA Cromwell Animal Hospital in Connecticut to be spayed, staffers didn't think much of it - until they realized the cat was already pregnant.
The cat was due to deliver at any time, and ended up giving birth to only one kitten, a tiny little boy later named Pepino.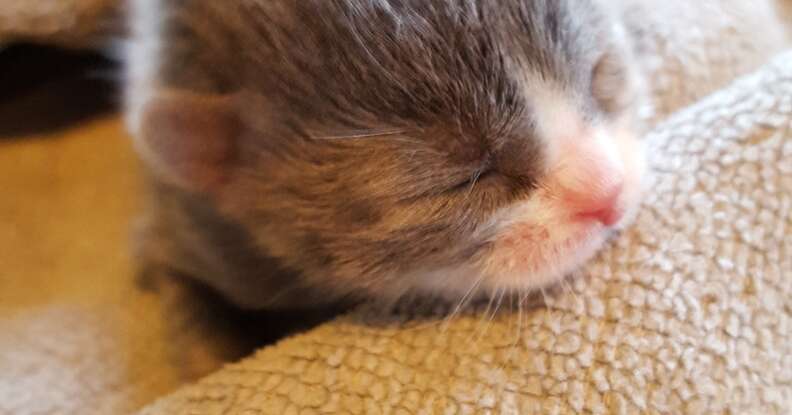 "The cat's owner did not want to raise the kitten so he was signed over to our hospital," Sandy Gonyea, hospital manager at VCA Cromwell Animal Hospital, told The Dodo. "The hospital team took turns taking him home overnight and feeding him every two hours."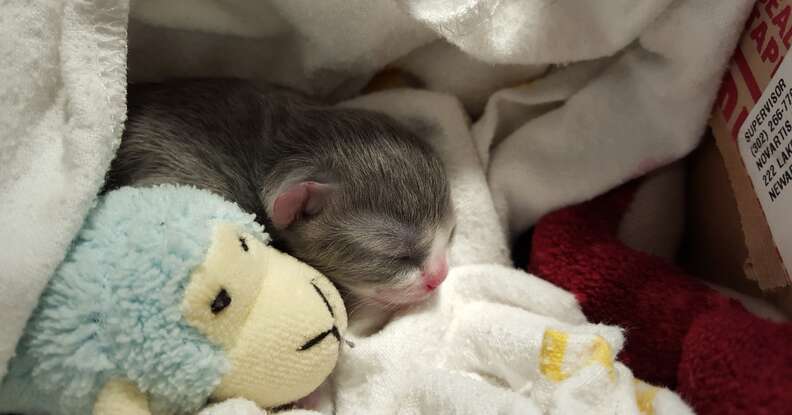 Because he was left without a mom, the hospital staff worked around the clock to keep tiny Pepino alive. Weeks passed and the little kitten seemed to be pulling through, and then at 3 weeks old, he was diagnosed with severe cerebellar hypoplasia (CH), a neurological condition that causes walking and balance problems. (That's why it's also known as "wobbly kitten syndrome.")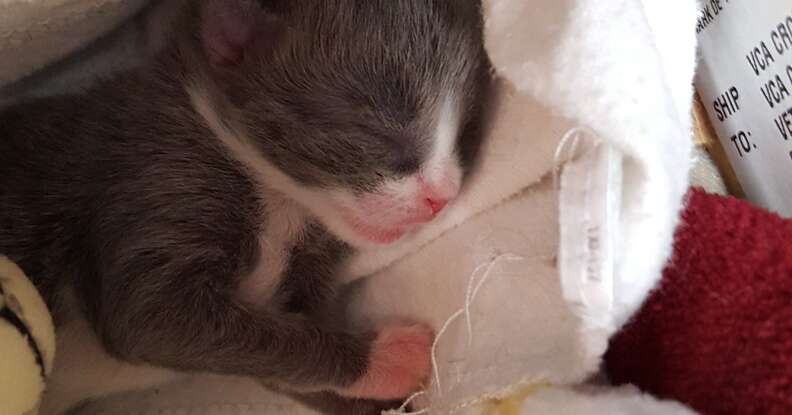 "Once he was diagnosed, and we realized he would have mobility issues, Dr. Cara Spagnoletti, who had overseen his case from the beginning, built him a kitty cart/wheelchair so he could get around on his own," Gonyea said.
Despite the fact that he was so tiny and fragile, everyone refused to give up on Pepino. Slowly, despite his issues, Pepino grew into a healthy, happy little kitten. Pepino will never be able to walk, and so the hospital staffers knew they'd need to find a family who could handle his issues.
Three months after he was born into the animal hospital family, Pepino was finally ready to be adopted, and found the perfect home with Carmelo Aresco.
"I first learned about Pepino via my veterinarian's Facebook page," Aresco told The Dodo. "He was a very tiny, undersized newborn kitten clinging to life and I posted encouragement in my replies to his updates."
Aresco felt a connection to tiny Pepino from the beginning, and followed his progress. When he learned Pepino had CH, he did all of the research he could about the condition, and then quickly applied to be Pepino's new dad. He knew the special little cat was meant for him.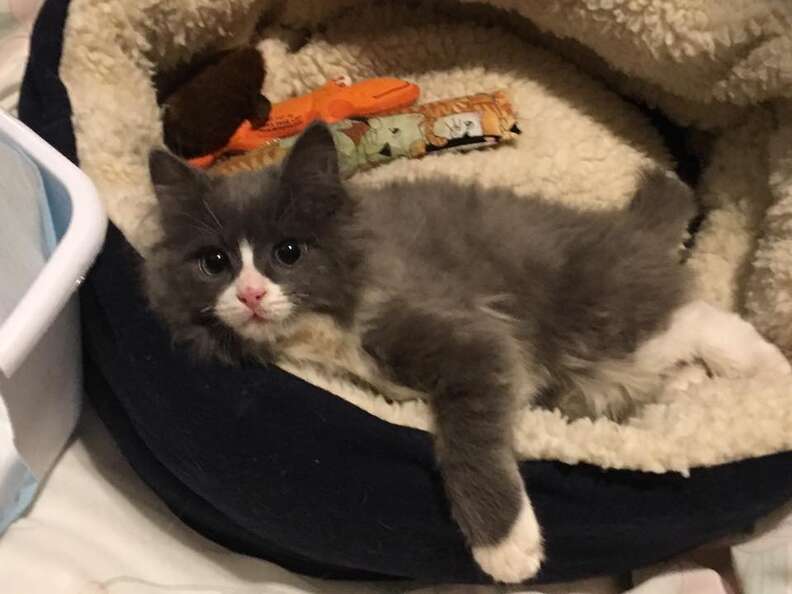 "He now weighs just under 6 pounds but is healthy and strong," Aresco said. "He has severe CH so he will never really be able to walk. That said, he's learned to prop himself up against furniture and then can take three to four steps before tumbling down."
Even though he can't walk, Pepino loves everything about his new life. He has five other cat siblings, and has no idea that he's any different from them. He always finds a way to get where he needs to go, but really just wants to be near his new dad at all times.
"He feels safe near me," Aresco said. "If something startles him, he always looks at my face to be reassured that all is OK."