Zoo Elephant's 'Natural Death' Came 20 Years Too Early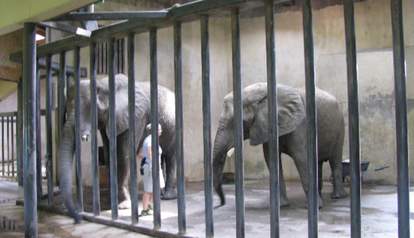 The Performing Animal Welfare Society (PAWS) is expressing condolences and at the same time raising serious questions about the captivity of elephants, following the death of 43-year-old African elephant Cinda on Wednesday at the Sedgwick County Zoo in Kansas. She is the second African elephant in her 40s to die in a U.S. zoo in the past week, and one of nine zoo-owned elephants to die this year by age 45. African elephants can live to be 65 years old in the wild.
PAWS is an animal welfare organization that cares for 11 Asian and African elephants at its 2,300-acre, natural habitat sanctuary for captive wildlife in California. Five of PAWS' elephants are Cinda's age or older.
"Everyone at the Performing Animal Welfare Society sends their most heartfelt condolences to the people of Sedgwick County," said PAWS president and co-founder Ed Stewart. "We feel very sorry for Cinda and our thoughts are with everyone who cared for and about her."
Though Cinda was only 43 years old, the zoo reported that she had begun to show a "natural decline due to her age." Stewart contests the idea that elephants in their 40s are old, stating, "It is simply wrong to suggest that Cinda or any other elephant in her 40s is geriatric or elderly. The truth is that captive conditions have physically debilitated these elephants to the point where they suffer maladies normally associated with old age. It is not just a matter of natural decline due to age."
According to Stewart, had Cinda remained in Africa and were alive today she would still be reproductively active. Scientists have documented that African elephants in their 50s, and even 60s, have successfully given birth and raised offspring.
The other African elephant to die in a zoo in the past week was 44-year-old Alice at Wildlife Safari in Oregon. Of the nine African elephants who died in the U.S. this year, age or "natural causes" was given as a factor in at least five of the deaths, even though none of the elephants was more than 45 years old. One death was attributed to arthritis, and the other deaths to specific causes such as disease, intestinal blockage, and birth complications (the calf also died but is not included in the nine deaths). Seven of the elephants were held in Association of Zoos and Aquariums (AZA) accredited zoos and two were owned by an AZA zoo but not living at that facility.
Stewart cites small, unnatural enclosures that restrict the movement elephants naturally need and rigid surfaces like concrete and compressed soil as the causes of deadly foot disease and arthritis – the leading causes of death for elephants in zoos. Elephants in captivity also suffer high rates of infertility, infant mortality, stillbirths and birth complications, and abnormal behaviors such as repetitive rocking and swaying.
"Elephants are extremely challenging animals to keep in captivity, even for PAWS, because of their intensive physical, social and psychological needs," concluded Stewart. "The largest enclosures are still too small for these intelligent and very complex creatures. It is time to rethink captivity for elephants."
Cinda's cause of death is yet to be determined.
For more information on PAWS, please visit www.pawsweb.org.
On November 8-10, 2014, PAWS is presenting the International Captive Wildlife Conference in Los Angeles, the only US-based conference of its kind. The conference covers the controversial issues surrounding the captivity of wildlife from elephants to orcas, and features expert speakers from around the world. Read more about the conference here.