Just 18 miles outside of Denver, there is a warehouse full of dead animals - 1.5 million of them, to be exact.
The U.S. Fish and Wildlife Service's Property Repository is a storehouse of things that would make an animal lover - or anyone - shiver: elephant feet, cut off at the ankle and made into trash cans, snakeskin boots with the heads still attached, dozens of stuffed endangered tiger heads, their faces curled into snarls. There is even the fetus of an unborn tiger, snatched from his mother and taxidermied before he could open his eyes.
It is an undead reminder of the massive and unyielding force of the global wildlife trafficking industry.
"The more endangered the species is, the trend seems to come faster, because there's more money to be made," Coleen Schaefer, the head of the repository, told Australia's ABC News on a recent visit.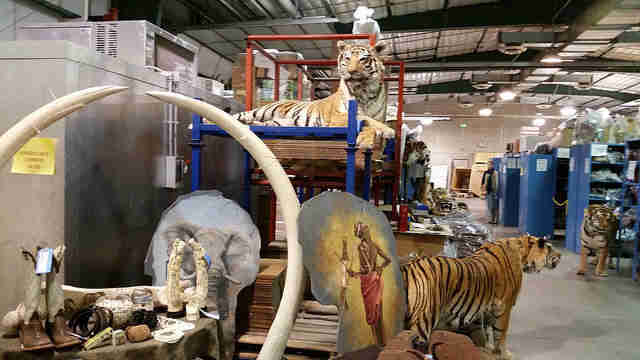 China and the U.S. are major hotspots for demand for products like rhino horn and elephant ivory, which have been driving the species to the brink. The U.S. has recently moved to stem the tide of illegal wildlife products; in February, the Obama administration announced a plan to tackle the trade, pledging ramped-up enforcement in domestic ports and a new campaign to fight trafficking abroad.

The plan, along with the efforts of other groups, aims to curb the inflow into the Colorado warehouse. But for now, the taxidermied creatures remain a ghastly reminder of the enormous battle ahead.