Locals Turn To Wildlife Officers To Help Deer — And They Kill Him
Locals in one Mississippi town are outraged after they turned to wildlife officials for help - and recieved anything but.
In a printed letter to the Vicksburg Post, a man named Jimmy Hart said he was driving down a road in Vicksburg, Mississippi, when he noticed something unusual in the nearby backwater.
It was an exhausted male deer swimming toward the shore. Hart pulled over to the side of the road to watch, hoping he would make it. Unfortunately, several other people did too.
The deer reached the bank but was uncomfortable with the watching crowd, according to Hart's letter, which has since been shared online. "I guess so many people around spooked him," Hart said.
Shutterstock
Shutterstock
So the tired deer headed back into the water, swimming a few yards upshore before pulling himself onto the bank again.
"At that point he was so exhausted he just laid down to rest," Hart wrote.
While most people don't associate deer with rivers, they're actually competent swimmers and can easily navigate water when needed. At this point, the natural solution would have been to disperse the crowd and allow the tired animal to rest.
Instead, a "conservation officer" with the Mississippi Department of Wildlife, Fisheries and Parks (MDWFP) arrived.
"I walked over and took a picture of the deer and was told not to take any pictures," Hart wrote. "All spectators were told to back away."
Shutterstock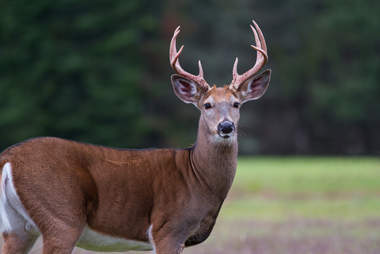 Shutterstock
Then, instead of dispersing the crowd, the wildlife officer walked up to the resting deer. He pulled out his gun and, in full view of the crowd, shot the tired animal three times.
"To say I was disturbed by it is an understatement," said Hart, who described the incident as a "pathetic scene."
As Hart's letter circulated, outrage grew among Vicksburg citizens, many of whom are hunters but found fault with the unnecessary and callous way in which the situation was handled.
"So in other words neither the cops or wildlife official involved are capable of crowd control and need to be fired since that is part of their job duties," one man commented on a local news site.
"Others were there and they all were disgusted!!" a woman wrote on Facebook.
While some called into question the veracity of Hart's account, a local outlet reached out to the MDWFP, which confirmed Hart's sad account of the tale.
Shutterstock
Shutterstock
"That deer swam out and people wouldn't leave him alone," Colonel Steve Adcock, chief of MDWFP's law enforcement bureau, told the Clarion-Ledger. "People had literally worn the deer completely out. There was nowhere for him to escape to."
Despite this description, when asked about the deer's fate, Adcock confirmed that a game warden had killed the apparently uninjured buck - and cited "public safety" as the reason.
"It's a main highway there that has tons of traffic," Adcock said. "It was a public safety concern that it was going to cause an accident."
In other words, officers killed the deer because it was on a shore that was near a road. Adcock also said the officers don't carry sedatives, despite being tasked with managing wildlife, as they "are not veterinarians."
Unfortunately, this incident falls into an ongoing pattern of police and wildlife officials - who are often tasked with the conflicting interests of protecting wildlife and promoting hunting - resorting to fatal or excessively violent methods in situations that, experts say, are often non-threatening.
Last year, a mountain lion fell asleep by a building in Omaha, Nebraska, and was greeted with a hail of 16 bullets over a minute-long period, being shot each time he tried to rise. Experts later told The Dodo that the big cat posed no threat.
A few months later, another mountain lion was killed, this time in Great Falls, Montana. Her crime? Setting foot inside the city's boundaries.

Shutterstock
Shutterstock
Of course, a killing is even more inexplicable when a deer is involved. And these stories are just among the handful that trickle through to the media; in 2014, a whopping 2.7 million animals were killed by the federal wildlife service alone.
But for now, Vicksburg locals are just concerned with the fate of one very tired deer, who was likely stressed by the recent flooding the state has faced.
"Everyone was furious because we knew this deer was merely worn out from his long swim to safety only to be shot regardless," Hart said.
And according to Hart's letter, the incident has left him doubting his faith in the state's wildlife management department.
"I always thought that the job of a game warden was to protect helpless animals," he wrote. "What I witnessed that day has left me wondering."
You can read the full letter below.
Facebook/Annie Douglas Warnock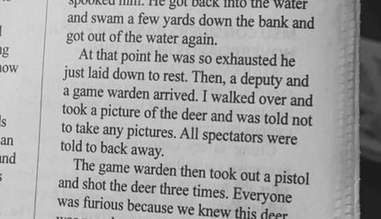 Facebook/Annie Douglas Warnock