Baby Mountain Lion Burned In Wildfire Starts Uncertain New Life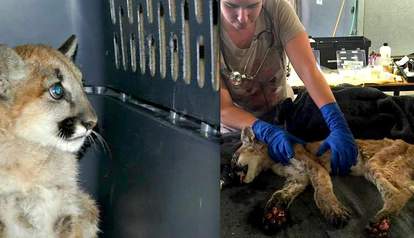 <p> <a href="https://www.facebook.com/CaliforniaDFW/photos/a.935828186496649.1073741931.130403963705746/935828206496647/?type=3" target="_blank">Facebook/CDFW</a> / <a href="https://www.facebook.com/CaliforniaDFW/photos/a.939586909454110.1073741932.130403963705746/939586922787442/?type=3&theater" target="_blank">Facebook/CDFW</a> </p>
A baby mountain lion stranded in a burning forest could have died if it hadn't been for some kind people.
Nicknamed Fireclaw, the cub was underweight and singed by the flames. Rescuers treated burns on his paws and around his eyes. Slowly, he regained strength and was ready to be outside again.
"The mountain lion kitten that was rescued on Sept. 13 in Calaveras County has found a new home at a permitted restricted species facility in Central California," the CDFW wrote on its Facebook page. "Over the past week at the CDFW's Wildlife Investigation Lab, the kitten has stabilized well and is making a good recovery. The injuries to its paws and eyes are healing, its appetite is increasing daily and bodily functions are returning to normal. Staff is hopeful for a full recovery."
People at CDFW wished the kitten bon voyage, as they transported him to his new home, where he will have access to veterinary care and will eventually serve as an "educational conservation ambassador to the public," according to CDFW. "CDFW will let the facility make their own public announcement when they are ready."
Some people worry that this means the cub was given to a zoo of some kind, rather than the wildlife sanctuary he deserves. "Release this cat back into the wild when it is healed," one commenter wrote on Facebook. "Why have you sentenced it to a life of captivity???"
Another commenter chimed in, drawing from her past experience. "I worked at a sanctuary for unreleasable wildlife," she wrote. "Mountain lions live with their parents and are taught life skills for two years. Sadly, at such a young age, humans just don't have the capacity to teach a mountain lion what it is to be a mountain lion and survive in the wild ... At least we don't have the tools to do so yet."
The CDFW did not immediately reply to The Dodo's request for comment.
Have a tip? Email sarahv@thedodo.com.