Couple Returns Home From Vacation To Find Unusual Guest On Their Sofa
His name is Tom.
"It's kind of an odd request," Mrs. Peterson, of Shorewood, Minnesota, told 911 emergency services over the phone on Sunday.
Barry Peterson and his wife had just come home from a trip to find the front window of their home bashed in.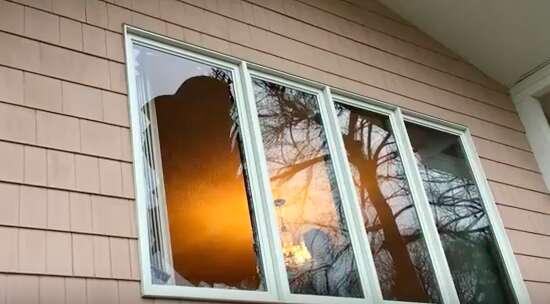 "I don't know if I should call you or what," Mrs. Peterson explained, "but we just came home from being gone - and a wild turkey flew through our front window and is now in our house."
The wild turkey looked pretty comfortable there on the sofa.
He watched the couple as they filmed him. He didn't even budge when Mrs. Peterson called the police.
"A Shorewood resident came home to find a broken out window to their residence. Shortly after they located an unusual guest lounging on their sofa," South Lake Minnetonka Police Department wrote on Facebook. "He identified himself as Tom."
The couple tried opening the door leading to the deck, but after briefly hopping down from the sofa, Tom didn't seem to want to leave. And he went ahead and hopped back onto the couch.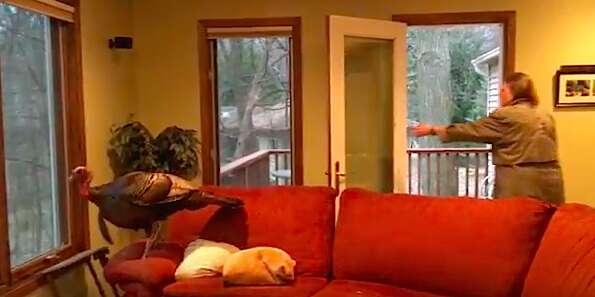 He walked over the cushions and perched on the plush arm.
Then they opened a window for him. "You've got two ways out now."
Nothing.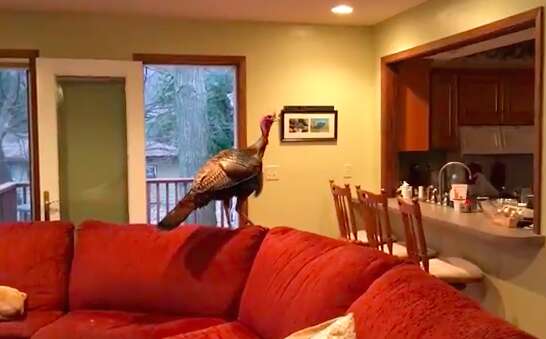 Finally, a police officer arrived, and came in through the front door, starting to ask more about the intruder, until he saw Tom and the situation pretty much just explained itself. "Oh there he is, sure. OK."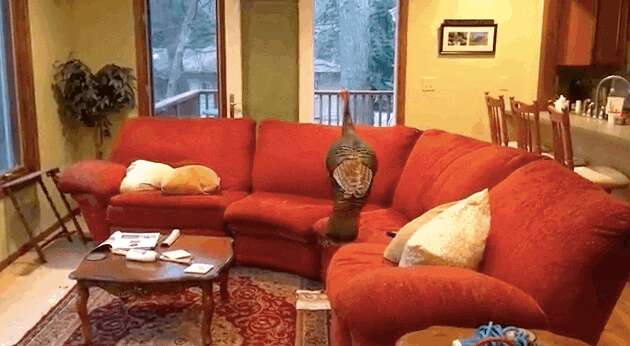 "We've got two ways for him to go out and he just won't go either way," Peterson explained.
"OK, you mind if I snap a picture or two as well?"
"Sure."
"Hey, buddy," the cop said, snapping some pictures before putting on his gloves.
Despite the shattered glass and inconvenience, everyone had a good sense of humor about the intruder.
"Out the door, buddy," the cop said, gesturing toward the door.
But Tom wouldn't budge.
Two more cops came in to help out. One of the officers flashed a light at Tom, who took this as a signal that his squatting rights had come to an end.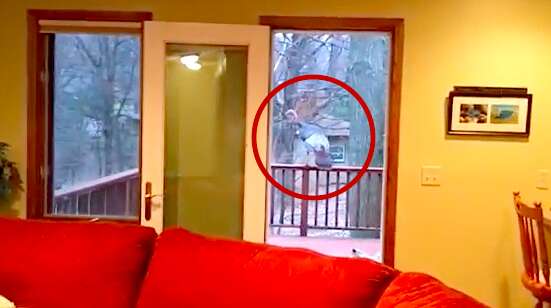 So Tom hopped down from the couch and went out the door, jumping up to perch on the railing for a last glance back at his weekend home before heading into the woods.
"Tom later left the home on his own and found a better spot in an oak tree," the police said. "The wild turkey was not injured."
"It was a very interesting experience!" Peterson told The Dodo.