Let's All Take A Moment To Give Thanks For Our Pets
<p>Photo: Kelly Burke</p>
With Thanksgiving right around the corner, The Dodo staff decided to take a moment to reflect on our furry family members and how thankful we are for their companionship. It doesn't take a national holiday for us to recognize that we have/have had some very special pets in our lives. Here's to all of our faithful animal companions this Thanksgiving.
Tell us why you're thankful for your animal BFFs in the comments below!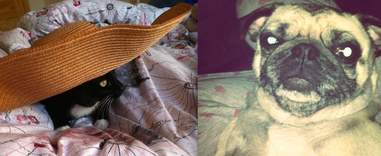 "I'm grateful for my dapper tuxedo cat, Oliver, because he always looks the part. And I'm grateful to my pug, Maisy, because she never does." - Melissa Cronin, Staff Writer

"I'm thankful for my cat Goat, because of his exceptional toy hunting abilities. And I'm thankful to my cat Gracie, because she is always on neighborhood watch." - Brittney Gilbert, Audience Development Manager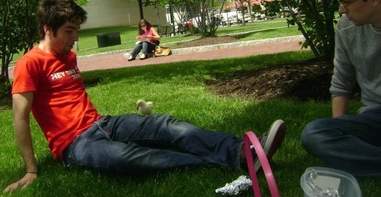 "Dear H5N1: Thanks for being such a zealous little nugget of feathers, dude. Your enthusiasm for eating - chirping merrily as you dragged worms, nearly as long as your body, around the grass - was something rarely matched outside of Guy Fieri television shows. Also thankful for Scarlett Begonia, for attempting to howl like this and for putting up with my parents' ridiculous way of naming animals." - Ben Guarino, Associate Editor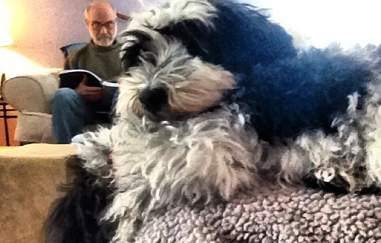 "I'm thankful for my parents' dogs Cody and Barney, because I never feel guilty taking naps when they're around." - Joanna Zelman, Executive Editor
"I'm grateful for Boo because she's a great holiday travel companion (and she knows how to rock a raincoat when it's misty outside)." - Marti Trgovich, Editor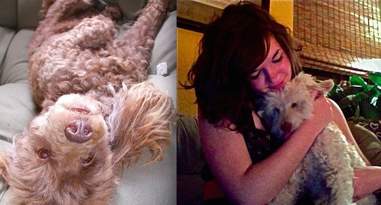 "I'm thankful for June Hershey Robertson, because she basically ran our household and had more regality and sass in one paw than I have in my whole body. She was maybe an evil genius? But also a sucker for belly rubs. I'm thankful for Spud Rollie Robertson because, even though he wasn't always the brightest, he was definitely the sweetest and most enthusiastic, and kind of looked like a little lamb." - Lindsey Robertson, Assistant Editor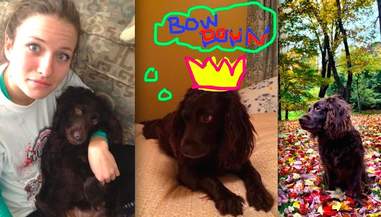 "I'm grateful for Dunn because she makes me feel better about not being a morning person ... because she is a HUGE asset to my Snapchat game ... Finally, I am thankful for Dunn because she gets me outside and helps me see and appreciate all of the beauty in the world! #nofilter" - Kelly Burke, Senior Digital Analyst
"I'm thankful for my Porti, Milo ... and for his stylish white boots." - Jacob Krushel, Lerer Hippeau Ventures Assistant
"I'm grateful to my dog Cody for tolerating 'Jazz Hugs' and other unbecoming photo poses. I'm also super grateful to our foster dog Spoonie, who had a lot of love to give and an extraordinarily long tongue with which to dispense it." - Jaime Lowe, Senior Editor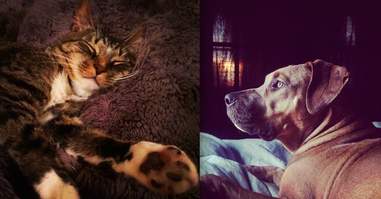 "I'm thankful for Jackson, our previous foster cat, because he taught me that fostering pets to keep them out of the shelter is totally worth it (even if they wake you up every single night at 2 a.m. because they want to eat your nose). I'm thankful for my best buddy, Piper, because she keeps me on my toes, makes me laugh hysterically with her daily derptastic antics, and has taught me that every day can be a fun adventure. Her excitement to make new dog friends is unmatched and her cuddle game is on point." - Shay McCay, Outreach And Partnerships Manager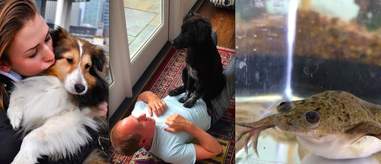 "I am so thankful for my little sister, Buddy, for always being my best friend. I am thankful for Tallulah for always showing my dad who's boss. (And) I am thankful for my frog, Prince Triton, for his melodious ribbits and dashing good looks." - Taylor Pedicone, Dodo Intern
"I'm thankful for my dog, Kuna, because every time I come home it's like a ticker tape parade of tail wags and licks - even if I'd just stepped out to the store." - Stephen Messenger, Staff Writer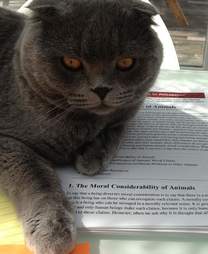 "I am thankful to my cat, Kevin, for being my number-one study buddy." - Izzie Lerer, Co-Founder and Editor at Large *We must also send a thank you to our adorable office dog, Tyson, who is kind enough to constantly remind us how delicious our food smells.