I take sea otters with me every where I go. I've taken them to jungles from Borneo to Botswana.
How and why? Here's the story. . .

Russian fur traders, beginning in the 1700's, hunted the sea otter for its valuable pelt. The sea otter has more hair per square millimeter than an other animal on earth. This makes garments made from sea otters the warmest natural coat available. Worked great for humans, badly for the Southern Sea Otter off the California coast. As late as the 1900s, scientists believed the gorgeous sea otter to be extinct.
It was assumed that sea otters were extinct due to Russian exploitation.

Fortunately in 1938 a small raft, a group of sea otters, was found near the hamlet of Lucia, in California's rugged Big Sur wilderness. In the 1930's the only access to the tiny Lucia cove would have been by boat. Coasters anchored merely a couple of miles further south at the confluence of Lime Kiln Creek and the rough Pacific Ocean. Even though the coasters hauled harvested lime from the creek area important for making San Francisco's streets, no one noticed the small raft of sea otters.

Once discovered scientists and conservationists realized they had discovered the last remaining living specimens of sea otter. They hustled to enact laws to protect the endangered, cute critter. All sea otters in the Western United states are decedents from this minuscule blossom of unique life.

Good animal husbandry saved these lovely critters from permanent extinction.

Before every expedition I take I always stop at the Monterey Bay Aquarium and go to the gift shop and buy at least a half dozen toy stuffed sea otters. I haul these toys into very interesting locations.
One such place was a long house in Borneo. I was told that I was going to meet the chief of the village and I needed to give him a gift. Tobacco was suggested as the chief's favorite. I told my guide, "I'm from California and I don't give tobacco to anyone." Instead of giving him a carcinogen I decided to give him a toy sea otter.

To get to the village I had to get into a power boat and slowly make our way up a swiftly running river. The day was hot, humidity so high it felt as if you were being squeezed inside a moist sponge. Inside the long house was even hotter. Along one of the visible frames of the long house were displayed the skulls of former enemies. I was asked to sit on the wood floor which made me know what a Thanksgiving turkey goes through while roasting in an oven.

After some pleasantries those in our group gave the chief the cigarettes he liked. When it was my turn I glanced at the skulls dangling from the ceiling and gave him his only none tobacco gift. Before I gave him the toy I told him the story about saving animals rather than killing them. Then I gave him his toy.
The chief beamed and told me, through an interpreter, "You have given me the best gift ever. If you return in 30 years you will find him in my quarters safe and sound."

Oddly enough I gave him his gift in front of a poster from the Malaysian equivalent of Fish and Game advising the community not to "hunt, kill, keep, sell or eat" any of the animals pictured on the poster.

That's exactly why I give out otters every where I go.

Another interesting site was a school in northern Botswana. I gave a sea otter to the science teacher and told he and his students the story about saving animals from extinction. I then pointed out the windows of this very rural, in the bush, school and told them they have such wonderful critters right outside these walls that they need to protect them as we had protected the sea otter.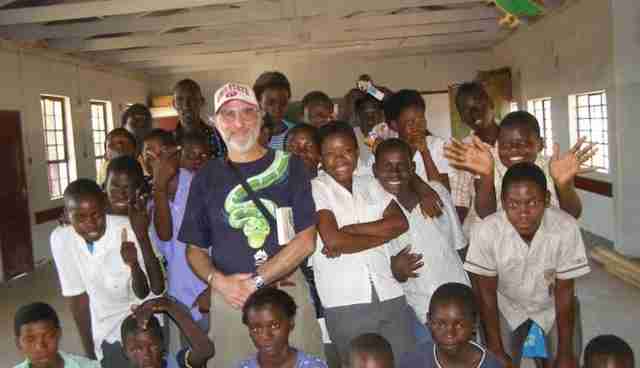 The kids brimmed with excitement and that's exactly why I hand out sea otters where ever I go.
Also I hope that if people take care of animals they'll also take care of humans.