We love interspecies love at The Dodo. But we can't help but notice that, a lot of the time, the cutest combinations of species becoming friends involves zoo animals and pets. Here are a few examples:
1) A puppy and a cheetah cub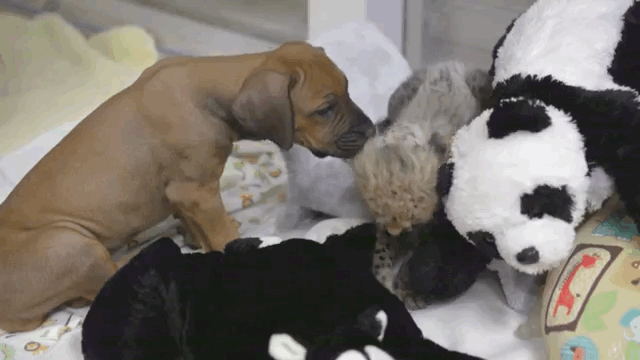 There's an important trend to note here: all of these friendships take place at zoos which can be difficult places for the animals who live in them, and the conditions often breed despair for wildlife (and their human advocates). Animals in captivity regularly suffer preventable diseases like tuberculosis, end up poisoned "by accident" or die at the hands of organizations that arbitrarily decide to stop caring for them -- like Maurius the giraffe, "Baby Bear 3" in Switzerland and many, many others.
But, on top of being dangerous, zoos seem pretty lonely. Many of the animals have been separated from their families and sometimes, just need friends. So, while it would be ideal if these strange interspecies friendships weren't necessary, they're nice regardless -- and, on top of that, they look a lot like our own interspecies love.