A disease called white-nose syndrome is devastating bat populations around the U.S., and biologists say they've deciphered what makes the sickness so deadly.
"Infections are costly when you're sick," Michelle Verant, a bat expert and Ph.D. student at the University of Wisconsin–Madison, told The Dodo. And white-nose syndrome, which is caused by a fungus, forces infected bats to spend incredible amounts of energy while hibernating, Verant and her colleagues at the National Wildlife Health Center recently reported.
Since its discovery in New York bats in the winter of 2006, the disease has claimed more than 5.7 million animals. It's marked by a characteristic fungus on bats' noses, as well as wing and other tissue damage. But the debilitating impact of the disease, the researchers found, begins long before the signs are visible. By measuring the energy expenditures of sick and healthy bats as they hibernated - something that had never before been attempted, Verant said - the scientists calculated that sick bats used up twice as much energy as healthy animals.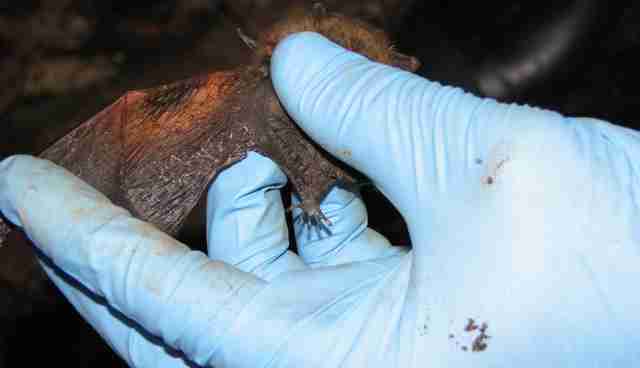 Beginning in late fall, bats spend up to six cold months hibernating, and their body temperature drops to a crisp 45 to 55 degrees. For a brief period once every two weeks, however, they heat up to a typical mammalian range of 98 to 100 degrees. About 98 percent of the energy they will burn over the winter months, Verant said, will be devoted to these quick, hot blips. As bats hang from cold rock walls, saving enough energy to last the entire hibernation becomes a balancing act. (It's also why bat researchers are incredibly careful to disturb the mammals as little as possible in the colder weather.) And when fungus enters the fray, bats teeter over the edge.
They may be fragile in their winter slumber, but once warmer weather arrives, bats are pest-munching machines. And they don't need utility belts to be nocturnal superheroes: A little brown bat, no bigger than the size of a tightly closed fist, can eat up to 5,000 bugs in one night, Verant said.
Though these tiny superheroes are in danger, there's a glimmer of hope. "The promising news is that some bats are surviving the infection," Verant said. The survivor bats tend to be bigger and fatter when they begin hibernating, and have more fat stores to burn during the winter months.
Some researchers are trying to come up with a treatment for white-nose syndrome, but one of the best ways to help, according to Verant, is to conserve the areas where bats live, helping them grow fat off land rich in bugs.
Conservation groups such as Bat Conservation International and White-Nose Syndrome in Bats are doing great things to help bats, Verant said. You can help bats by steering clear of their caves (especially from December to March), building wooden bat houses and letting local wildlife resources know if bats are out in the middle of the day or otherwise acting strangely.