During the course of her four-month stay at the Whisper Ridge Ranch Equine Sanctuary in Ontario, Canada, Tori Black witnessed the disturbing deaths of three horses.
Black rented a room from the sanctuary's owner, Sandra Reed, and boarded her horse, Romeo, on the property from December 2015 to March 2016. According to Black, Whisper Ridge under Reed's care is anything but a safe haven for the horses and the other animals who reside there.
"In general, the conditions on the farm are not good," Black told The Dodo. Reed does not feed the horses enough, according to Black, leading them to suffer from malnutrition and emaciation. As a result, the horses have resorted to eating fencing rails, posts and even wooden shelters in desperate attempts to feed themselves, she added.
Reed also allegedly refuses to hire a farrier to trim the horses's hooves because she believes in self-trimming - that is, the hooves of the horses will wear down naturally as they walk around.
"Of course, this doesn't work on domestic horses in small pastures, so their feet are all overgrown, split, and [with] chunks breaking off," Black said. "Lots of the horses are sore because of it. She doesn't ever call the vet and she won't vaccinate."
The first time Black saw a horse die at Whisper Ridge was in February 2016. Her name was Music.
"Music was in very bad shape," Black said. "She was severely malnourished with her hips protruding and her ribs easily visible under her skin." Black, along with another boarder at farm named Faith Robinson, convinced Reed to bring Music indoors overnight for about a week, where the two fed her grain and beet pulp, and tried to keep her warm with a blanket.
One day, after an ice storm in late February, Music slipped on ice and fell. Her malnourished body couldn't handle the impact and she broke her pelvis, legs and ribs, Black said. Blood from her nose stained the ice red around where she had fallen.
"After assessing her injuries, Sandra got out her rifle and shot her in the head, twice, approximately seven minutes apart," Black said.
Then, there was Cider, who died in March.
"Faith and myself came home one day after a few hours out doing errands to find that she had passed away in a very disturbing position in the field," Black said. "It looked like she had been struggling to get up and just didn't have the energy and died right there."
Warning: Some of the following images, while not graphic, are upsetting.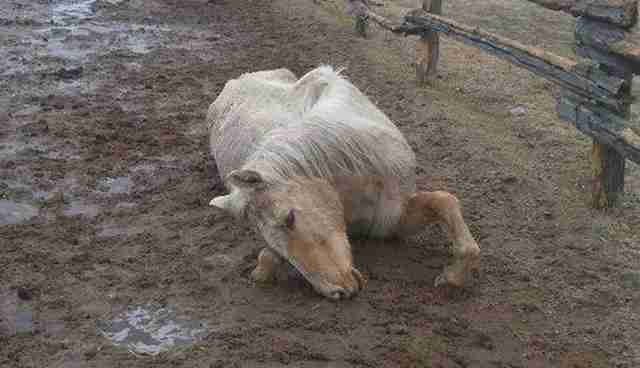 According to Black, when she and Robinson informed Reed of Cider's death, Reed did not appear concerned and told the two women to move the horse's dead body away from the field, which they did after documenting the scene of her death.
"The other horses were all cowering [at the other end of the field], freaking out about their friend being dead," Black said.
Finally, there was Seek, who passed just days after Cider died.
She was also suffering from malnutrition, Black said, and her death the most disturbing. Seek had collapsed from weakness and then spent three days writhing in pain,. In an upsetting video shared on Facebook, Seek is seen lying on her side, with blood on her legs - unable to get up and crying out in fear.
"Faith Robinson and myself spent this time trying to reason with Sandra to call a vet to euthanize Seek and every time she said that she just needed a little more time to 'pass naturally,'" Black wrote on Facebook. "We took turns sitting with Seek to comfort her and try and syringe water into her mouth. Sandra has cameras everywhere, so you cannot go against her. Anything you do against what she says, she threatens to call the cops."
After Seek's death, Robinson and Black packed their bags in a decision to leave Whisper Ridge after all they had witnessed. They also reported Seek's death to the Ontario's SPCA (OSPCA), which is currently investigating the allegations made against Reed.
Last Tuesday, the OSPCA sent veterinarians to visit Whisper Ridge to examine all the animals, the Peterborough Examiner reported. Reed told the outlet in an emailed statement that horses are sent to her sanctuary to live out their lives naturally, with most of the horses either being old or injured when they arrive.
Reed has not been available comment to the Peterborough Examiner since her initial statement. Reed was also not available for comment for Global News. The Dodo was unable to reach her.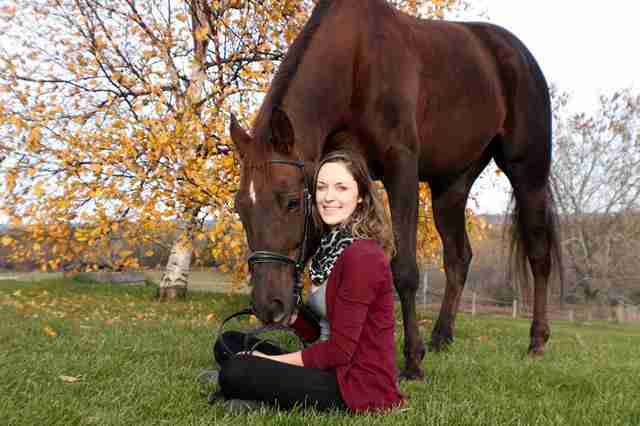 Black believes that Music, Cider and Seek all died from issues related to severe malnutrition, not old age. Black said she's also experienced issues with her own horse in Reed's care. Black said Reed underfed him and she, along with Robinson, had to take it upon themselves to make certain he was eating properly, as they could not trust Reed to do so.
Black said when Romeo first arrived to Whisper Ridge, he started to grind his teeth from the stress of the move - and so a muzzle was placed on him to help curb the habit and prevent him from chewing on anything. After Romeo had settled in, Black removed the muzzle, but Reed was allegedly insistent about putting the muzzle back on despite Black's protests. The two argued frequently as a result.
One horse recently pulled from Reed's ranch was an 8-year-old named Encore, according to Black.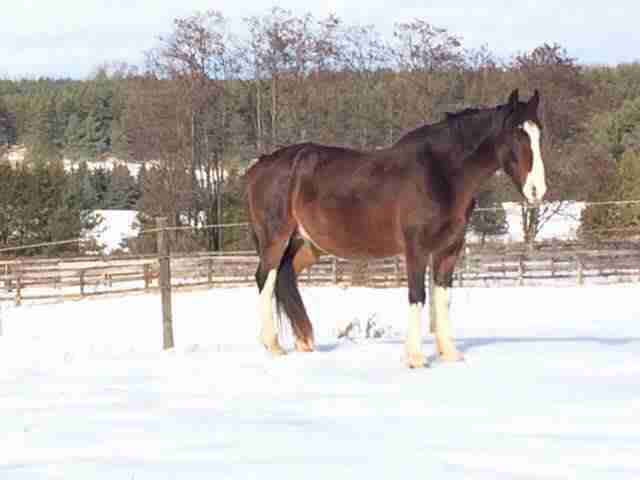 Two women named Jessica Fobert and Zoë Carter initially rescued Encore from an auction house and sent him to Whisper Ridge in the belief that he would finally have a happy ending at his new forever home. He arrived at the ranch in perfect health, Black said.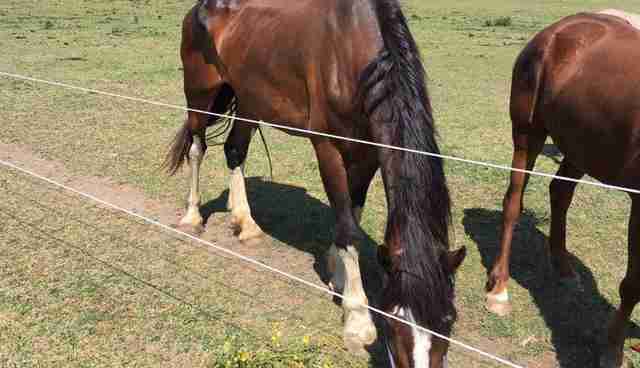 "The adoption contract had checkup visits required and a few months after being placed in her care, Jessica went to check on him and he had lost several hundred pounds," Black said.
Encore's rescuers immediately reported the situation to the OSPCA and filed a lawsuit in order to win back custody of the horse. The legal battle started last July and just ended on Friday when Fobert was awarded ownership of the horse - saving his life yet a second time. Encore was immediately removed from Reed's property and taken to see a vet.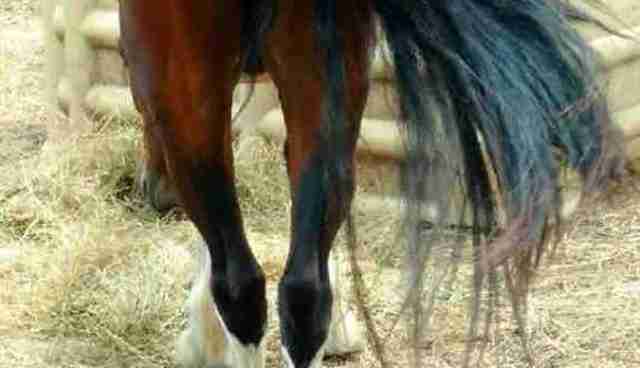 "The vet said that if left in Sandra's care, he would be dead within a few weeks," Black said.
Ever since starting a Facebook page dedicated to freeing all of the animals from Reed's ranch, Black said, many people have reached out to both her and Robinson to share stories detailing similar experiences, with photos of animals allegedly at risk who still live at Whisper Ridge.
"It appears that she has been reported a multitude of times, in many locations, for many different instances of animal abuse," Black said. "These reports date back at least a decade."
Reed has been investigated by officials previously, but hasn't faced charges, presumably due to a lack of concrete evidence of alleged animal neglect and abuse.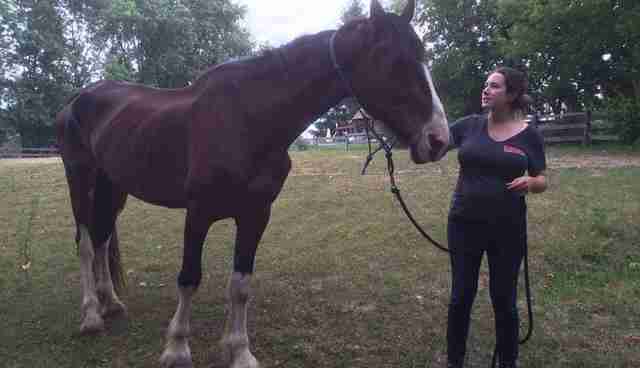 "This is an ongoing investigation, which does take time," Steve Toy, a senior inspector with OSPCA, told the Peterborough Examiner. "We want to reassure the public that the horses are getting the care they require as this investigation continues."
In short, there's one important outcome Black wants to see come from this situation for the horses at the ranch - as well as the cats and dogs who live there.
"I want all of the animals removed and placed in loving homes where they are cared for," Black said.
You can sign a petition calling for the rescue of the animals at Whisper Ridge here.
Watch this video about a baby horse and dog who are BFFs: