Wheres Bixby...Pedaling for pet adoption.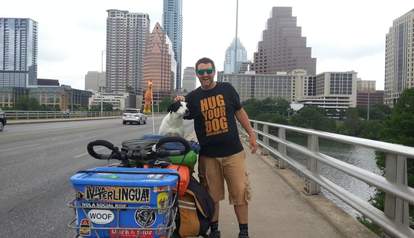 The Humane Society estimates that between 6-8 million pets are filtered though shelters each year in the United States. Of them, half are euthanized due to low adoption rates and the lack of people willing to spay and neuter their pets. A lot of people think that they want their current pet to have a puppy or a kitten, not realizing that they average between 3-8 offspring and though they're all cute, most people cannot care for all of them and they end up in shelters. Meanwhile the shelters themselves are already over run with animals looking for homes and have no choice but to put them down. It's horrible and it's up to us to help alleviate that problem by helping our fuzzy friends get adopted and educating people on how to keep more animals out of the shelters to begin with. Bob Barker had it right...Spay and Neuter your pets!
One of our favorite adoption stories came from Denton, TX where we rolled into town and immediately went to the newspaper and told them what we were doing. We made the front page! We took that momentum and went to the Denton Animal Shelter and we met Scout, a 5 year old Border Collie that was was ready to ride on out of there and find his new humans to care for. We took pictures and promoted him and they put us on their website. The next day we get an update that Scout has found his new home and is already teaching his humans how to play fetch. It feels so good to know that we played a small role in helping him get adopted. Those humans are surely lucky to find such a pup. I just wish we could help all the dogs and cats find homes.
We have also noticed alot of distressing situations along our journey. We have seen dogs tied to trees on short tethers and you can tell that they're rarely let off do to there being no grass where they are and they are forced to due their business right next to where the eat and sleep. We see pups that are left outside with no shade and no water when it's scorching hot outside. We see breeders that are profiting off life itself by cramming animals into confined spaces for their only value to them is monetary. Let me set the record straight here. We, as pets, are fully capable of feeling love, of feeling sadness, feeling pain, fear, anxiety just like humans are and just like humans we are capable of giving love and warmth, compassion and companionship. As much as we want everyone to get out and adopt a best friend, you must be willing to put in the time to nurture this new relationship.We are not a status symbol, we are not fighters, we are not simply possessions that are cute to look at. We need attention. We need your time. We need you to want to share your life with us. In return, we will be as loyal as the day is long. We will lick your face when we can tell your feeling down just to let you know that we love you. We will greet you when you get home from a hard days work just to tell you, "Thank You for saving us", and I think you will find that in a small way, we helped save you too. So Hug your dog, if you don't have a dog, hug your neighbors dog cause then you'll want a dog. If you don't know where to get a new best friend...I know some people.
We are always looking for more ways to help out our furry friends and get more people involved so if you have ideas for us or would like to meet Bixby along our travels you can contact us through our puppymail at wheresbixby@gmail.com Once we hit Denver, we plan on pedaling north to Montana then west to Washington and down the west coast. Once we make California...well, we'll pedal across that bridge once we get there.
My name is Bixby and my story starts back in early 2010 when I was introduced to my human, Mike. Having been given up to the Town Lake Animal Shelter in Austin, TX my future was uncertain to say the least. Little did I know at the time, but I was in for quite the adventure when I was adopted by my human and in return I would be the most loyal, loving and helpful companion that I could be.
A pup can sense when a human is in need and I could tell that Mike was looking for a best friend to talk to, to play with and inspire him to chase his dreams. It was over a game of fetch one day that I gave him some advice. I ruffed to him "Dreams are like sticks...you just have to chase them." I had no idea at the time just where that advice would take us.
Eventually, after my human quit his job in Austin and we went on a big road trip across the country we found ourselves in Big Bend National Park where we met Tim and Noah Hussin (The Coyote Brothers) who were more than a year into a cross country bicycle ride making a documentary (America Recycled). We ended up becoming friends as we both ended up in the shadows of Big Bend in the Ghost Town of Terlingua where they shared their stories with us of the hospitality of the road and seeing the country at such a slow pace. They were real good at playing fetch too. I could tell that Mike was really inspired, but had his doubts as to whether he could physically do it. I reminded him of the advice I had given him over that game of fetch and promised him that I would stay by his side and help out on such an adventure and besides, he would need a good navigator, he's terrible with directions.
We have now pedaled more than 6,000 miles over the last year through 24 states (soon to be 25) and if all goes well, we're just getting started. We originally took out of Galveston, TX and pedaled 600 miles to Texarkana, AR for my humans family reunion and used it as a practice run, for he was by no means an avid cyclist and if it got too tough we could call someone to come and get us. We did great though and from there decided it was time for the Big Adventure to begin.
View from Lubec, ME. The land on the other side of the water is Canada.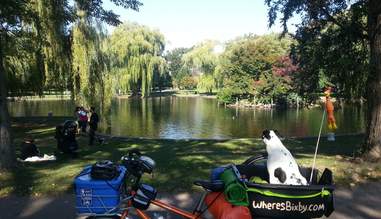 Here I am in a beautiful park in Downtown Boston.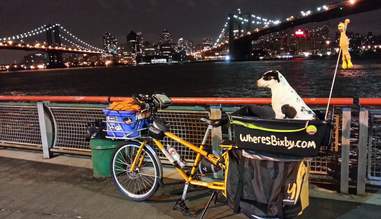 Here I am in Manhattan looking across at Brooklyn.
We decided to make our way (by truck), to eastern most town in the U.S. and get dropped off and start pedaling. We left Lubec, Maine on Sept. 7 2013 and pedaled to Key West, FL where we arrived on Christmas day. From there we pedaled back up the Keys, across the Everglades, up the Gulf Coast through New Orleans for Mardi Gras, then to Austin, TX and from there started north for it was starting to get hot down there in Texas. We continued north through Bixby,Oklahoma, which I assume was named after me and Tulsa, where my human was born, then on into Joplin, MO and are currently in Wichita, KS headed to Denver.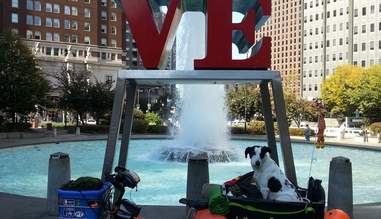 Sometimes we get caught in the rain, like here in Delaware. We're prepared though. And sharing the puppy love in Philadelphia.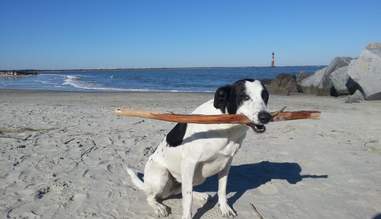 We always find time to stop and play fetch like here on a beach in Charleston, SC.
Sometimes I like to show other pooches how to ride a bike like here in Savannah, Georgia.
Once we had about 3,000 miles behind us I started telling Mike that we should really start using all the attention we are getting to try and help other furry friends find humans to take care of. There are a lot of lonely humans out there that could benefit from the companionship of a best friend. Being from a shelter myself I know that there are so many of us that, unless were allowed to find those humans, then we're deemed useless and the outcome is very bleak for us. I personally knew lot of friends that didn't find their humans and cried many puppy tears for them. So this has given me and my human a platform from which to help.
Here we are pedaling through the Florida Keys
We have now pedaled 3,100 miles to the southernmost point in the Continental USA.
Once we enter a town, we will pedal around and let people see us. I think that I represent very well what it is to be a rescue dog. We stop and talk to people and take pictures and I like to hop down and play fetch with the little humans. We will then call up the News Channels and Newspapers and let them know what were doing and see if they would like to come out and talk to us and help us spread the word that there's a a lot of great pets in their town looking for homes. Once we get seen by lots of people and a lot of people are drawn to my Facebook page(https://www.facebook.com/wheres.bixby.3?ref=hl), we will pedal over to a shelter or a Humane Society and meet some pups that are looking for homes and interview them and share their stories and pictures. How great it is when a day or two later someone is sending us a picture of the pooch we interviewed in their new backyard playing fetch themselves.
We make lots of friends wherever we go.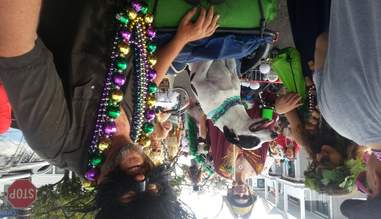 We got to be in a Mardi Gras Parade in New Orleans. (Don't know why the pic is upside down and it won't let me spin it or delete it.)
Here we are at doggie appreciation day at Lucky Lou's in Denton, TX
At the Tulsa Humane Society meeting some pups that are looking for their humans to take care of.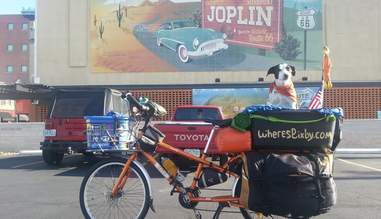 Give ya 2 guesses where this was taken.
This is our current location in Wichita, KS at the Keeper of the Plains.
We get such a warm reception wherever we go. People are always amazed that I'll just sit on the back of this bike as he pedals around everywhere. I remind them all that without me he would just pedal in circles completely lost, but the truth is I love my human, I love this adventure and I love that I'm lucky enough that I get to help other furry friends to have a voice that Hey, life's more fun with a pet, and if given the chance, we have the ability to change your life. Take my advice humans and adopt yourself a best friend from a local shelter or rescue agency. ...and if you have a pet, give 'em a hug, they love you! If you would like to learn more about our adventures, or would like meet us as we pass your way, you can check out www.wheresbixby.com. You can also follow us at "wheres Bixby" on Facebook, Instagram and Twitter. Thanks a Ruff everybody! -Bixby and her human, Mike.
Sometimes we just have to stop and relax for a while.
Sometimes it's nice to just lounge around the pool.
Sometime I invite all my friends over and put on a concert. "Ruff me a song you're the Piano Dog.."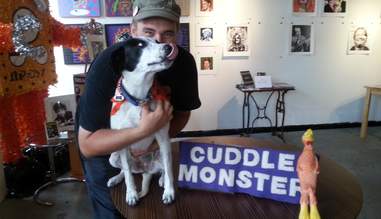 But at the end of the day...I'm just glad I found my human. Adopt a best friend...you're saving a life!