What Will Happen To The Zoo Animals At The Ukrainian President's Estate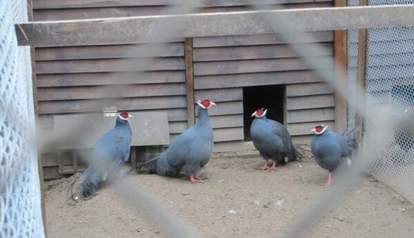 With former President of Ukraine Viktor Yanukovych fleeing his palatial estate, citizens have flooded onto the grounds, discovering his secret, massive zoo filled with domestic and exotic animals. Now, many are worried about the future of over 2,000 animals -- many of which are livestock like sheep and pigs, and many of which are zoo animals like bears, peacocks, ostriches, deer and even a bear.
Many of the milk-producing livestock are now supplying milk to protestors who are still in the city's square. For the zoo animals, some have proposed moving them to the Kiev Zoo -- a facility notorious for its history of animal welfare issues. A zoologist for the Kiev Zoo said that it would not be a good idea to bring the animals to the zoo, because the conditions at the president's compound are actually much better.
According to BBC, the future of the zoo is still unclear. But officials hope to preserve all the animals, and are considering the option of turning the site into a recreational attraction.
Other sources say that volunteers have been trying to keep the the animals where they are and have been giving them food and water, while the Kiev Zoo is laying claim to them. Many hope that the animals don't end up at the Kiev Zoo, because of its reputation for poor animal care.
ACTION GUIDE: Zoos and Aquariums
Hundreds of millions of people visit zoos every year, despite increasing public anxiety about animals in captivity. If you want to make sure you're at least visiting a zoo that makes efforts to be humane, make sure it is on the list of U.S. facilities accredited by the Association of Zoos and Aquariums; internationally accredited facilities are listed here by the World Association of Zoos and Aquariums. If you want to see whether a facility has any recent USDA violations, you can search this database. You can report a zoo or aquarium to the USDA here. And if you want to become active against having animals in captivity, Peta and Born Free USA offer places to start.