Before And After Photos Show What Love Can Do For Elephants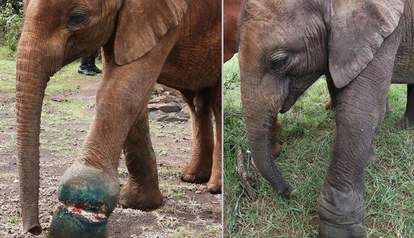 <p> <a href="https://www.facebook.com/thedswt/photos/a.167086934888.112085.120805694888/10153436799684889/?type=1&theater">Facebook/The David Sheldrick Wildlife Trust</a><span></span> </p>
He almost didn't survive.
A poacher's snare had nearly severed the leg of a baby elephant, who lay trapped and bloody in Kenya. Left motherless and alone, the baby was about to become a number, adding to the thousands of African elephants who are killed for their valuable ivory tusks each year.
But rescue workers from the David Sheldrick Wildlife Trust (DSWT) were determined to not let that happen. They gave the orphan intensive care for his injuries and named him Mwashoti.
Since February, Mwashoti has been lovingly cared for at the DSWT. He's also formed friendships with other orphaned elephants like him.
Love really can save lives.