What It's Like To Be Detained And Prosecuted Under Ag-Gag Law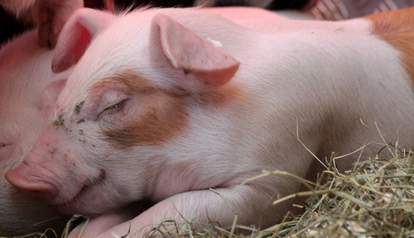 <p><a class="checked-link" href="https://c2.staticflickr.com/8/7197/6783121620_e555608fee_b.jpg">Flickr: HelgiHall/Freddi</a></p>
Four animal rights activists drove hundreds of miles last month to a massive pig farm in Utah with one mission: document the grueling 500-mile journey of pigs trucked from the facility to their deaths at the Farmer John slaughterhouse in Vernon, Calif.
Now the activists, Bryan Monell, Sarah Jane Hardt, Bob Penny and Hal Weiss, are being prosecuted under Utah's "ag-gag" law, and if charged, could face penalties of up to a year in prison for photographing and videotaping the farm, their attorney T. Matthew Phillips told The Dodo. It's the second case in the United States to be prosecuted under controversial ag-gag laws, which make it illegal to covertly photograph or videotape farm activity or apply for a job at one without disclosing ties to outside organizations.
(Photo: Sarah Jane Hardt)
Critics say the laws seek to criminalize and suppress whistleblowers who are crucial to exposing egregious animal abuse, illegal activity and food safety issues. They say the laws stifle First Amendment rights and are an attempt by Big Ag to keep consumers in the dark about the realities of what's going on inside America's factory farms and slaughterhouses.
"This is such an egregious violation of our First Amendment rights," Hardt told The Dodo. "At the end of the day you have to ask, 'What are they trying to hide that they are so desperate to create these laws and go through the process of prosecution.'"
This case highlights the unknown about ag-gag laws: the scope of the legislation and how it can be used, said Will Potter, an independent journalist who initially broke the story on his website, Green Is The New Red. Potter is a plaintiff in two lawsuits filed in Utah and Idaho courts challenging the constitutionality of ag-gag laws.
"We were told time and again it was not about criminalizing photography," Potter said. "It's about people who sneak onto farms and work undercover. But, sheriff's offices and deputies clearly don't understand it that way, and it really shows the problems of this overly vague ag-gag law."
Sarah Jane Hardt photographed Circle Four Farms on public property, but was detained.
On Sept. 24, the four activists drove in two vehicles to Circle Four Farms in Milford, one of the country's largest pig farms. The facility keeps 600,000 pigs intensively confined in rows of sheds encompassing 90 square miles with operations in Beaver and Iron counties. The activists were there to document what they call the cruel treatment and transport of farm animals as part of the Oct. 2 World Day for Farm Animals, an awareness campaign spearheaded by Washington, D.C.- based Farm Animal Rights Movement (FARM).
Employees at Circle Four Farms confronted the activists when they spotted them near the property and alleged they were trespassing, though the activists maintain they were on a public road. The employees demanded the group turn over any photographs taken of the facility and interrogated the activists over which animal rights group they were working for. When they refused to hand over photos and left, the employees called law enforcement.
Phillips, a Los Angeles-based civil rights attorney, told The Dodo law enforcement in Utah detained the activists for five hours at a park in Beaver County.
He said sheriff's deputies used intimidation in attempt to obtain the photographs and conduct vehicle searches. When they refused, each were reportedly given two citations, one for criminal trespass and one for agricultural operational interference which is essentially Utah's ag-gag law. Each citation is a misdemeanor punishable by up to 180 days in jail, Phillips said.
"The entire charges are bogus," Phillips told The Dodo. "If police had probable cause to arrest they should have made an arrest, but they wanted to use strong-arm tactics to intimidate and force activists to turn over evidence."
Phillips said the activists were approximately two football fields from the farm when they were taking pictures. He said he planned to take legal action against both counties for "unlawful detainment."
"It seems law enforcement today is more concerned with protecting capital as opposed to protecting and serving the public," Phillips said. "All ag-gag laws are unconstitutional per se because they are over broad, and they necessarily make criminal what would otherwise be lawful activity. You have a right to take a photo of a building from the road."
Lawsuits challenging the constitutionality of the laws have been filed in courts in Utah and Idaho by a group of journalists, including Potter, civil liberties advocates, animal protection organizations, such as People for the Ethical Treatment of Animals (PETA) and ALDF, and others.
"It appears Utah is continuing to flout basic constitutional rights in order to prevent anyone from seeing the reality of factory farming. Targeting these citizens is an admission that animals' lives on Utah farms are so awful the public simply can't be allowed to see," the Animal Legal Defense Fund (ALDF) said in a written statement to The Dodo.
Beaver County Sheriff Cameron Noel told The Dodo deputies did nothing wrong. Noel said his deputy issued the activists a citation for not paying fees while staying at a campground. Iron County issued the other two citations for criminal trespass and agricultural operational interference, Noel said.
"We were fully within our rights to do what we did," Noel said.
What's at issue is whether or not the activists paid a camping ground's fee: "We were a bit frazzled by what had just happened so we pulled over to park," Hardt said.
While they were parked at the campground, that's when a Beaver County Sheriff's deputy showed up and cited them for not paying park fees. "I think at the end of the day it's a scare tactic to prevent people from documenting and photographing abuse," Hardt said.
Ag-gag laws have been enacted in seven states, including in Iowa, Idaho, Missouri, Montana, Kansas and North Dakota - the legislation spawned from a series of shocking undercover investigations in recent years by the Humane Society of the United States and Mercy for Animals that have resulted in plant shutdowns, animal cruelty charges and public fury.
Some of the legislation has been tied to the American Legislative Exchange Council (ALEC), a national consortium made up of mostly republican politicians and powerful corporations, which drafts model legislation to increase corporate profits and mask who's behind it. Utah's ag-gag law was sponsored in the House by Rep. John Mathis, R-Vernal, and in the Senate by Sen. David Hinkins, R-Orangeville. Hinkins referred to "vegetarian groups" who "are trying to kill the animal industry" as "terrorists," according to court documents.
Idaho and Utah petitioned the court to have the ag-gag lawsuits dismissed. However, both courts denied the motions, a sign Matthew Strugar, a PETA lawyer who represents the plaintiffs in the two lawsuits, said shows ag-gag's days are numbered.
"I think the writing is on the wall for these laws," Strugar told The Dodo.