So these three English guys -- Adam Burns, Dave Bewick and Pete Johnston -- were at a pub in Sydney when they got an idea: it might be good fun to walk 1,966 kilometers (about 1,200 miles) to this year's World Cup in Brazil from Argentina. Loopy as the idea might've seemed, it quickly became an outlet for the men's best intentions. They decided to raise money for local communities in need along the way -- but that's not all the good they've done.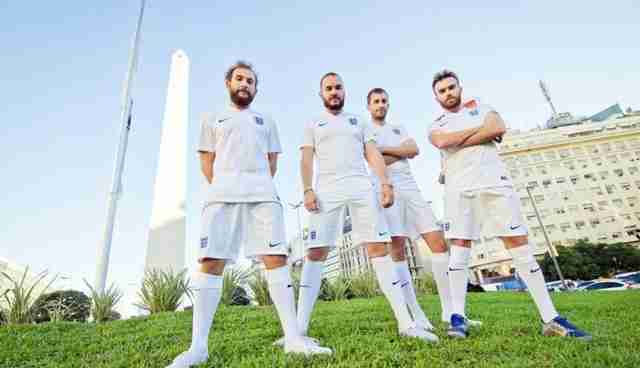 After receiving a Nike sponsorship for their trek, the men were joined by two more walkers: one a human, the other a dog. As the men explained to Public Radio International, a black Lab started following them in Uruguay, and despite their best efforts, they couldn't shake the stray:
The crew walked another couple miles and the dog was still following them. Initially, they thought nothing of this pooch, because plenty of other strays had followed them before. But this wasn't any dog.

At a cafe, the dog crawled under the table where they ate. The group tried to shoo the dog away. It didn't work.

That night, they set up their tents and went to sleep. The next morning, the dog was there. The dog continued to follow them for the next day. And the next morning, there the dog sat, ready to keep going. "That was five weeks ago," Burns adds. "And 800 kilometers."
Burns and his buddies named the dog Jefferson, and together they completed the walk from Argentine wine country to Porto Alegre, Brazil. But, it turns out, their journey wasn't over.
Somewhere along the way, a man by the name of Nacho heard a story of four English dudes walking across South America accompanied by a random black Lab. Turns out, the Lab wasn't random: he was Nacho's pet, who'd gone missing around the time the men passed through town.
Nacho was able to get in touch with the men, who naturally felt ambivalent about returning their beloved companion. "We are filled with mixed emotions," the walkers wrote on their Facebook page. "We now know we will definitely have to say goodbye to our loyal companion so are understandably gutted ... It is in many ways the perfect end to the story. Jefferson was not a stray dog, he just really wanted to go on an adventure with four crazy English lads."
Nacho sent the men photos of Jefferson (whose real name is Negro) when he was a puppy, then prepared to travel over 800 kilometers to Porto Alegre to pick up his dog. He didn't get there before the walkers finished, though -- which is how the whole team made it to their destination, Jefferson included. "I don't think Walt Disney could have made a more perfect ending," Burns said.