What Should We Do With These Massive Stockpiles Of Horn And Ivory?
In light of the global demise of elephants and rhinos, many countries have made a symbolic gesture of commitment by destroying their ivory stockpiles. China, the United States, Kenya, France, the Philippines, Gabon and Hong Kong have all taken part. While some see this as a celebratory gesture, it is contested by others. The price tag for a kilo of ivory on the black market is worth over $1800 USD, which makes your average elephant worth about $18,000. A kilo of rhino horn can fetch $65,000 USD, making the average rhino worth $130,000.
Imagine how much one country's stockpile may be worth. When the U.S. destroyed it's six-ton stockpile, it was like destroying approximately $9,800,000 USD. Could that money have been sold to China, raising money for conservation? Or would it have simply fueled demand, bringing a quicker end to our imperiled elephants? There are arguments on both sides.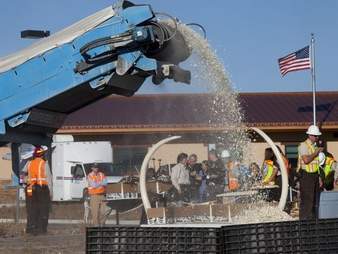 Ivory destroyed by a steel rock crusher in Denver, Colorado. (Photo: Alex Hofford)
Reasons to destroy:
Ivory and horn left intact has the good chance of finding its way back onto the market, perpetuating the demand and adding to the poaching.
It sends a powerful statement to the world that it is NOT a commodity. There is no worth.
It also sends the message that a country will not tolerate the trade.
Storing ivory and horn is a security burden to most countries.
It's no secret South Africa is pushing for legal trade in rhino horn. Their current stockpile stands at over 18 tons. photo" (Photo: AFP)
Reasons to keep:
Saving horns and ivory allows records to be kept on genetics, both for historical purposes as well as for DNA evidence used in court cases.
If legalization occurs, it can be sold to raise money for conservation.
It can be used to train wildlife sniffer dogs in airports to help control trafficking.
In general, destruction of ivory will make it more scarce, spiking the demand
What do you think? Take the poll here.