A tour guide in the Caribbean has struck up a remarkable friendship with a group of local sperm whales - the fruits of which can be seen in an interspecies dance you have to see to believe.
"I don't think there's anywhere else in the world where whales are doing this," diver and friend to whales, Andrew Armour, told The Dodo. "The experience is powerful."
Armour, who offers guided dives off the coast of the island of Dominica, has earned a reputation as the Whale Whisperer, and it's easy to see why. Newly released footage shows something he says happens all the time - him leading a 30-foot whale in a sort of choreographed twirl.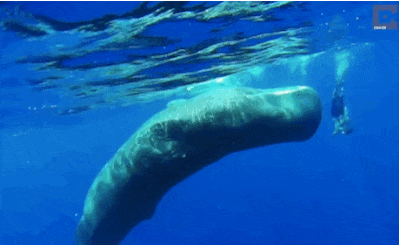 Armour says his uncanny ability to communicate with whales in such a way began more than a decade ago with a sperm whale calf named Scar. Over years of near-daily swims with him, Armour developed a unique bond of trust and communication with the animal, which allowed him to achieve an unprecedented level of interaction.
"When I'm in the water, I make sounds which sound like their most popular combination of clicks they make when they're talking with each other," Armour said. "When I make these sounds, they stop to listen and then I can interact more closely with them. I've now been able to show them some maneuvers in the water, like spinning."
Sadly, Scar is believed to have passed away in 2012, but the friendship he had established with Armour lives on with a female whale who was his companion. She too has learned a small repertoire of actions that she performs purely for fun and of her own free will.
"She has come to fill his shoes," Armour said. "When she sees that we have come, she'll swim to the boat. She recognizes that there are people on board that she can see and interact with."
"It's like building a relationship; you have to make the interactions as enjoyable for them as it is for yourself," he said, adding that that's what makes this scene so much different than any found in marine parks, like SeaWorld.
"Remember," Armour said, "these whales can leave with two kicks of their fins. It's humbling to know that they are the ones who have that power."