Dog Living Outdoors For 10 Years Will Finally Have A Home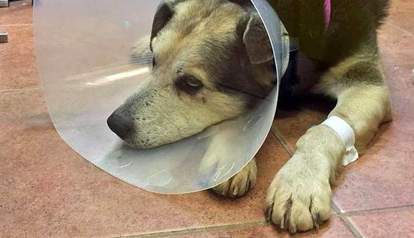 <p><a href="https://www.facebook.com/NBCNewYork/photos/a.494900254098.278292.89686424098/10153054131309099/?type=1">Facebook/NBC4</a><br></p>
Who says New Yorkers aren't friendly?
A shepherd mix who has been roaming an uptown Manhattan neighborhood for the past 10 years has become a beloved fixture among the locals, and over the weekend they teamed up to save him from dangerously cold temperatures, NBC New York reported.
Charlie, who's also known as Ricky by some of his neighbors, has spent the past decade shuffling between two local parks in Washington Heights and Inwood.
Residents have been leaving food out for Charlie for years. They've tried to bring him indoors to safety, but he's always evaded them. Last week they noticed that Charlie seemed slower than usual, and weak.
Denise Lauffer, a dog walker who has been living in the neighborhood since 1994, took extreme measures to gain Charlie's trust. She built him a shelter and made him a bed, local news site DNAInfo reported. Then she slept there with him for two nights, while the temperature in New York City hovered around zero degrees.
"I was able to line the bottom of his bed with hand warmers...He loved it," Lauffer told DNAinfo.
On Sunday evening the locals were finally able to get Charlie into a van, and they brought him to an animal hospital where he is undergoing tests. Charlie is now warm and safe and sleeping indoors, maybe for the first time in his life.
Charlie fans have set up a fundraising page to help cover his medical costs; they've already raised over $7,000. When Charlie is out of the hospital, he'll go home with one of his neighbors, where he may just learn to love living in a human home.
After all, he's got a lot of people rooting for him. "The whole neighborhood is crazy about that dog," a teacher at a local public school told DNAinfo. "We're just in love with him."