Update: See more video and photo updates of Raju's remarkable transformation here.
Just days after shedding tears of joy while being rescued from the painful shackles of five long decades of mistreatment, Raju the newly-freed elephant is in much better spirits. While his physical wounds will still take time to heal, it seems the dark clouds that hung over him for so long have already begun to lift.
Less than a week after arriving, Raju looks to be all smiles as he makes friends on the grounds of his safe new home.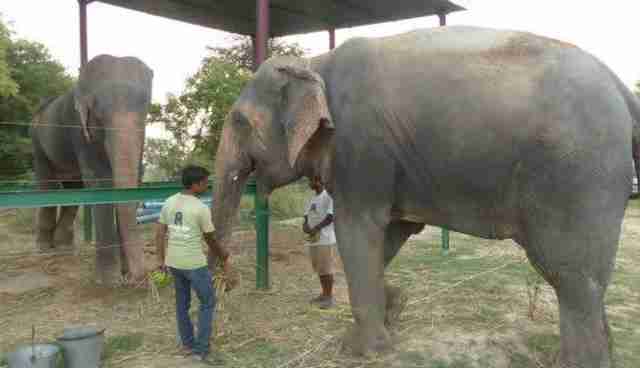 It didn't take long before Raju, transported to a center for formerly-abused elephants, began to socialize with others like him on his own terms, perhaps for the first time in half-a-century.
According to his rescuers from Wildlife SOS:
When Raju stepped out of his truck and took his first step to freedom at one minute past midnight on July 4th, the other seven rescued elephants at the Wildlife SOS Elephant care Center awoke from their sleep to come and meet their new friend. After a drink of fresh cool water to welcome Raju in his new home he was given a buffet spread of mangoes, jackfruit, bananas and a special treat of biscuits before Wildlife SOS vet Dr Yaduraj Khadpekar began the painstaking process of removing his chains and spiked shackles.
Photos: Wildlife SOS
"The next six months with Raju will be very challenging due to his past history of cruelty that was inflicted on him," says Dr. Yaduraj. "We are confident that he will soon recover and have a healthy and happy life ahead – something that he deserved a long time ago!"
Photos: Wildlife SOS
[rebelmouse-frontpage https://www.rebelmouse.com/TheDodoHashtag/%5D